Buyer's Guides
The Ultimate Gooseneck Trailer Buyer's Guide
Published May 17, 2023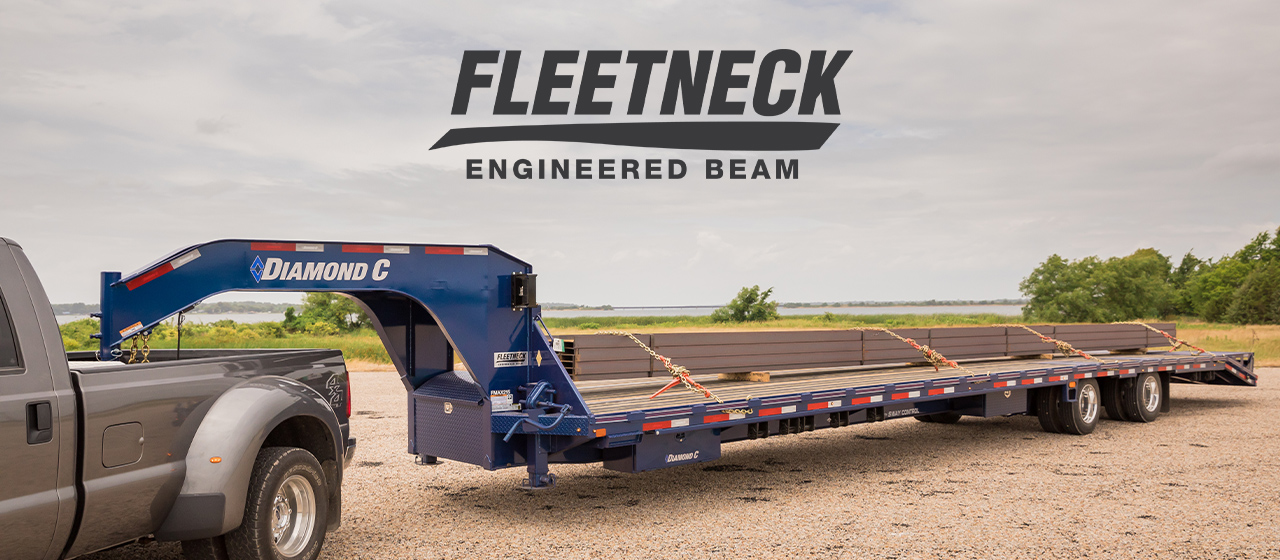 CLICK HERE TO BUILD YOUR FMAX NOW!
Diamond C vs…
If you're reading this, chances are you've already done some of your own reading about which manufacturer claims to have the best gooseneck trailer on the market. Chances are, you might have even done some research of your own comparing Big Tex, PJ, MaxxD, Load Trail, Lamar, and some of the other trailer brands out there to see how they stack up to Diamond C. You might have even heard about our revolutionary ENGINEERED BEAM TECHNOLOGY and are wondering how that plays into your trailer purchasing decision.
Maybe you've even watched a few of our YOUTUBE videos showcasing our Fleetneck series of gooseneck trailers being used in the real world, or perhaps you've even spent some time on our SOCIAL MEDIA pages browsing through our posts about our trailers, team members, and what we do in our local community.
Maybe you still have questions about why you should consider a Diamond C instead of the alternatives available to you. Maybe you've already made up your mind and are leaning towards a different brand, or you've already spent some time pricing out a model on our TRAILER CONFIGURATOR but are still having reservations or are on the fence.
Whatever your situation may be, let's take a few minutes to walk through every important standout feature available to you on our gooseneck trailers, but perhaps more importantly, the WHY behind what makes us so confident in saying that a Diamond C gives you the best long-term investment and feature-set to take your needs far into the future as a gooseneck trailer owner.
With that, let's get started.
__
(Prefer to watch instead of read? No problem – check out this informative video tour below from our very own Jacob Crabb, and watch and follow along as he shows our gooseneck trailer lot right here at the factory and reveals the details, behind the scenes, and highlights the most important features and must-have options for our entire gooseneck lineup).
What is Engineered Beam Technology and Why Should I Care?
First things first – before we get to the different models we have to talk about Engineered Beam Technology and why it matters for your flatbed trailer. For an in-depth read into this technology and the story behind its creation read all about it HERE, but for now, here's what's most important:
Instead of slicing and dicing stock I-Beams for the trailer frames (like our competitors do), we design, engineer, and build our own I-Beams to custom-fit each trailer model's specific weight classification.
Engineered Beam-equipped trailers are stronger yet lighter, featuring the best strength-to-weight ratios of any steel frame gooseneck on the road. This allows for more overall weight savings benefit, which yields a higher payload capacity than most comparable trailers.
We have almost infinite control over the shape of the beams, and we're able to optimize the performance of the steel by putting it to work where we need it most. No dead weight. No added reinforcements are needed. We're able to build contours into the beams that optimize the total design and functionality, from dovetails to deck height. Our gooseneck beams are the tallest, strongest and lightest in the industry.
In 2019 we were awarded a U.S. Patent for our gooseneck-engineered beam frame design.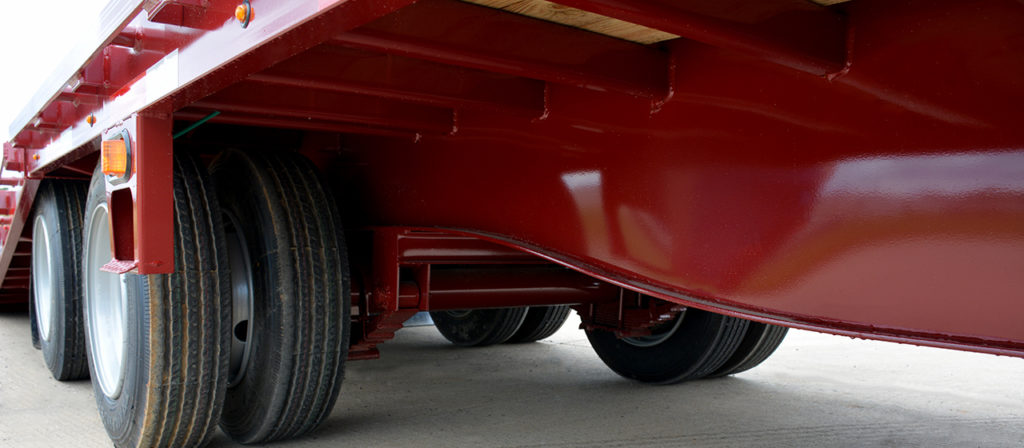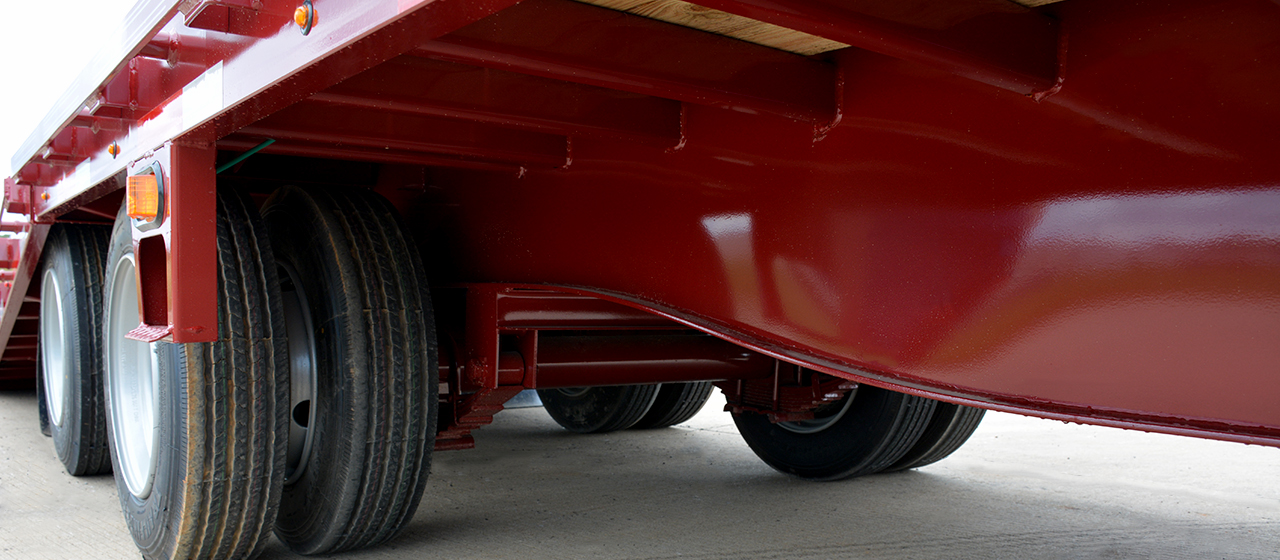 Fleetneck Engineered Beam 2.0
With our new Fleetneck Engineered Beam 2.0, we have significantly improved the design and construction of this technology on our FMAX gooseneck lineup of trailers. The features include:
Grade 100 material used for all 2.0 webs
The web now has cutouts for wiring and cables, preventing them from being run underneath the beam
Rib orientation near the neck adjusted to provide better support to the neck assembly
The spare is now mounted on the passenger's side underneath the deck with a winch to raise and lower the wheel
Larger flanges on gussets and full-height cross members provide additional strength to the frame
HYDRAULIC DOVETAIL toe board support upgraded to Grade 100 material
Check out the 2 videos below to see the new features of the Fleetneck 2.0 explained by Jacob Crabb!
Loading Options
All of our gooseneck models feature your choice of 4 different unique loading styles depending on your needs: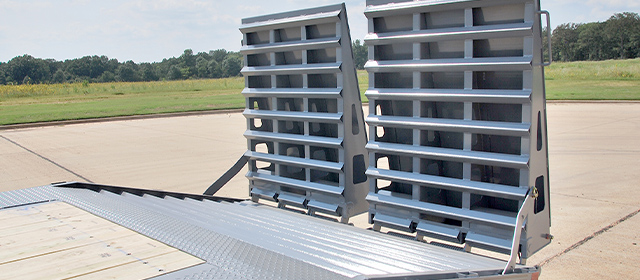 Max Ramps
44″ wide ramps for MAX versatility. 50 ksi steel ramp frames x 4 frames per ramp for MAX strength. HD Spring loaded for easy lifting. For safe, stable loading. Read more HERE.
Watch the video below to learn more about the Max Ramps: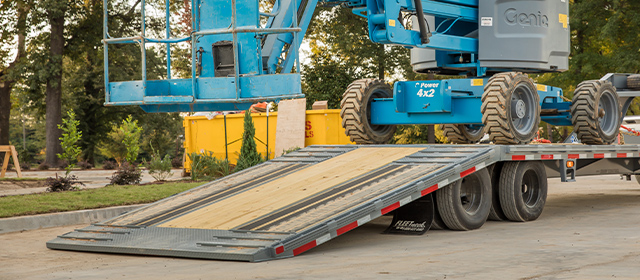 12′ Hydraulic Dovetail
Our industry-leading 12′ hydraulic dovetail features an easy-to-climb, 12.5-degree approach angle. Includes BLACKWOOD rubber-infused runners for traction, an automatic latch for easy operation, and wireless remote control. Read more HERE.
Watch the video below to learn more about the 12′ Hydraulic Dovetail: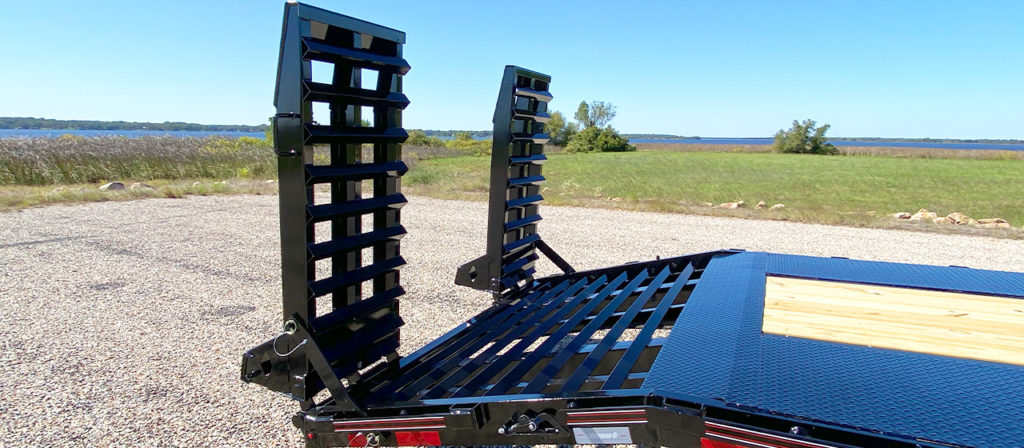 XDR Ramps
These 24″ x 60″ spring-assisted extreme-duty knee ramps are perfect for loading concentrated machines such as backhoes and excavators where space between the ramps is a necessity for knuckle height clearance. Read more HERE.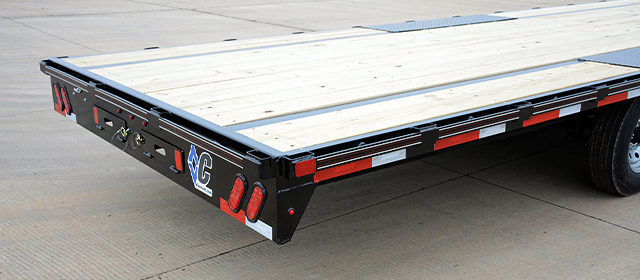 Straight Deck
The Straight Deck tail configuration includes 3″ channel 96″ Rear Slide-In Ramps that can be conveniently stowed away when not in use. Come with a single-piece bumper with light protection.
Having trouble deciding which loading style to select?
Watch below as Jacob walks through the 4 primary loading options to help you pick:
What Gooseneck Models Are Available?
We offer a comprehensive lineup of 10 premium flatbed gooseneck models depending on your GVWR requirements. (If you need a refresher on what GVWR means and how it differs from Payload check out THIS POST). Our GVWR ranges from our single-wheeled 15,500 lb GVWR models all the way up to our triple axle dual-wheeled models clocking in at a monster 40,000 lb GVWR. All our Fleetnecks have a wide deck over bed width of 102″ and can be built from 20′ all the way to 44′ long (depending on the model).
The primary design across these 10 gooseneck models is mostly the same, but the main differentiator between the models is your axle choice. We are proud to use premium-grade LIPPERT AXLES on all our trailer models. Our lighter-rated goosenecks feature 7K axles, and the heaviest-duty model is equipped with beefy 16K axles and heavy-duty tires.
Let's start with our lighter-duty single-wheel models and work our way up to the heavier-duty models.
__________
Single Wheel Models (15.5K-24K GVWR)
GVWR: 15,500 lb
Axles: 2 – 7K
Base MSRP: $15,640
GVWR: 18,000 lb
Axles: 2 – 8K
Base MSRP: $19,820

GVWR: 24,000 lb
Axles: 3 – 7K
Base MSRP: $20,420
Our trio of single-wheel goosenecks are the perfect choice for general duty applications. FMAX207 and 307 are both popular choices on the farm or for lighter use on a construction site. The FMAX208 is a popular model for the lighter tier HOT SHOT users who don't want to necessarily run max load 40K rated trailers, as it's the best of both worlds between 7K and 10K/12K models – not eating up a lot of your available payload while still being rated at a respectable 18K GVWR. It's a great intermediate mid-class hot shot trailer with high mileage 215/75R17.5 tires and higher-rated 8K axles.
__________
Dual Wheel Models (25K-40K GVWR)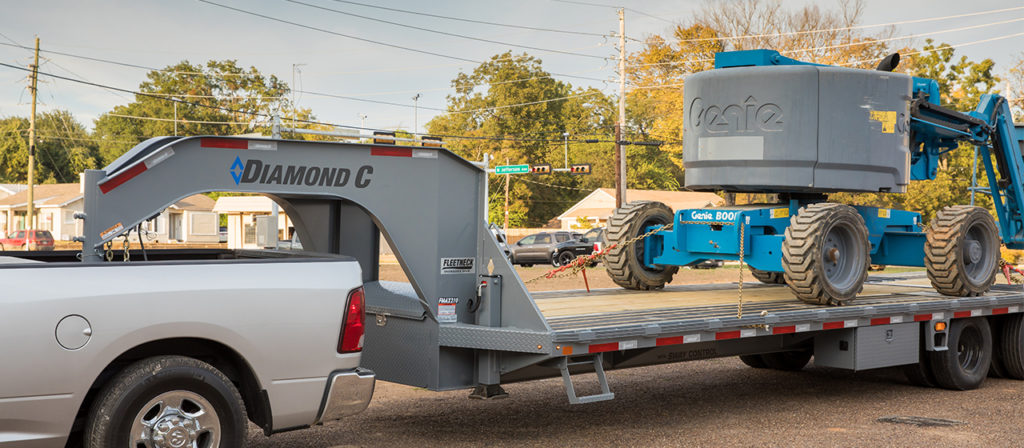 GVWR: 25,000 lb
Axles: 2 – 10K
Base MSRP: $21,210
GVWR: 25,900 lb
Axles: 2 – 12K
Base MSRP: $24,555

GVWR: 30,000 lb
Axles: 3 – 10K
Base MSRP: $26,760
GVWR: 30,000-40,000 lb
Axles: 3 – 12K
Base MSRP: $32,035
GVWR: 30,000-40,000 lb
Axles: 2 – 16K
Base MSRP: $36,710
Our dual-wheel models are designed with heavy-duty users in mind. Featuring 16″ – 18″ Engineered Beam Frames, lengths up to 44′, and GVWR configurations up to 40,000 lb, these are your go-to trailers to turn to when a maximum payload is required. Whether it's long-distance hot shot hauling, loading excavators and mid-sized dozers to the job site, or transporting heavy materials and goods both near and far, a Fleetneck has your back.
We also offer models FMAX210SS and FMAX212SS that come equipped with beefy 18-ply 17.5″ SUPER SINGLE tires as standard instead of the traditional duals. These Super Single models have been gaining popularity in recent years (especially among HOT SHOT users) as you have the benefit of fewer tires on the ground to maintain and potentially have fewer road hazard issues with.
Standout Features & Upgrades
12″ Curved Gooseneck
Instead of using the traditional welded I-Beam neck design, our curved one-piece fabricated 12″ Engineered Neck design distributes force throughout the neck so there is no concentration of stress in the corners like on traditional goosenecks.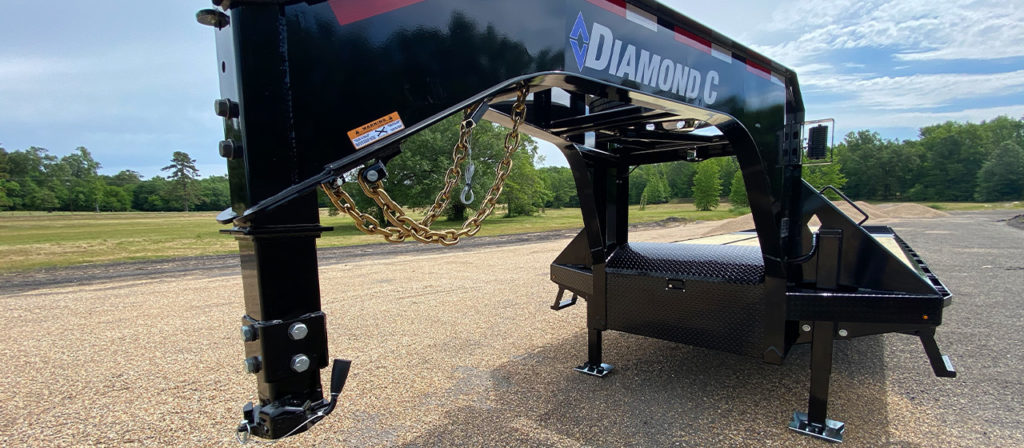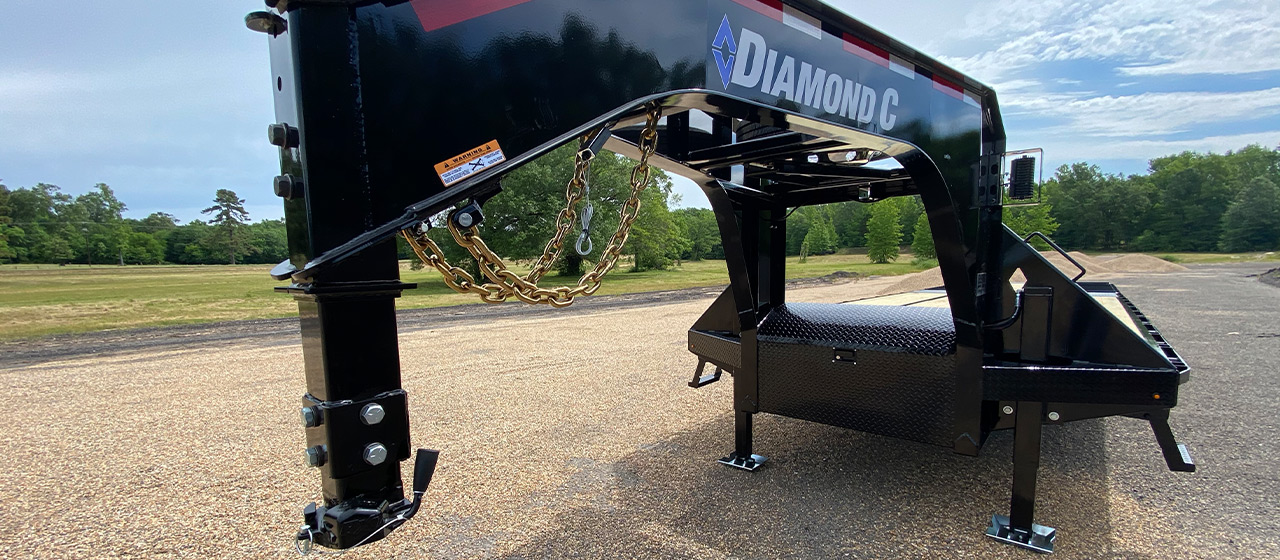 40K Package Upgrade
Available on models FMAX312 and FMAX216, this heavy-duty 40,000 lb GVWR upgrade includes a 3″ Ball 40K TELESCOUPLER and frame and neck reinforcements for maximum strength.
Watch the walk-around video below for an in-depth look at one of our 40K-equipped FMAX gooseneck trailers.
HD 215 Tires
The heavy-duty 215/17.5 wheel and tire UPGRADE is widely used and preferred among high mileage trailer owners, especially in the hot shot, oil field, and transport industries. Our 215/75R17.5 upgrade tires feature a bigger wheel/tire than standard, along with beefy 5/8″ studs. If that's not enough for you, we use premium VALCRUM HUBCAPS on all our 215 tires.
These tires come standard on model FMAX216. (Pictured with Aluminum Outer Wheels)
Brake Options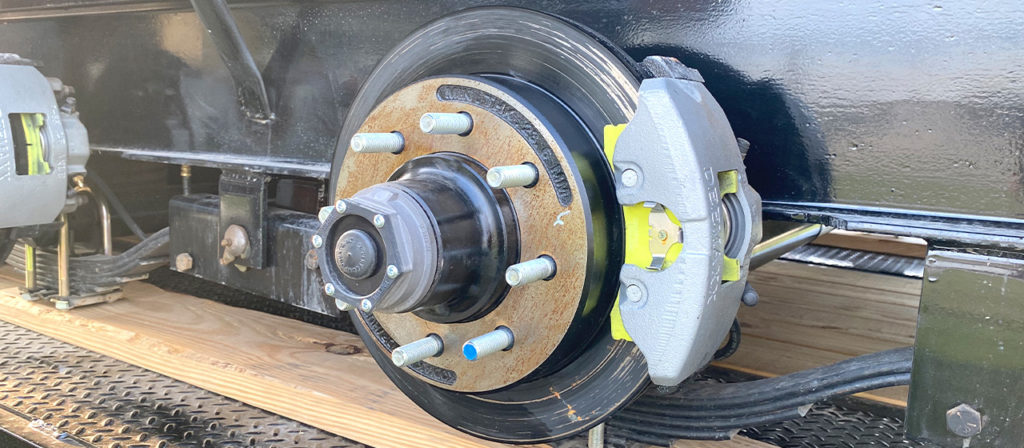 Hydraulic Disc Brakes
Electric over hydraulic disc BRAKES are what avid trailer users would describe as "the ultimate" when it comes to trailer braking systems. They are operated by an in-cab controller providing an electric pulse from the tow vehicle which activates a small hydraulic pump that sends hydraulic fluid to a disc (rotor) / caliper braking component.
Benefits of Hydraulic Disc Brakes:
Last longer
Stop faster
Cheaper to maintain for high mileage trailers
*Note: Electric drum and electric over hydraulic drum brakes are also available.
*Note: Model FMAX216 comes standard with Electric over hydraulic disc brakes.
Coupler Upgrades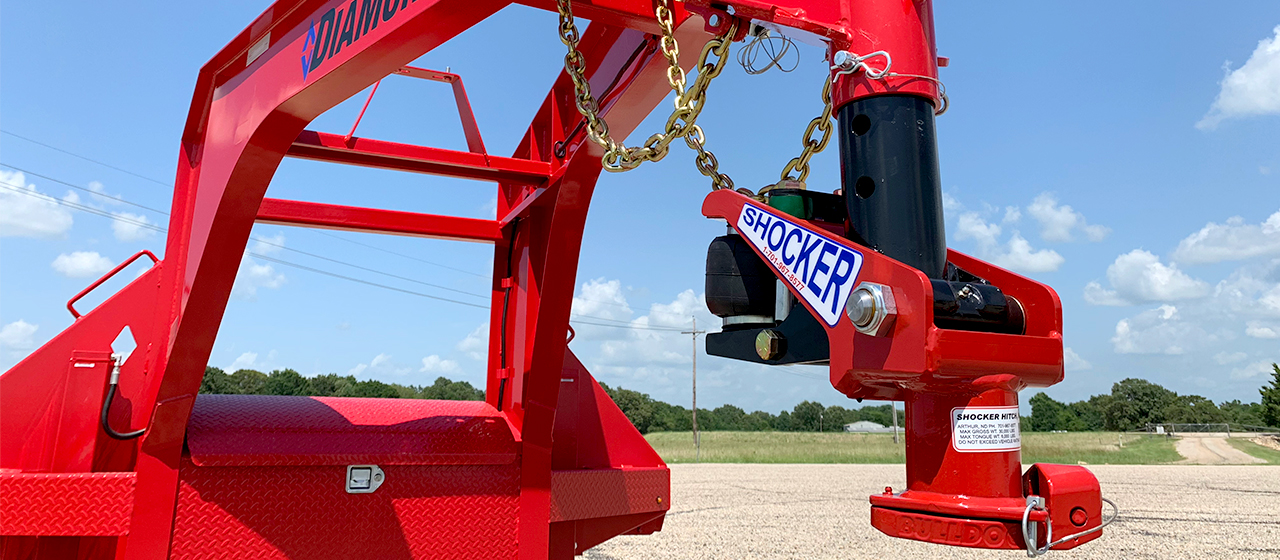 All our goosenecks come standard with the 25,000 or 30,000 lb Bulldog BX1 coupler (depending on the model). Upgrades include:
Shocker Hitch Coupler – features an airbag for a smoother, safer ride.
30,000 lb Load Leveler – This coupler upgrade features adjustable set bolts that enable you to make quick and easy height adjustments while the trailer is already loaded.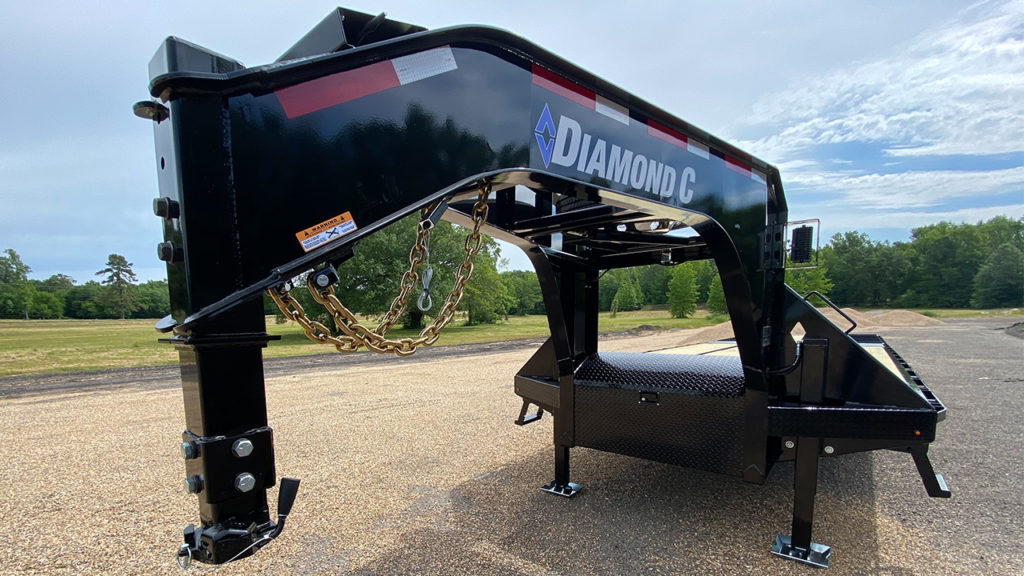 "Telescoupler" – This patent pending 3″ ball 40K adjustable COUPLER features a unique design that allows for up to 7″ of dual vertical adjustment. (Comes standard on 40K GVWR upgrade packages)
Suspension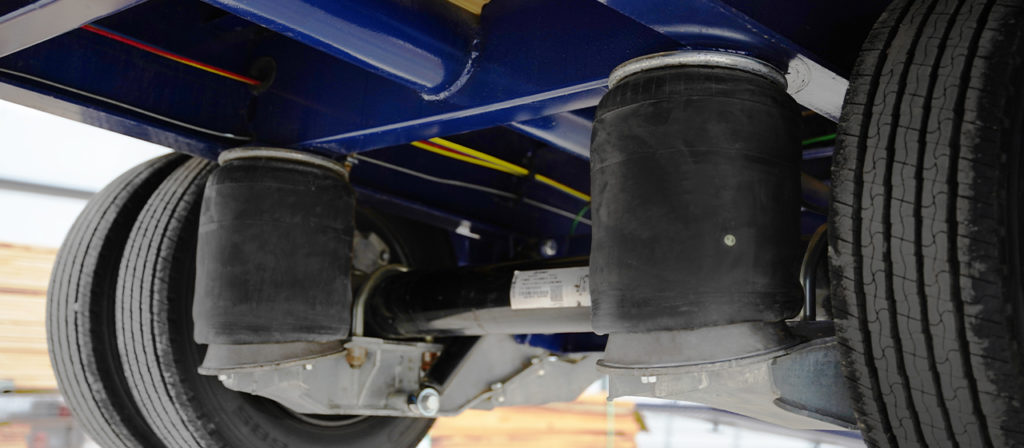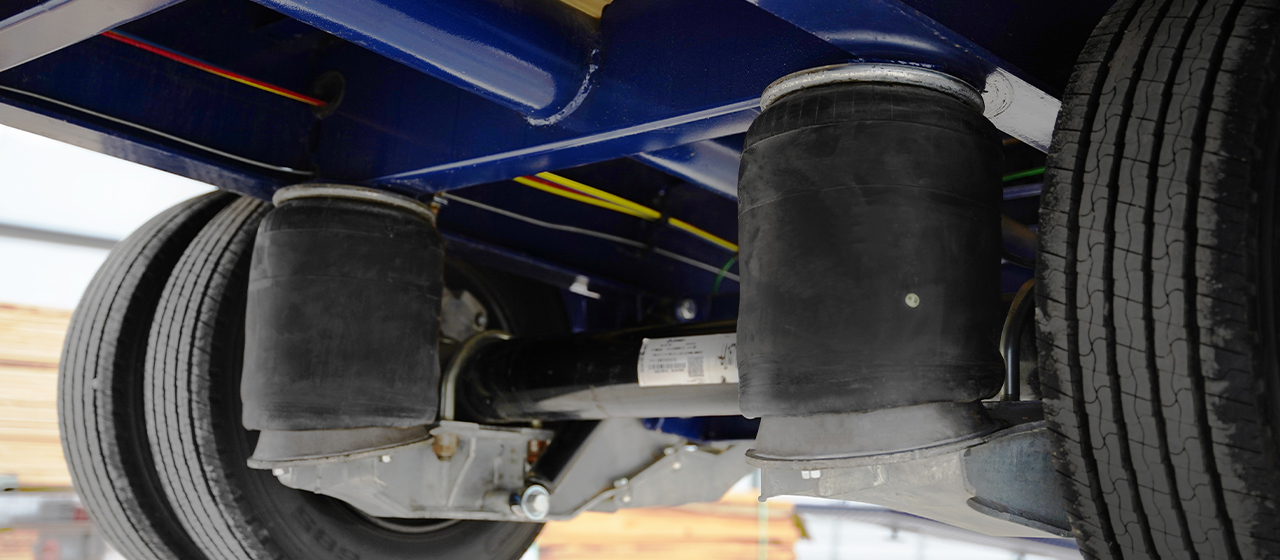 Air Ride Suspension
For a smoother, quieter ride, extended trailer life, & higher rates per mile, choose our custom Cush-designed AIR RIDE SUSPENSION. This upgrade includes a front lift axle, which saves tire wear & fuel consumption on empty hauls. Air Ride includes dual compressors, one 10V 5amp charger, and dual Group 27 continental batteries.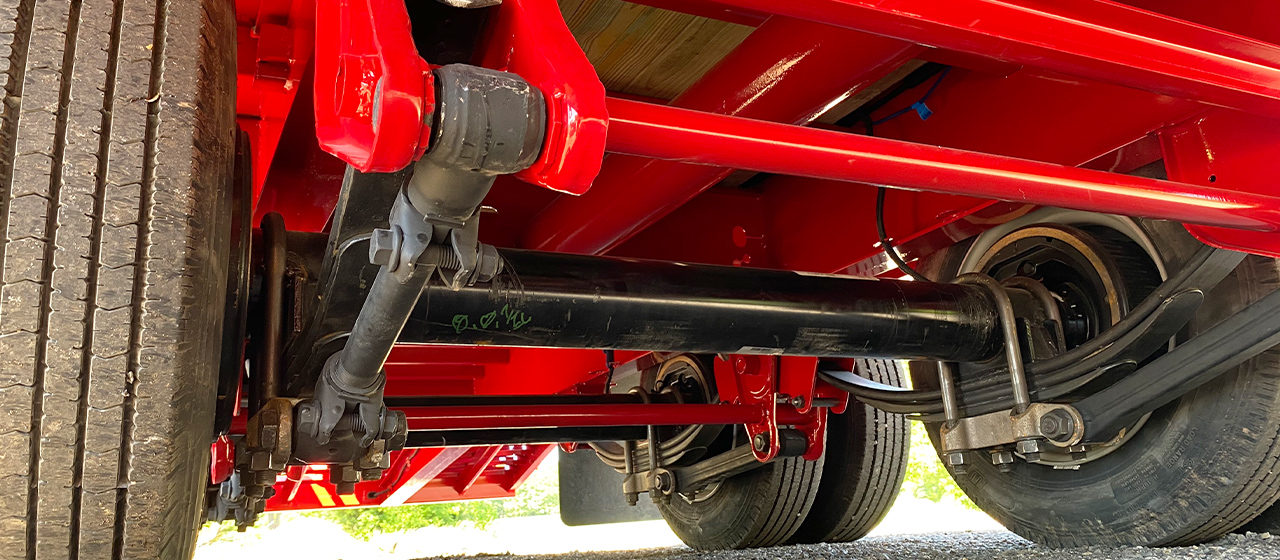 Hutch Heavy Duty Adjustable Suspension
This is a great option for those who want a more durable SUSPENSION SYSTEM than the standard leaf slipper spring suspension but might not have the budget to equip their trailer with Air Ride. We use Hutch 9700 Series – which features easily adjustable torque arm screws, a maintenance-free fastening system, and "Million Mile Rocker Bushing" which eliminates bushing fatigue and failure. Hutch suspension comes standard on model FMAX216 and is an available upgrade on most other dual tandem gooseneck trailers.
Popular Add-ons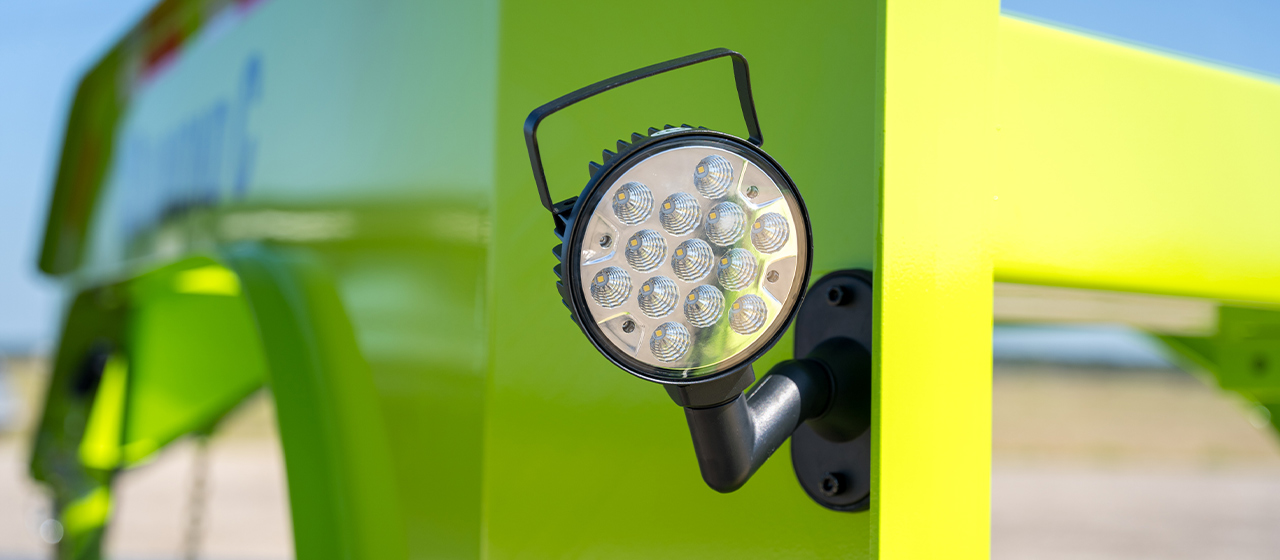 Bolt-on LED Loading Lights
At 2000 Lumen, these LED work lights will help brighten up your nighttime grind.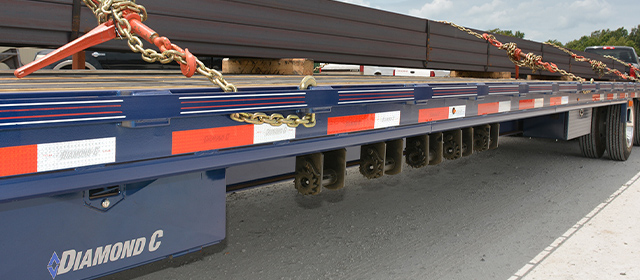 Slide Track
Our SLIDE TRACK and ratchet option give you unlimited tie-down points for the entire length of the deck. Sliding ratchets move easily in both directions for positioning on the track but lock firmly in place when tension is applied.
Tie Downs
Every Fleetneck trailer comes standard with a 2″ x 3/8″ Rub Rail that includes Stake Pockets & Pipe Spools.
Add up to 10 5/8″ D-Rings for even more cargo-securing possibilities.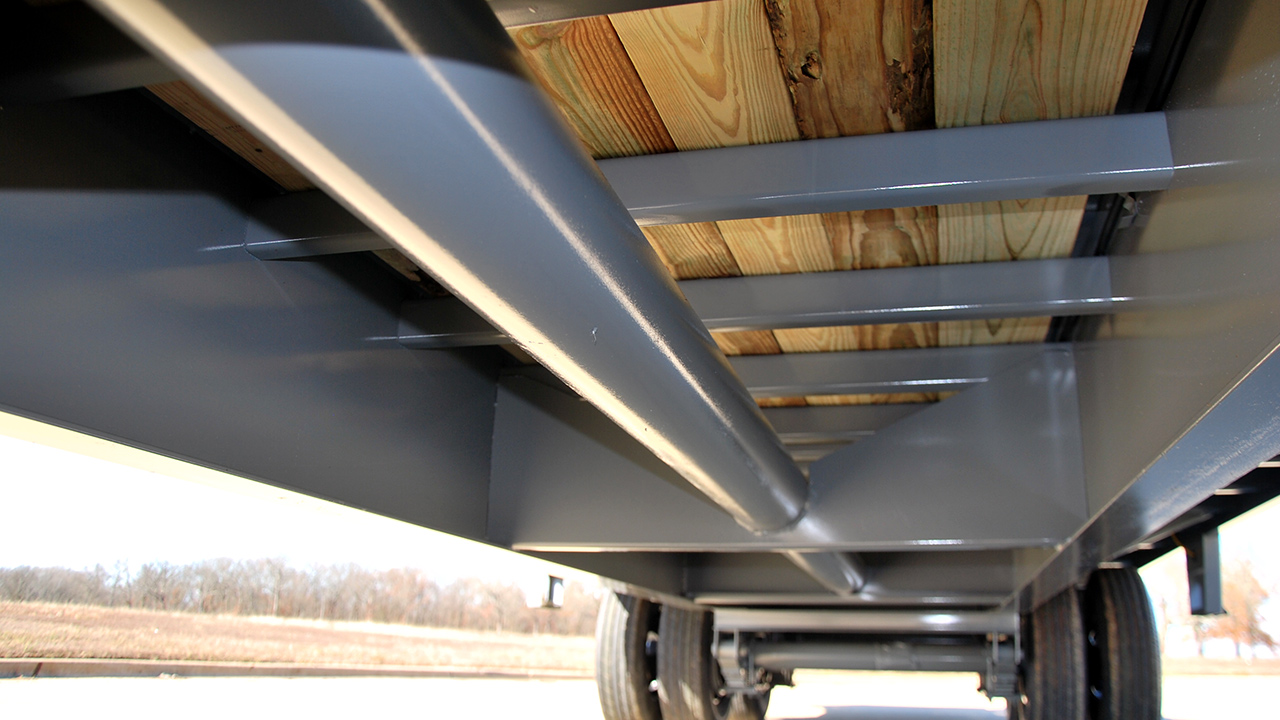 Sway Control
Ensure our longer trailers are as stable as possible and don't suffer from frame warping, flexing, or swaying while hauling extreme loads. Read more HERE.
(Included standard on any trailer over 30 ft)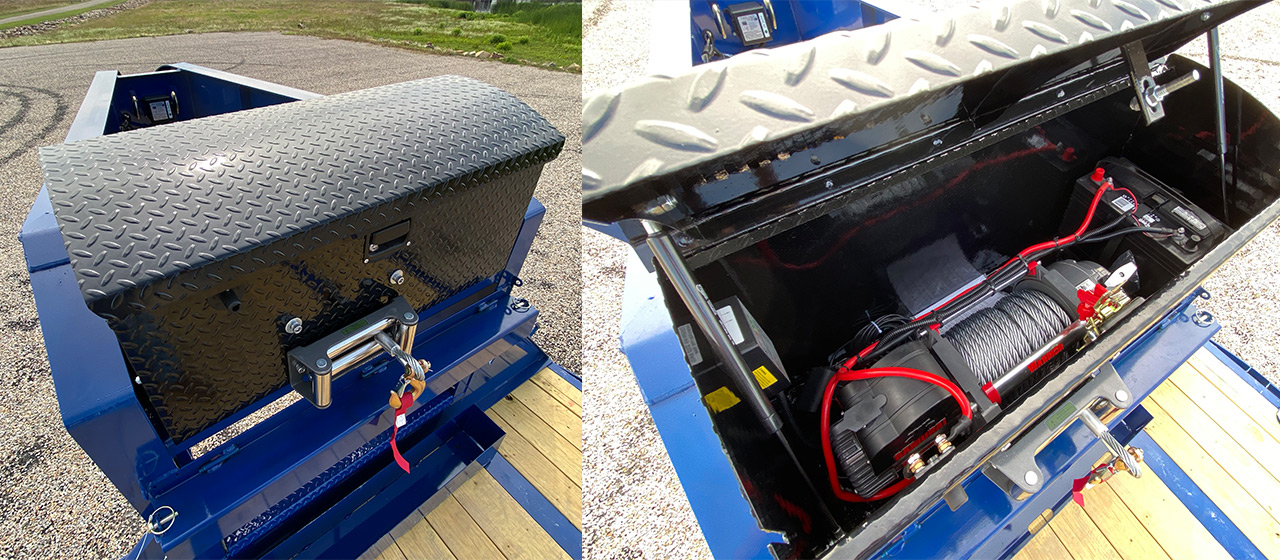 Warrior Winch Box Package
Needing to load dead or downed equipment? Our loaded WARRIOR WINCH BOX PACKAGE is a great addition to your trailer to do just that! With 2 sizes: 12K and 17.5K, you can pick what suits your needs best. These lockable winch box packages are self-contained and include a Continental Group 27 Series BATTERY and a 110 Volt 5 Amp plug-in charger.
6″ Taller Neck
This option raises the coupler and horizontal neck height +6″. Ideal for lifted vehicles (ex. Dodge 3500 with 4″-6″ lift).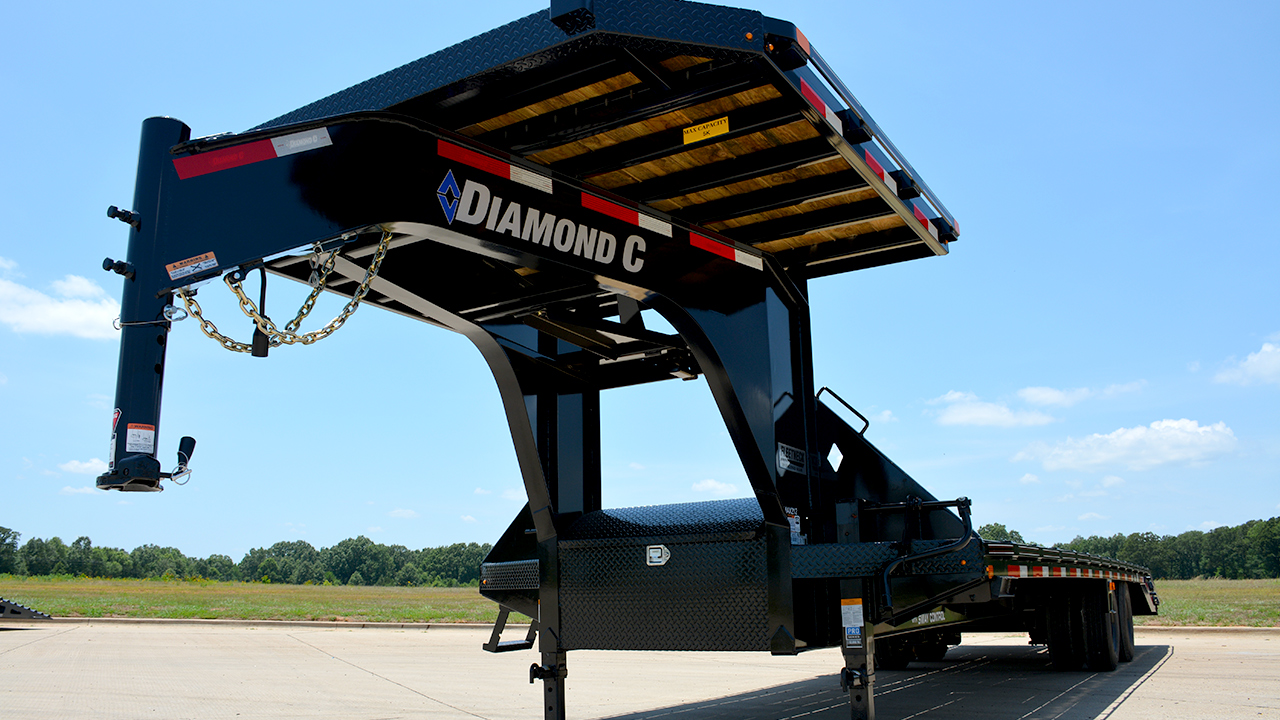 Deck on the Neck
The 7′ x 8′ weld-on or bolt-on DECK ON THE NECK offers additional cargo space for those of you who need every last square inch.
Great for hotshot rigs, hay haulers, construction crews, and more!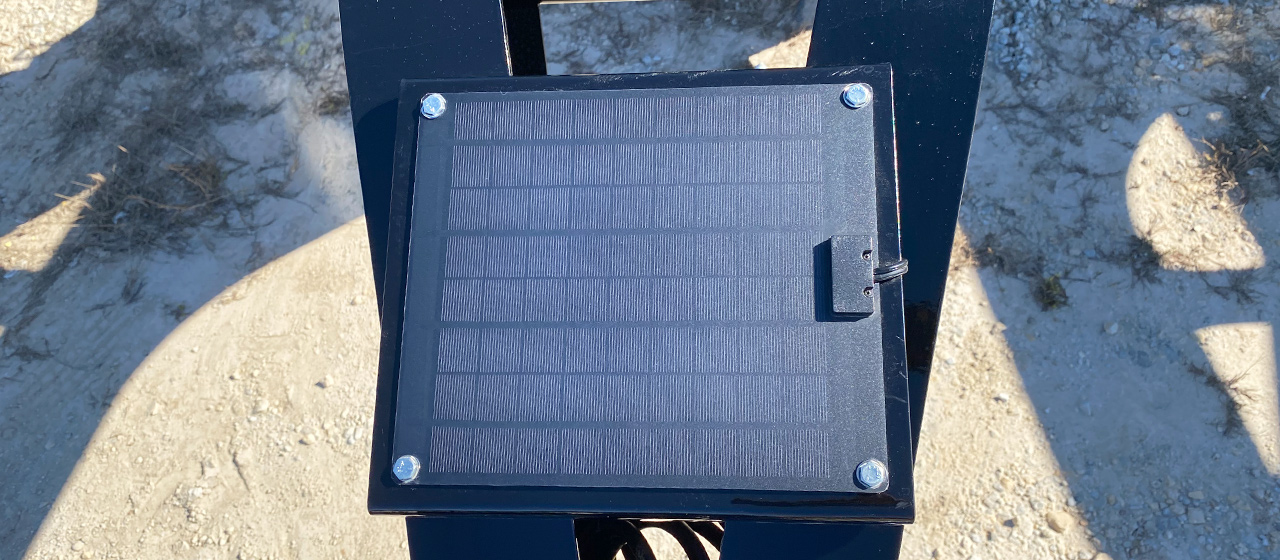 Solar Charging System
The optional 7-watt SOLAR PANEL charger provides a hassle-free way to ensure your hydraulic pump battery is fully charged. This convenient trickle charger also has overcharge protection to prevent battery damage.
Jack Options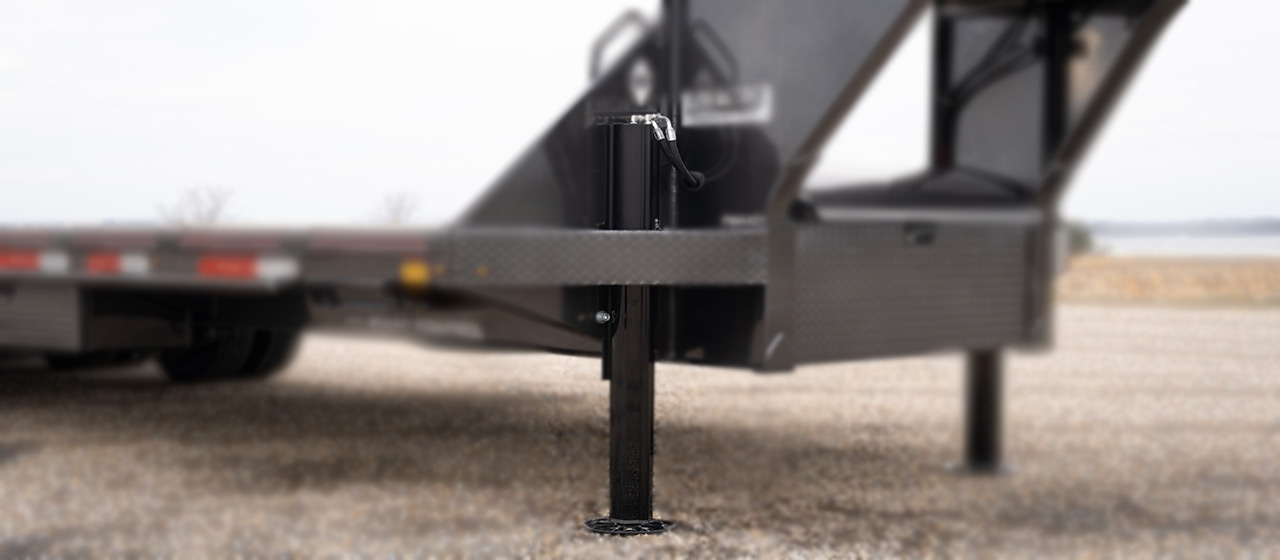 Hydraulic Jacks
The Lippert 20K Hydraulic Jacks are 1/3 of the weight of traditional steel casing hydraulic jacks and have a 20,000-pound lift in each jack versus the standard 12,000-pound lift. These 20K hydraulic jacks are powered by a KTI HYDRAULICS unit and include a Group 27 Series BATTERY which provides both power-up and power-down. With a simple push of a button, you can raise and lower your trailer for a fast and easy hooking and unhooking experience.
Two Speed Drop-Leg Jacks
2 – 25,000 lb two-speed jacks that feature faster cranking than normal drop-leg jacks and include a state-of-the-art 2-speed gearbox with power and speed for a more effective and efficient jack.
Flooring Options
Treated Lumber
Pressure-treated PINE FLOORING is the most commonly used wood flooring material in trailers and comes standard on all gooseneck models.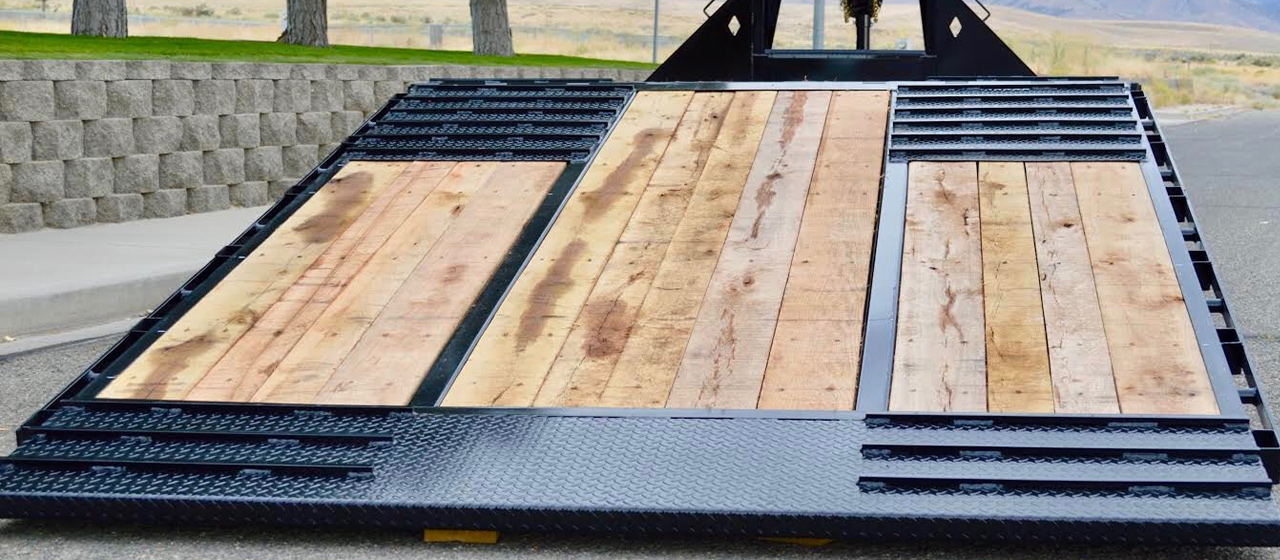 Oak Flooring
When you know the job is grueling and the floor of your trailer is going to take a beating, the OAK FLOOR option is for you. Oak lumber is not as susceptible to being gouged, scraped, or broken down as its softer pine counterpart.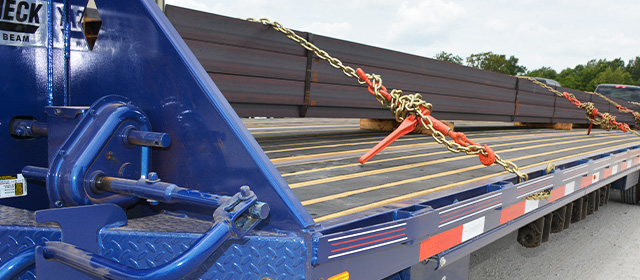 Blackwood Lumber
BLACKWOOD is rubber-infused, pressure-treated pine flooring that provides enhanced traction in the wettest conditions, outstanding impact resistance in the toughest environments, and increased flooring lifespan from its no fade, no crack technology. Choose between outer or full.
Storage Options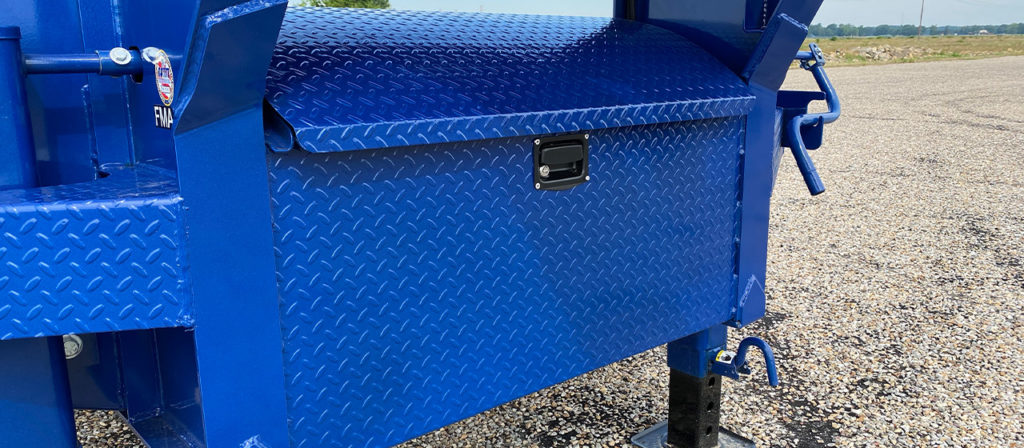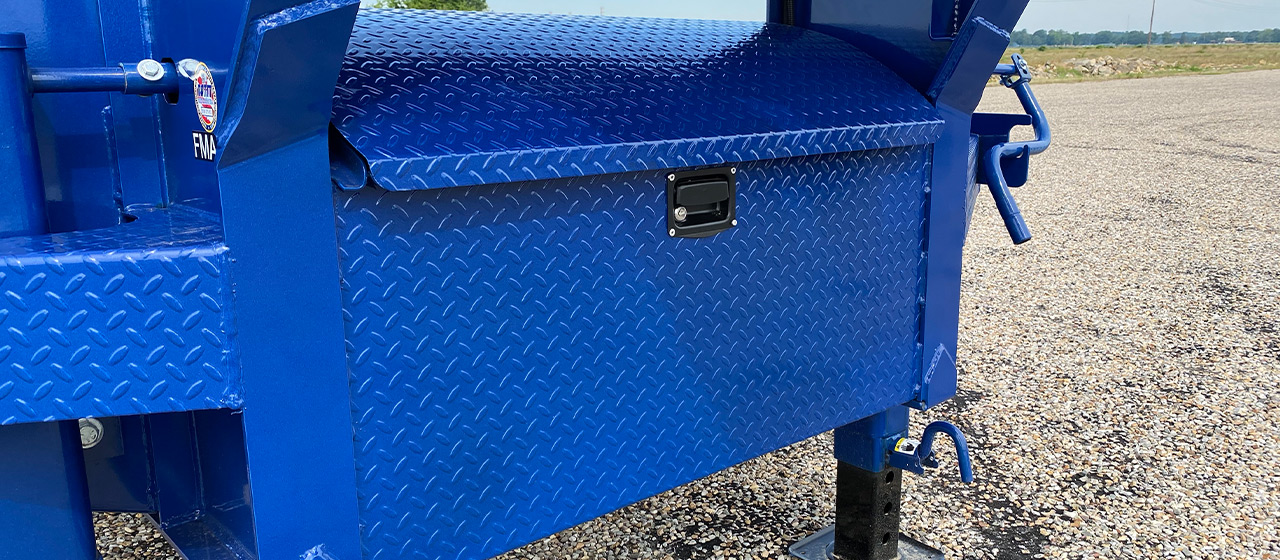 Neck Box
This lockable neck box is big, and roomy, and is perfect for storing all your jacks, tools, straps, and more. Constructed with a 3/16″ diamond plate, this box features a curved lid for added rigidity and is gas spring assisted for easy operation.
Underslung Box
This 14″ x 14″ x 42″ box is a popular add-on to any gooseneck trailer for handy below-deck storage that's convenient to access, but also out of the way of the equipment you are hauling. Add one on each side of your trailer if you want!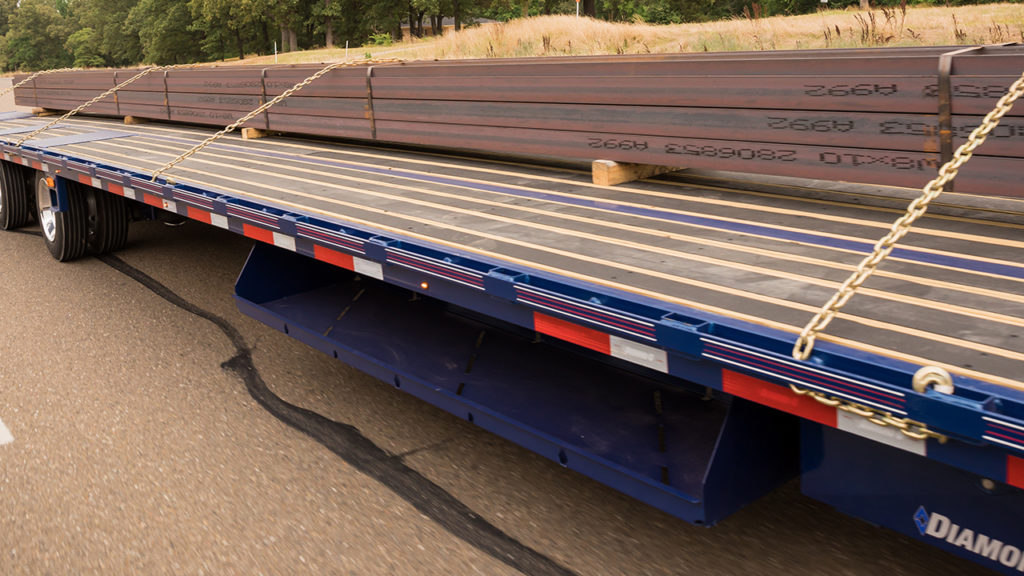 102″ Underslung Dunnage Rack
Perfect for hotshot trailer users who need to store wood planks or blocks to assist with loading pipes or equipment. This rack is mounted under the deck for better placement and welded to the main frame of the trailer.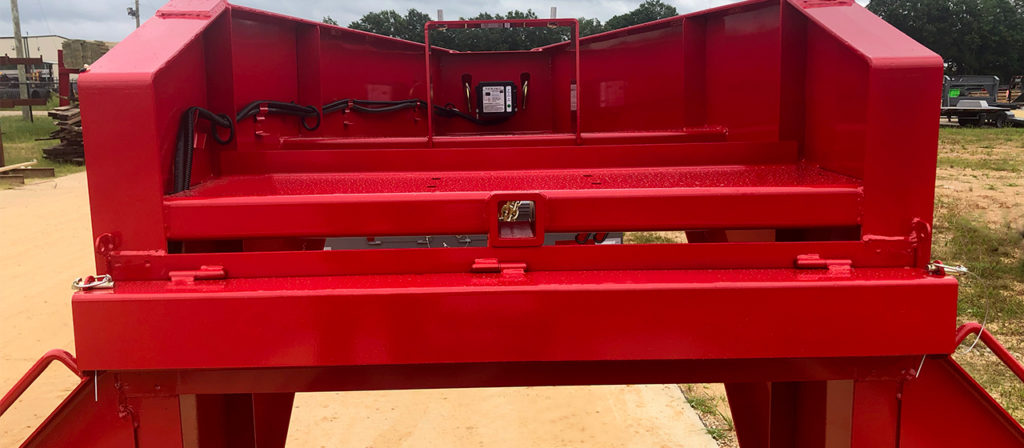 Locking Chain Rack
Your choice of either a 16″ bolt-on rack or a full-width weld-on chain rack. The bolt-on rack can be mounted to either driver or passenger side, and both are great options to secure your chains and boomers.
Chain Tray
This convenient shelf is welded at the top of the neck for easy access chain storage.

Superior Powder Coating System
At Diamond C we place huge importance on the coating that ships with your trailer. We've spared no effort or expense to ensure that each trailer comes with an extraordinary finish that is exceptionally durable and beautiful. We've partnered with Sherwin Williams to develop our very own custom DIFFERENCE MAKER POWDER COATING SYSTEM to produce extraordinary trailer finishes.
We use a 6 step process to ensure our custom trailer powder coating is the best coating option possible for your trailer. Watch below as Jacob takes you on a tour of the entire process from start to finish:
We offer 8 standard colors alongside 5 special colors that can be applied to any trailer. Want something custom or a unique color tailored specifically to you? No problem – check with your DEALER when you order.
Check out our COLOR GUIDE to see all of our unique finishes up close on our trailers.
__________
Building Extraordinary Gooseneck Trailers
Lighter – Stronger – Engineered to Deliver
We are proud of the innovations and advancements we have made to our entire lineup of gooseneck trailers over the past few years and hope that you will get years of use and service out of your FMAX trailer if you do decide to purchase one. We have continued to optimize, innovate, and set the bar high as we engineer and manufacture our gooseneck trailers. We are proud to build the very best products that we possibly can that you can put straight to work – whether you're purchasing a trailer for the farm, for your construction business, or for your hotshot hauling jobs.
Building a great trailer goes far beyond just manufacturing for us – at Diamond C our CORE VALUES of #DoWork and #LoveStrong are evident and on display throughout every part of the plant.
Our PURPOSE is to fuel the growth and success of DC team members, our customers, and our community.
Our NICHE is EXTRAordinary trailers and service to match.
How do I Purchase a Gooseneck Trailer?
All our trailer sales are handled by our authorized Diamond C dealer network consisting of almost 200 dealers spread all across North America. This ensures you have a local trailer specialist near you to assist you with your trailer purchase and any warranty issue that may come up during the life of your trailer. With that in mind, here are 3 ways you can purchase a Diamond C gooseneck trailer:
2. Browse our FIND A DEALER map to locate your nearest authorized Diamond C dealer and inquire about their stock directly from them.
3. Browse local inventory near you using our inventory marketplace partner EQUIPMENT TRADER.
(Note – not all our dealers list their inventory on this marketplace site)
RELATED