Tires & Wheels
HD 215/17.5 Wheel/Tire Upgrade
Published February 19, 2021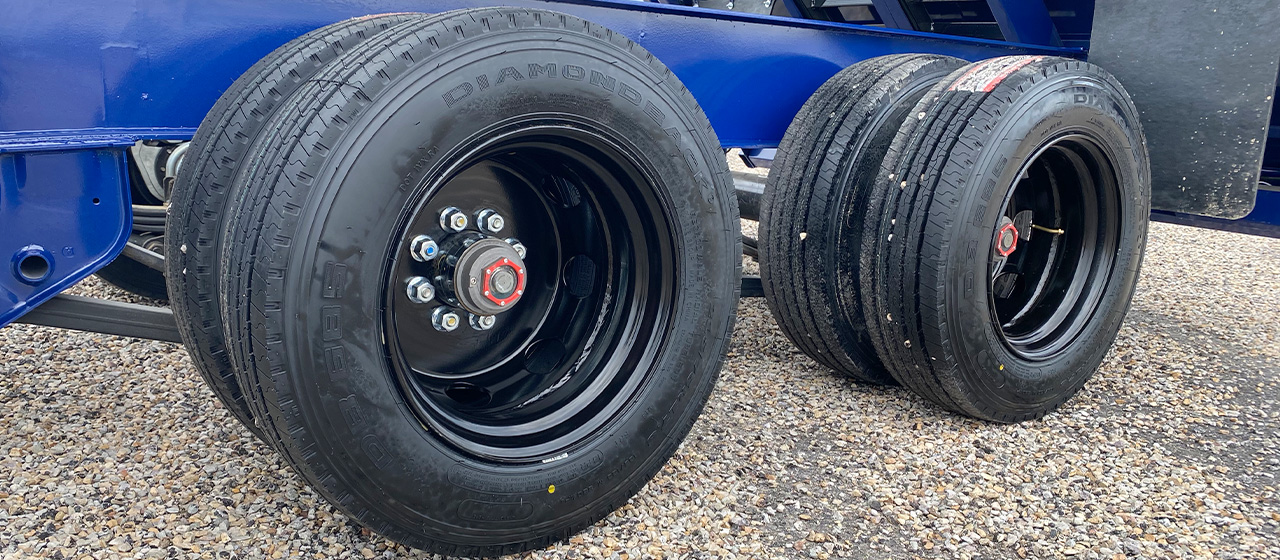 #DoWork – This 17.5″ heavy duty tire upgrade is for the serious trailer owners who rely on their trailers day in and day out to perform at the highest possible level. These tires are widely used and preferred among high mileage trailer owners, especially in the HOT SHOT, oil field, and transport industries. Our 215/75R17.5 upgrade tires feature a bigger wheel/tire than standard, along with beefy 5/8″ studs. If that's not enough for you, we use premium VALCRUM HUBCAPS on all 215 tires on our 8-16K LIPPERT AXLES.
Benefits of 215/17.5 Tires:
Longer tire life
More puncture resistant
Deeper tread for less wear
Higher max load lbs
Available on Models:
– Utility Trailers: EDU
– Car Haulers: MVC
– Equipment Trailers: EQT, LPX, DEC, DET, and HDT
– Dump Trailers: LPD, LPT, DOD, and WDT
– All Tandem and Triple Axle GOOSENECK Trailers
– All PINTLE HITCH and STEP DECK Trailers
*GVWR Upgrade Note – All trailers equipped with GVWR UPGRADE 208 Package (18K GVWR) or 210 Package (20K GVWR) include 215/75R17.5 Tires.
*Note – Models FMAX208, FMAX216, PX216, and SDX216 come standard with 215/75R17.5 Tires.
*Super Singles – Gooseneck models FMAX210SS and FMAX212SS also use 17.5″ tires, but they are equipped with our 18 ply 235/75R17.5 SUPER SINGLE TIRES.
RELATED