Multi-Vehicle Carrier
Model: MVC
GVWR: 14,900 - 24,000 lb
Redesigned from the ground up using our signature ENGINEERED BEAM TECHNOLOGY and featuring Torsion Axles, Diamond Plate Laser Grip Floor, and an all-new Tapered Easy-Load Dovetail along with our ergonomic Formed Rub-Rail Tie Down System. Load, secure, and haul – this is the new generation of multi-car hauling.
Build Your Own Trailer
At a Glance
PULL TYPE: Bumper Pull
GVWR: 14,900 – 24,000 lb
LENGTH: 32′ – 40′
WEIGHT RANGE: 5,030 – 6,400 lbs
BED WIDTH: 82″
AXLES: 2 – 7,000 lb Lippert Torsion Axles
(Upgrade to 3 – 7K, 2 – 8K, or 2 – 10K)
TIRES: 14 Ply All-Steel Radials
(Upgrade to 215/75R17.5 – 16 Ply)
Watch Video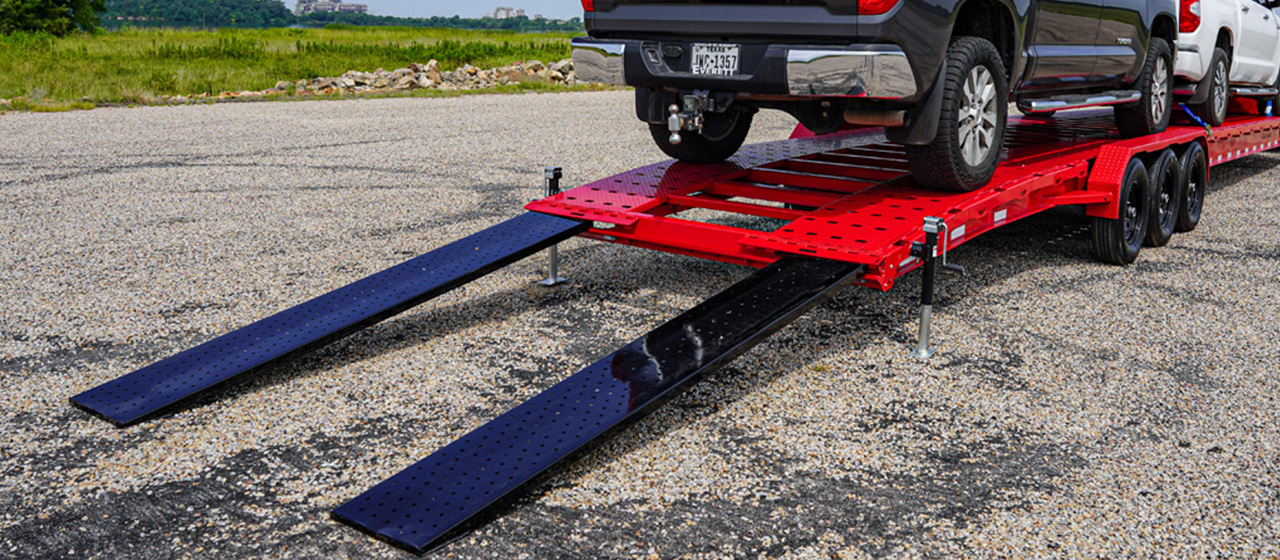 A New Generation of Car Hauling
Meet model MVC – our flagship multi-car carrier trailer. This Diamond C classic has been completely redesigned and rebuilt from the ground up for 2021 to usher in a whole new generation of premium quality car trailers.
Every detail and option has been carefully examined, engineered, and perfected to offer what we believe is THE premium car hauling experience.
Keep scrolling to find out more…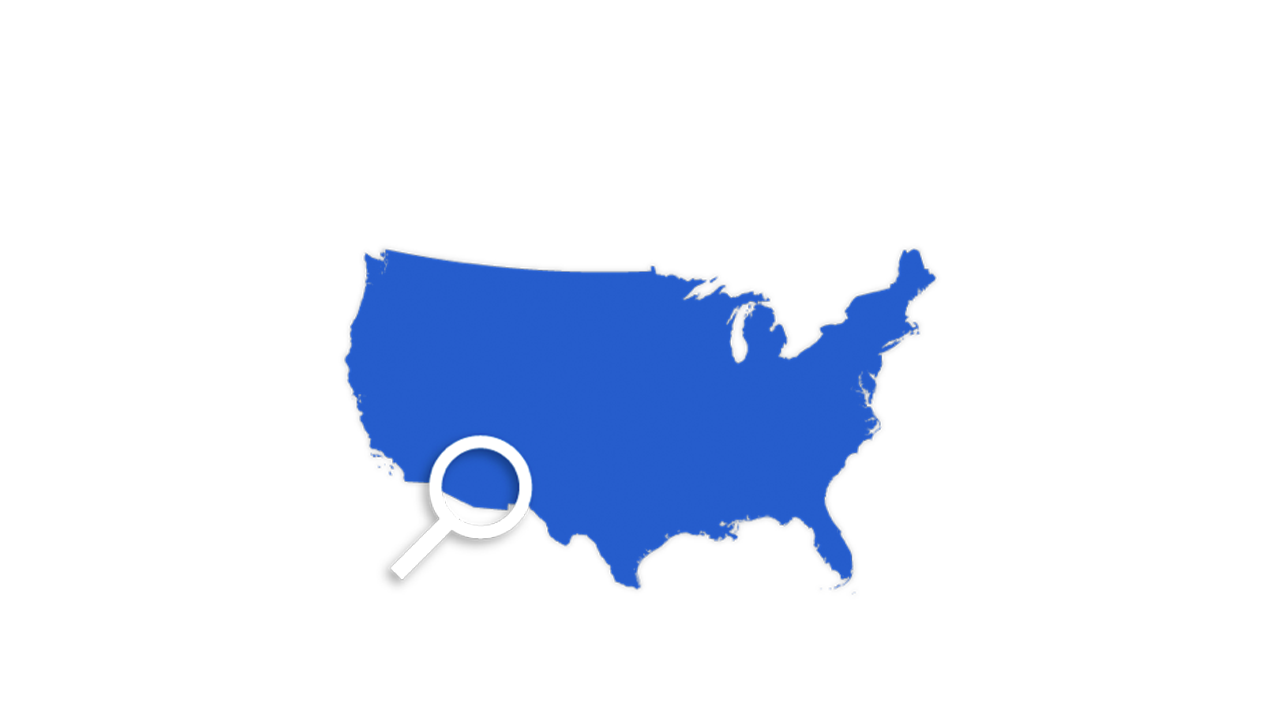 How Do I Order an MVC?
Great question! Keep scrolling to customize and build your MVC car hauler to your liking with our interactive build-your-own trailer configurator, then you will be prompted to submit your trailer build to your nearest Diamond C dealer for quote and availability. We have an extensive dealer network of over 100 dealers strategically placed throughout North America.
Standout Included Features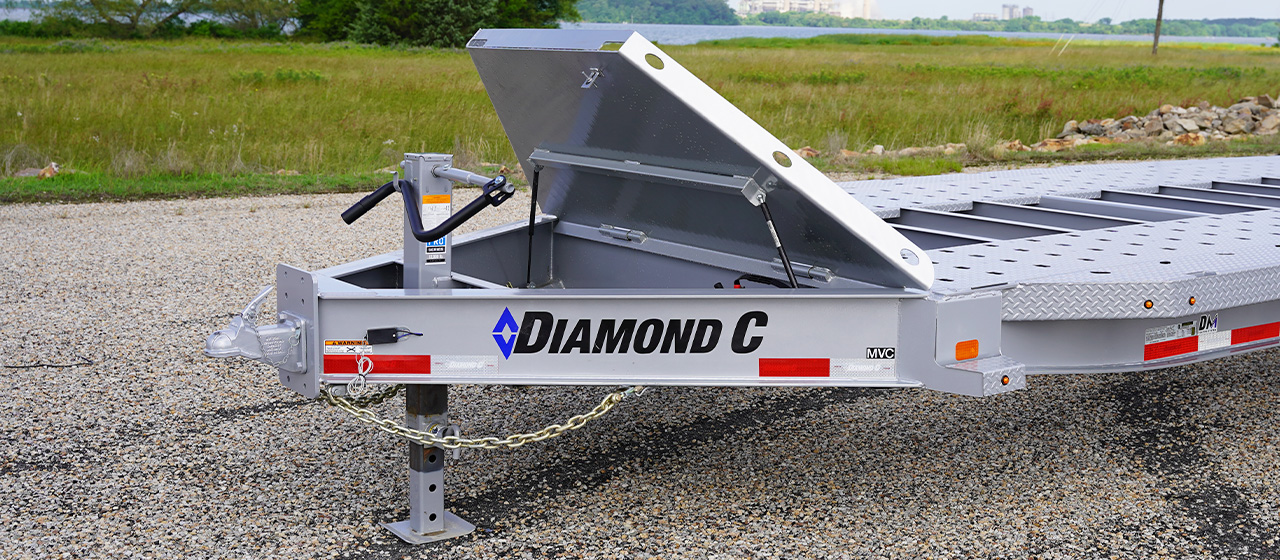 Lockable V-Tongue Storage Lid
We've brought our popular HD V-Tongue storage lid design from our Equipment trailers over to our Car Haulers series. This intelligently crafted lid design offers maximum storage space for jacks, tools, and straps, while also doubling as bonus deck space.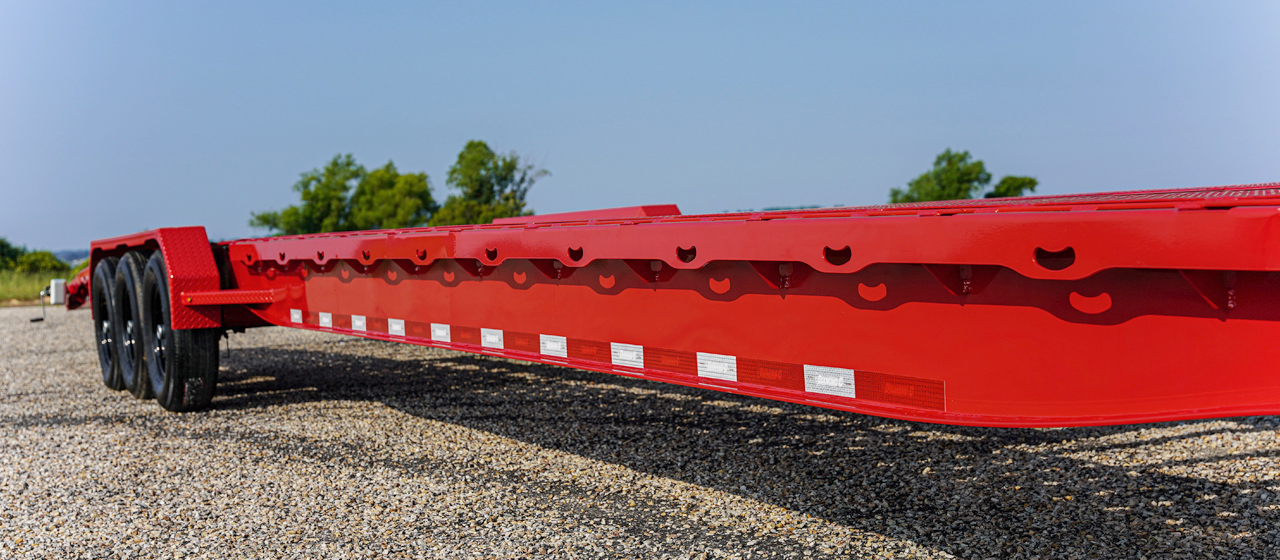 Tie Down Surplus
The brand new full length Formed Rub-Rail Tie Down System includes plenty of tie-down options utilizing stake pockets for straps with flat hooks as well as ergonomic holes for your wire hook straps.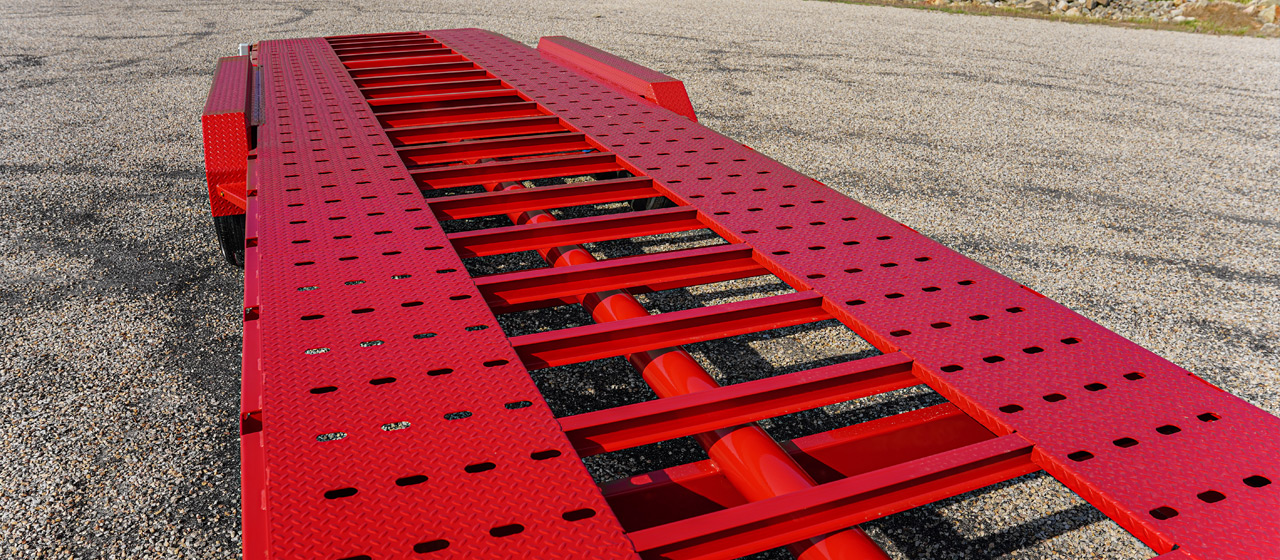 Diamond Plate Laser Grip Floor
Choose between a full or open pit floor made from durable 1/8″ Diamond Plate. Features laser cut floor runners with tie down capability. (3/16″ Solid Steel floor option also available)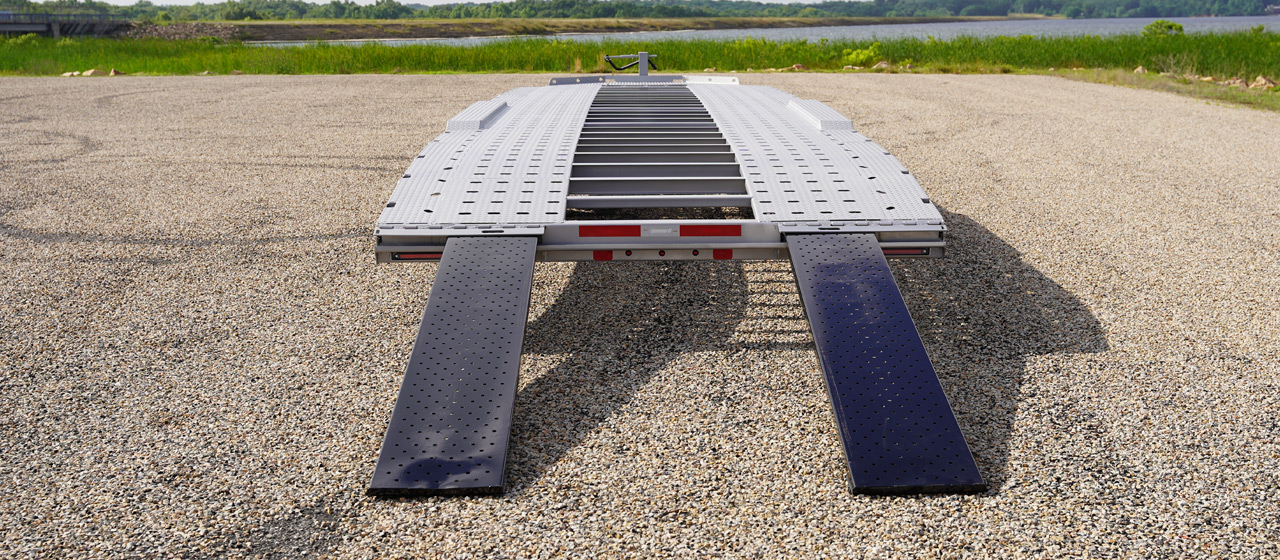 Tapered Easy-Load Dovetail
At the intersection of design, function, and aesthetic – long swept dovetail with 102″ light weight ergonomic slide-in ramps featuring an innovative new door latch.
Quality Trailers Since 1985
Diamond C has been an industry leader for over 35 years since our humble beginnings over 3 decades ago. We strive to be on the forefront of trailer manufacturing by continuously demonstrating excellent quality and value, cutting edge innovation, and superior customer service.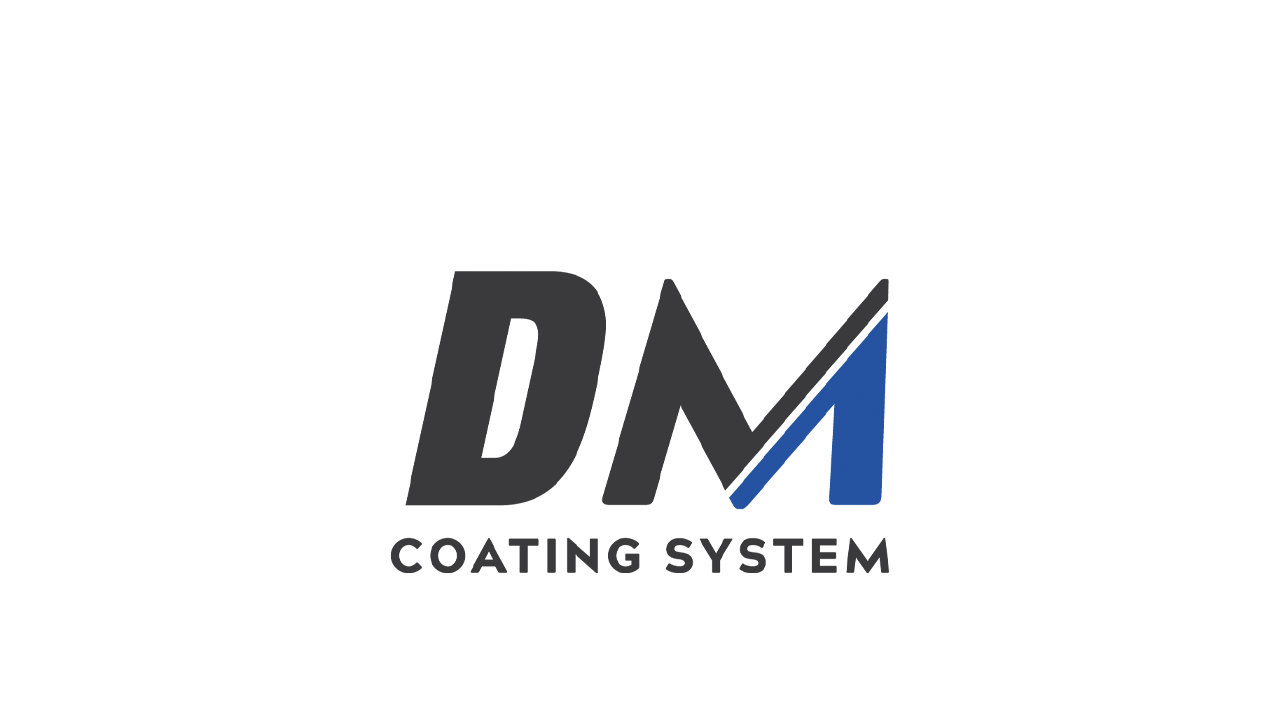 DM Powder Coating System
Our custom Difference Maker DM COATING SYSTEM produces extraordinary trailer finishes that are exceptionally durable and beautiful. We offer multiple standard and custom COLORS to perfectly compliment your trailer.
Watch Video
Future-Proof Design
MVC is built using our groundbreaking ENGINEERED BEAM TECHNOLOGY. We design, engineer, and optimize our own custom I-Beams to fit each model which allows us to make lighter and significantly stronger trailers.
All four GVWR Upgrade Packages (14.9K, 18K, 24K, and 20K/25K) come standard with TORSION BRAKE axles and an extra wide 60″ Spread Axle is included on tandem axle configurations.
SWAY CONTROL is included on every available length and prevents the trailer frame from warping, flexing, or swaying while hauling extreme loads.
Looking for the gooseneck hitch version of this trailer? Check out MODEL MVC-GN, which features our signature 12″ curved engineered gooseneck..
More Than Just a Trailer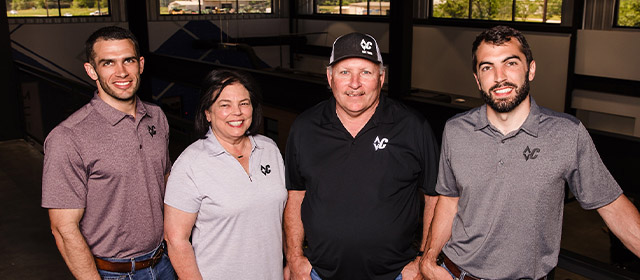 Family Owned and Operated
Over 35 years ago a young East Texas couple embarked on a journey that at the time was merely a means to put food on the table for their growing family. Unbeknownst to them, their nature would have an endless impact on the business they would create…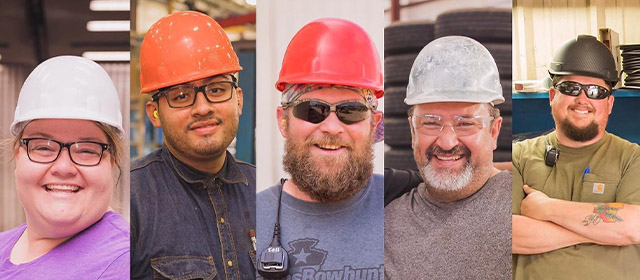 This is who we are and what makes us Different
Our Purpose is to fuel the growth and success of Diamond C team members, our customers, and our community.
Our Niche is extraordinary trailers and service to match.
Our Core Values are Do Work and Love Strong.
Learning Center
Your one-stop-shop for everything trailer related. In-depth articles and resources about our trailers, options, culture, and what makes us stand apart from the other guys.
3 Easy Steps to Build Your Own Trailer
Step 1

Configure your ideal trailer below by selecting your desired specifications.

Step 2

Submit your custom trailer build to your closest Diamond C dealers.

Step 3

Your selected dealer(s) will contact you with final pricing and availability.
Base MSRP: $18,409
*Trailers are shown with base MSRP pricing (Manufacturer's Suggested Retail Price). MSRP is NOT final sales price - your final sales price varies depending on region and dealer. Be sure to submit your trailer to your local Diamond C dealer for final trailer pricing.