Axles & Suspension
Trailer Suspension Systems
Published April 1, 2021
Pulling a trailer with the right suspension system for your application can make a considerable difference in ride quality and your overall user experience. Diamond C offers multiple premium suspension systems alongside our LIPPERT TRAILER AXLES to give you peace of mind while hauling and ensure your trailer lasts longer with less overall maintenance needed.
Picking which type of suspension system to include with your trailer is a very important decision, and varies based on which type of trailer you require for the job and what you are planning to haul. The correct trailer suspension gives you a smoother ride and protects your trailer and cargo by absorbing shock from bumps and dips on the road road.
We offer 4 quality types of trailer suspension:
Leaf Spring Suspension
Torsion Suspension
Heavy Duty Adjustable Suspension
Air Ride Suspension
Keep reading to learn more about Diamond C's trailer suspensions and which one is right for you.
(Prefer to watch instead of read? No problem – check out this informative video below from our very own Jacob Crabb, and watch and follow along as he shows several of our models up close equipped with various suspension options and gives tips about which type to choose for your specific application).
Leaf Spring Suspension
Leaf spring suspension arguably the most common and cost effective type of trailer suspension.
This suspension design is made up of a series of curved springs (leaves) that are stacked and attached to the underside of the trailer's axle using hangers and U-bolts. The leaf springs in this suspension system function as shock absorbers – they flex and release when you hit bumps and rougher roads, which provides you with a smoother ride.
Tandem and triple axle trailers feature an equalizer, which sits in-between the axles and links the springs together. These equalizers float to help to transfer energy from one axle to another, especially while going over bumps to help soften the impact.
Leaf Spring Suspension Highlights:
More budget friendly to purchase than other suspension systems
Tried and true classic technology
6 Year LIPPERT Warranty
We offer a few different varieties depending on which axles the trailer has:
3.5K Axles: 4-Leaf
5.2K & 6K Axles: 5-Leaf Slipper
7K & 8K Axles 6-Leaf Slipper
Torsion Suspension
Torsion suspension provides many benefits in overall design and function than a traditional spring suspension. The unique design of the Torsion axles includes a rubber torsion arm system that is self-contained within the axle tube, which then directly attaches to the trailer frame. The result is a far smoother ride, with less overall wear and tear on your trailer over the years.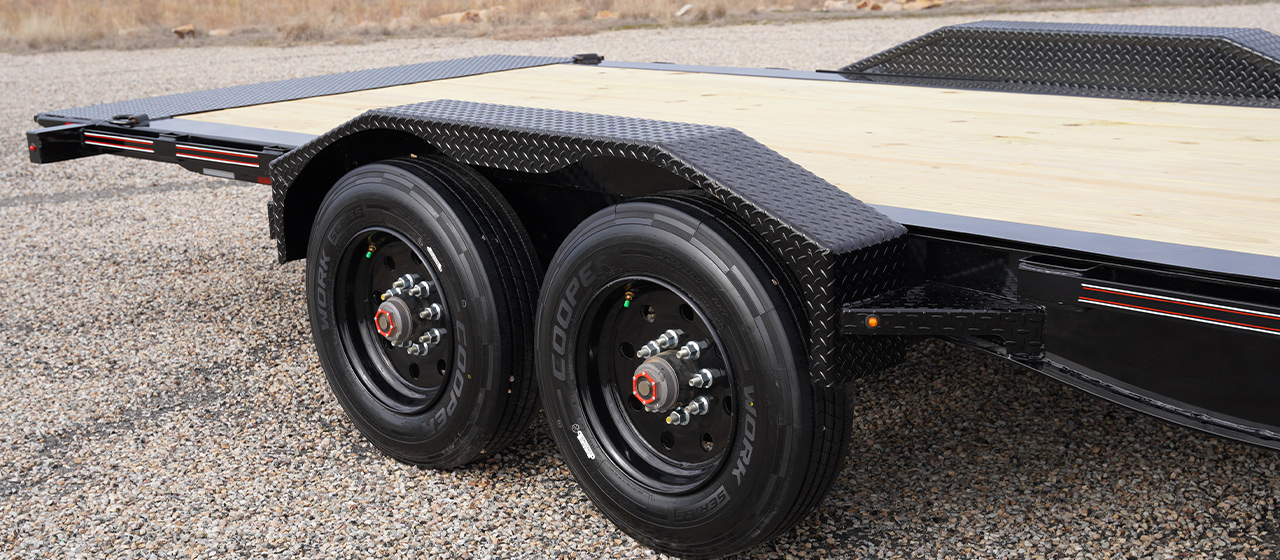 The Torsion system uses a heat-treated solid steel inner bar that is surrounded by 4 flexible rubber cords. The wheel hub spindle is attached directly the the Torsion arm, which in turn is connected to the rubber-encased Torsion bar. As your trailer encounters bumps in the road, the up and down movement of the wheels causes the inner Torsion bar to twist back and forth. This rotating movement is simultaneously dampened and cushioned by the surrounding rubber cords, which provides superior shock absorption and gives you an ultra-smooth ride.
Torsion Suspension Highlights:
The rubber cushioning from the 4 flexible cords eliminates all metal-to-metal contact and provides superior shock absorption
Durable heat-treated solid steel inner rotating Torsion bar
Independent wheel suspension allows each wheel to move separately from the others as needed
Quieter ride than spring suspension
Less overall maintenance and repairs required due to one-piece design
11 Year LIPPERT Warranty
Availability
We offer Torsion suspension axles as an available upgrade on most of our CAR HAULERS, EQUIPMENT trailers, single wheel GOOSENECK trailers, and heavy duty series of DUMP trailers.
Torsion axles come standard on tilt trailer model HDT and our redesigned car hauler model MVC.
Heavy Duty Adjustable Suspension
This suspension system is a popular upgrade among our heavier duty dual wheel GOOSENECK, PINTLE HITCH, and STEP DECK trailer models.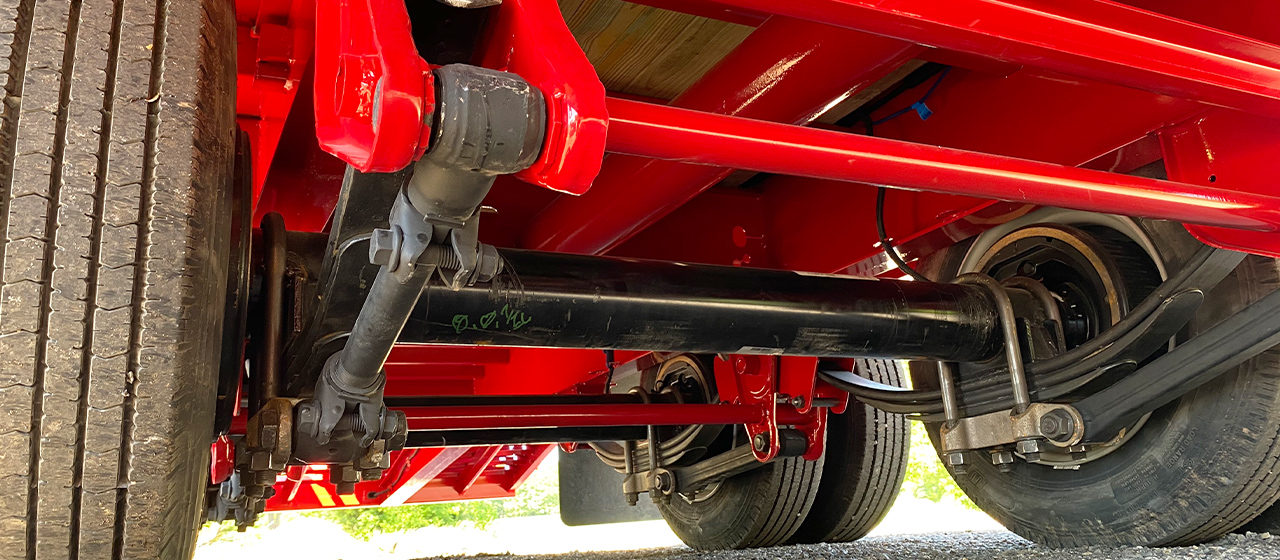 The Hutch Series 9700 heavy duty adjustable suspension system takes the traditional leaf spring suspension design a step further by adding several key features:
Easily adjustable torque arm screws
A maintenance free fastening system
"Million Mile Rocker Bushing" – eliminates bushing fatigue and failure
All our 16K axle equipped trailers come standard with this heavy duty adjustable suspension, including our flagship gooseneck model FMAX216, heavy duty pintle hitch model PX216, step deck model SDX216, and our dual tandem gooseneck dump model WDT (with 30K GVWR package selected).
Air Ride Suspension
For a smoother, quieter ride, extended trailer life, & higher rates per mile, outfit your trailer with our top-of-the-line Air Ride trailer suspension upgrade from Cush.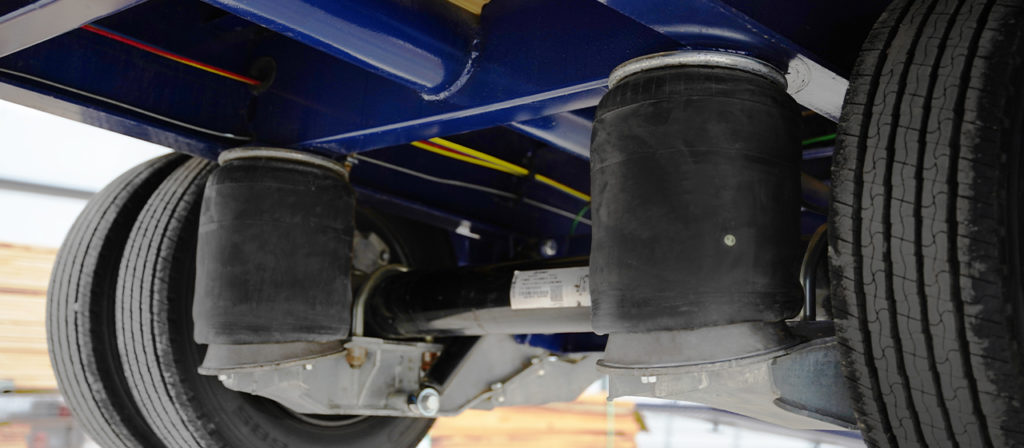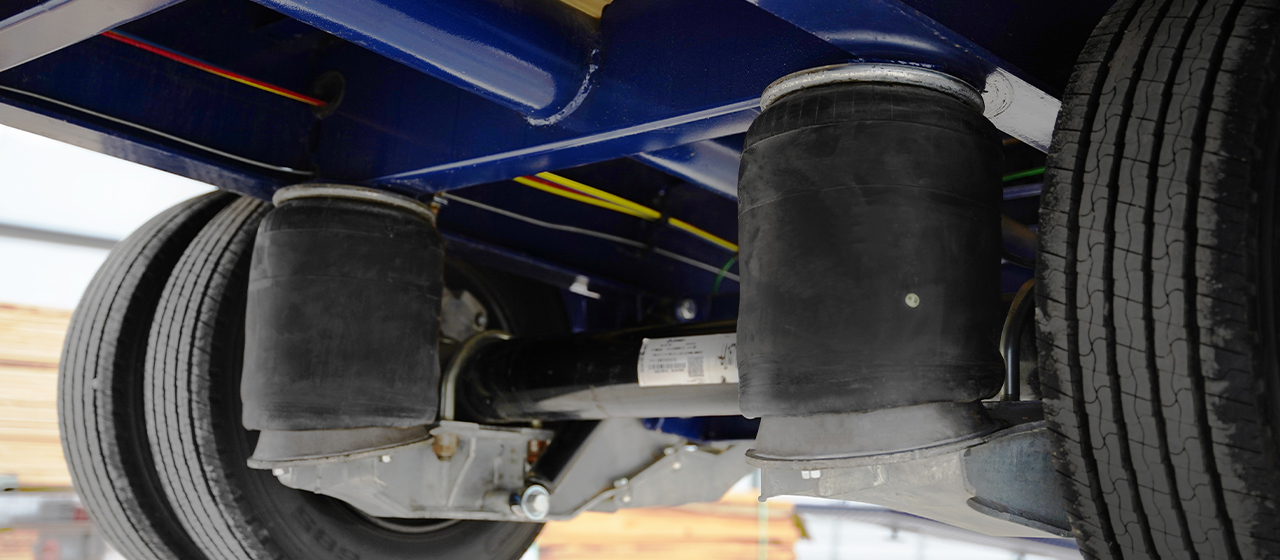 Air Ride Suspension utilizes airbags on each axle made from a durable polyurethane and rubber material. Dual compressors pump air into each flexible bag, enabling them to absorb bumps and vibrations much more efficiently than on a traditional spring suspension system. While spring suspensions tend to compress and release the energy from bumps into your trailer frame and cargo, Air Ride suspension absorbs the energy under the frame before it even reaches your trailer body.
We are proud to offer this premium suspension system on most of our GOOSENECK, PINTLE, and STEP DECK trailers as an available add-on. Air Ride suspension is a very popular option for HOT SHOT trailer owners who regularly haul uneven loads across long distances.
Benefits of Air Ride Suspension:
Ride Quality & Cargo Protection: Smoother, quieter ride & reduced push-pull lessens fatigue of the driver & protects cargo being hauled.
Reduces Wear & Tear: Less trailer bouncing extends the life of your trailer.
Warranty: Offers warranty against any manufacturing defects, giving your customers confidence on the road.
Front Lift Axle: This unique included feature saves tire wear & fuel consumption on empty hauls.
More per mile: Air Ride allows you to net higher rates per mile hauling loads not allowed with standard suspension.
The Air Ride Package includes dual compressors, one 10V 5amp charger, and dual Group 27 continental BATTERIES.
For a more in-depth guide into this custom Cush Air Ride trailer system, READ OUR COMPLETE GUIDE HERE.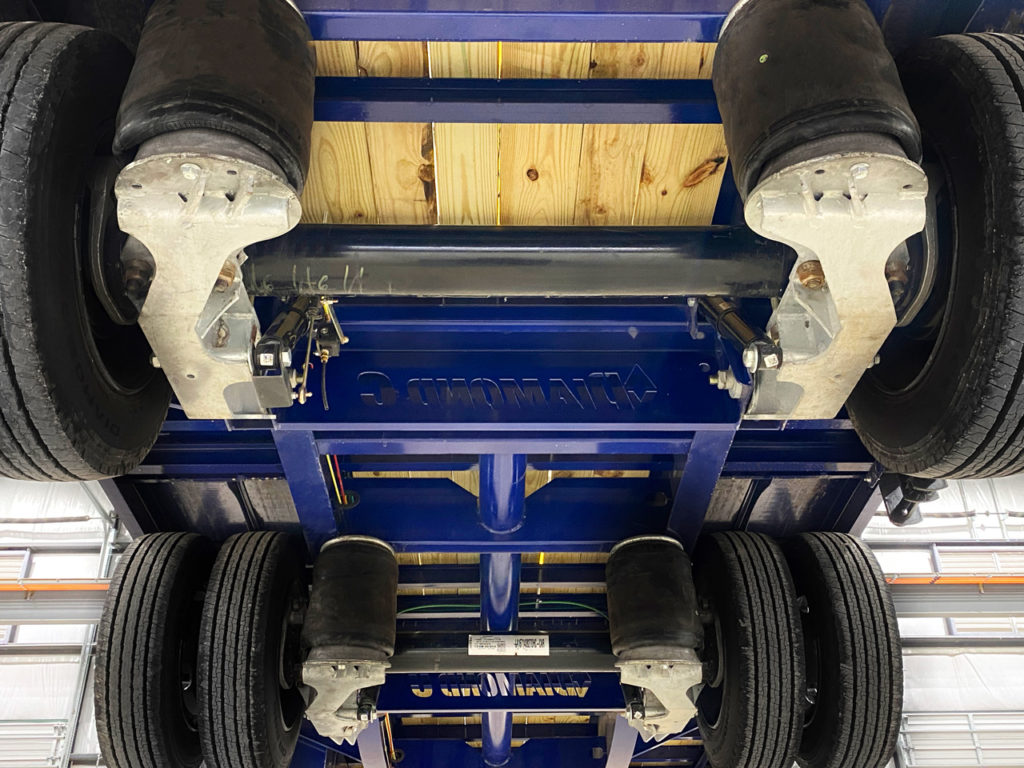 Build Your Own Trailer
We offer a robust lineup of premium trailers – ranging from CAR HAULERS and DUMP trailers all the way to heavy duty EQUIPMENT, flatbed GOOSENECK, and STEP DECK models. All of our trailers come standard with one of these quality suspension systems, with many opportunities to upgrade on our trailer configurator.
Contact your NEAREST DIAMOND C TRAILER DEALER to view available inventory, or click below to view and price all of our trailer models.
BUILD & PRICE
RELATED