Axles & Suspension
Air Ride Suspension
Published December 3, 2021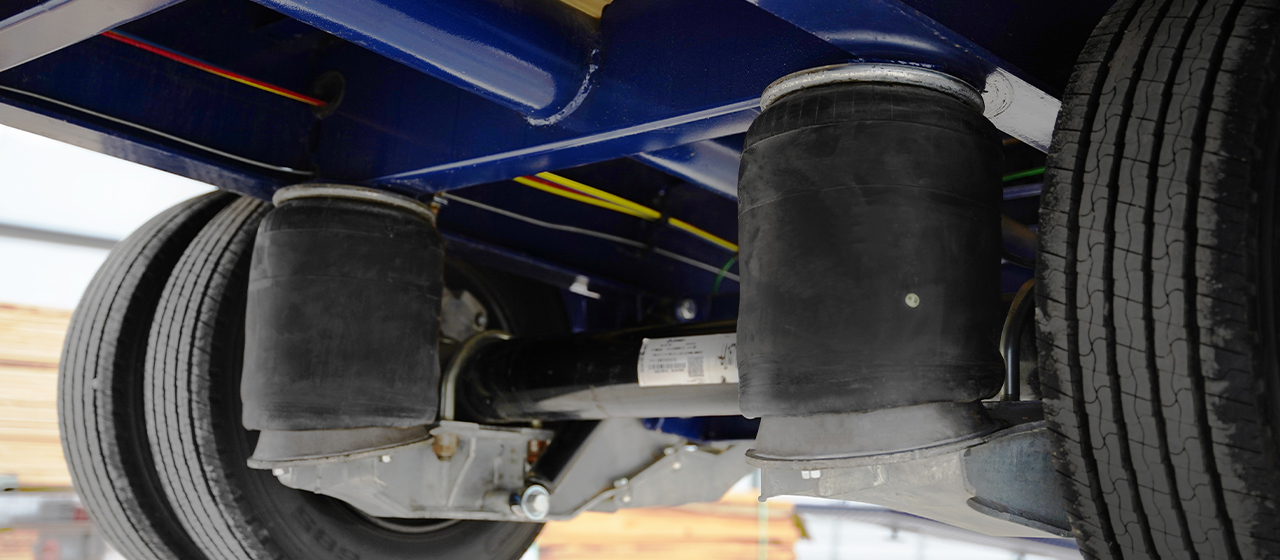 For a smoother, quieter ride, extended trailer life, & higher rates per mile, choose our custom designed Cush Air Ride Trailer Suspension.
Found on most GOOSENECK, PINTLE, and STEP DECK trailers as an available add-on.
Since most pickup trucks don't have supplied air, trailer Air Ride systems need to be self-contained (unlike on semi-trailers). We include dual Group 27 BATTERIES on our Air Ride System which supplies the power to regenerate the air, as well as dual compressors and a 10V 5amp charger.
Air Ride Suspension utilizes airbags on each axle made from a durable polyurethane and rubber material. The dual compressors pump air into each flexible bag, enabling them to absorb bumps and vibrations much more efficiently than on a traditional spring suspension system. While spring suspensions tend to compress and release the energy from bumps into your trailer frame and cargo, Air Ride suspension absorbs the energy under the frame before it even reaches your trailer body.
BENEFITS OF AIR RIDE SUSPENSION:
Ride Quality & Cargo Protection: Smoother, quieter ride & reduced push-pull lessens fatigue of the driver & protects cargo being hauled.
Reduces Wear & Tear: Less trailer bouncing extends the life of your trailer.
Warranty: Offers warranty against any manufacturing defects, giving you confidence on the road.
Front Lift Axle: This unique included feature saves tire wear & fuel consumption on empty hauls.
More per mile: Air Ride allows you to net higher rates per mile hauling loads not allowed with standard suspension.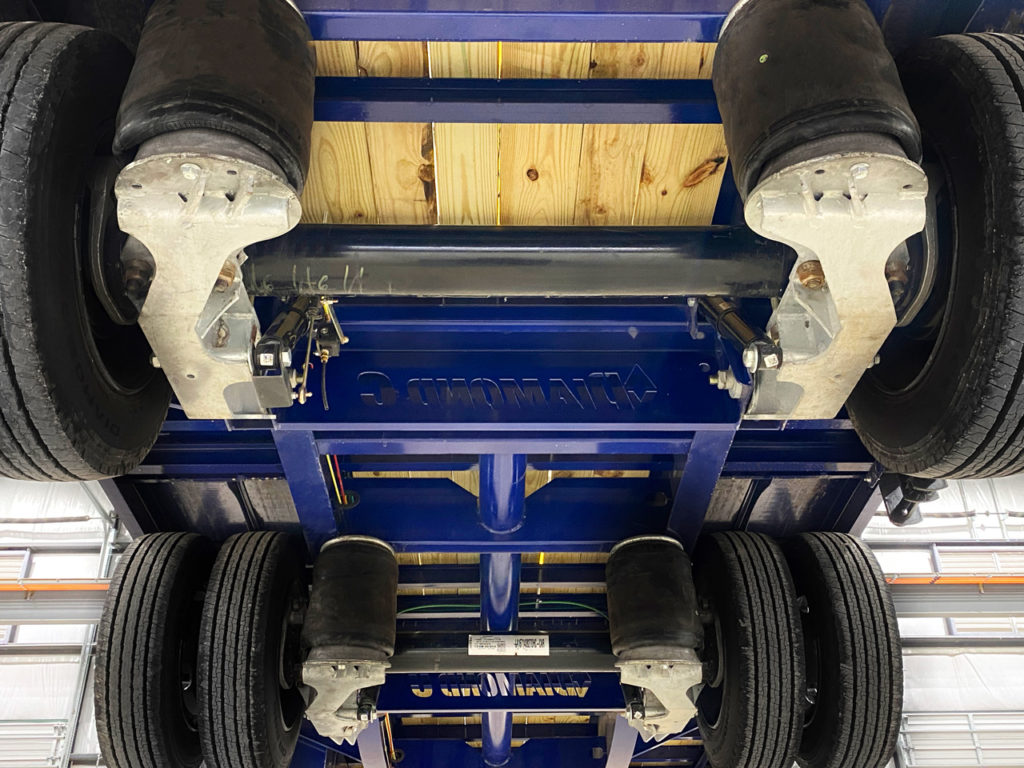 CUSH SUSPENSIONS PARTNERSHIP
We have partnered with Cush Suspension Systems for the Fall of 2021 to bring the most functional and durable trailer Air Ride system to the market.
Our new Air Ride unit is based on a custom ReliAIR T3 total air control system. This custom-designed complete trailer suspension system brings significant advantages to trailer owners (especially HOT SHOT users), and is an all-new innovation for the Air Ride trailer market.
CUSH RELIAIR T3 UNIT FEATURES AND CONTROLS:
Digital Voltage Gauge – Shows status of the batteries (red, yellow, green), and the digital voltage readout of your battery life.
Lift Valve – Lifts the front axle off the ground. If you are running a low or empty load, this lift options lifts the front rear axle completely off the ground which saves on wear and tear on your trailer tires and brakes.
Dump Control – Dumps all the air out of the air springs which lowers the bed height. This allows for better load angle if you're loading low profile equipment, which adds versatility.
Load Gauge – This gives you a readout of the ground load pressure on your system. Use the accompanying chart (in the box) to estimate loaded weight of the trailer so you know how much weight you are hauling without overloading your trailer.
Tank Gauge – Shows you a visual representation of the amount of air pressure in the system. Expect to run at around 120 PSI +/- a few pounds as your trailer is reacting to bumps in the road. As your suspension travels, the system automatically rebalances the air in the system to keep it fully supplied.
Two-Way Air Chuck – Easily operate small air tools or air up a tire, or put a valve stem attachment in it and manually air up your system if you are low on pressure.
Dual ARB Compressors – 2/3 HP compressors each (more than the industry standard of 1/4 HP). The higher horsepower improves bag fill time and durability.
Included LED Light – Illuminates the entire control panel for low visibility situations.
Water Separator – As air flows through the system, this system catches the extra condensation that occurs and contains it. This eliminates condensation from freezing and keeps the system free from excess moisture.
Remote Tank Drain – This manual pull cord also assists with excess moisture. This drain opens a valve on the bottom of the tank that lets out any water or condensation that has built up.
SUSPENSION CONSTRUCTION:
Traditional air ride suspension systems over the past few decades have usually had the actual axle itself welded into the arm. While this welded assembly method is strong and durable, it makes repairs and maintenance very difficult. We have solved this issue with our Cush Suspension partnership by delivering a suspension that is designed with a bolt-on application using U-bolts (much like on heavy duty semi-trailer U-bolts on spring suspension). The result is a long-lasting durable suspension, with the added benefit of significantly easier access for maintenance and repairs.
We also feature heavy duty galvanized arms underneath to protect the suspension (especially during the Winter months when traveling on snow and salt). This galvanized coating will help prevent premature rust and deterioration.
The ultra smooth ride of our Air Ride System pairs great with our industry exclusive 12′ HYDRAULIC DOVETAIL.
Still got questions? Watch below as Jacob gives a guided tour of the entire system, as well as some best practice tips for safely using and operating your Air Ride Suspension.
Find out more about Cush and their suspension products at www.CUSHCORP.com.
RELATED