DC Innovations
Engineered Beam Technology
Published December 14, 2022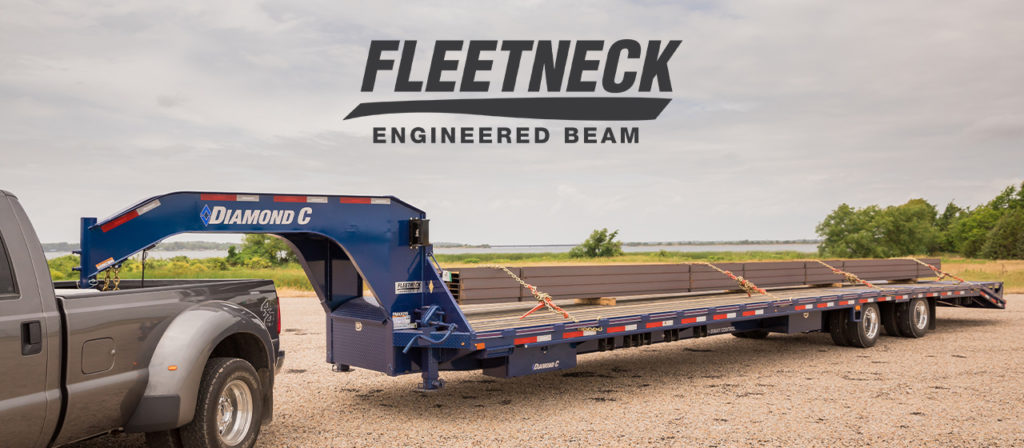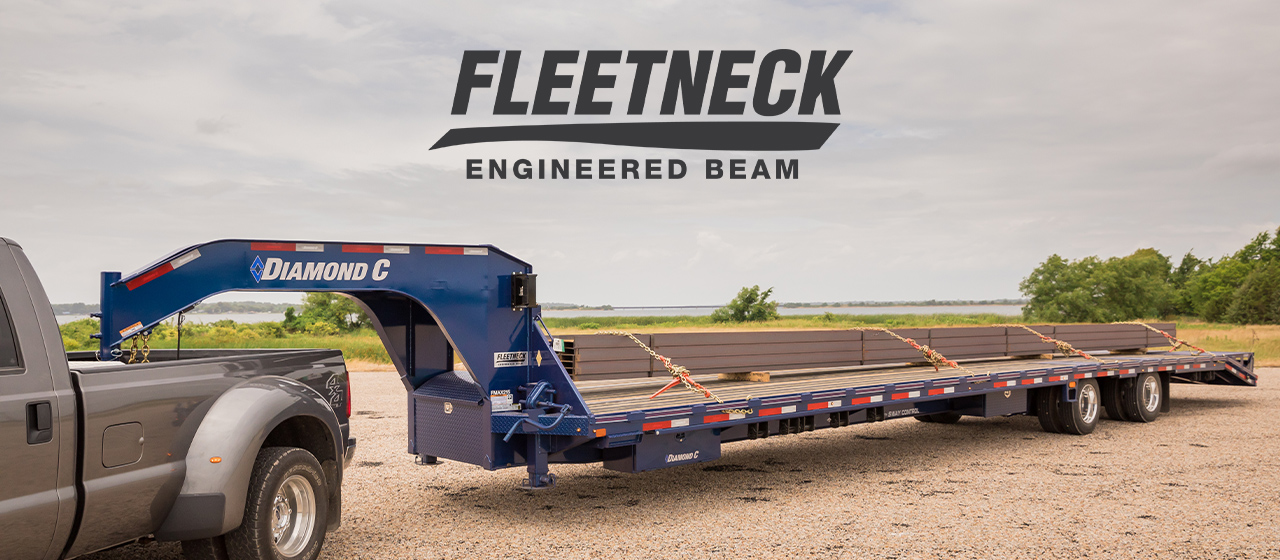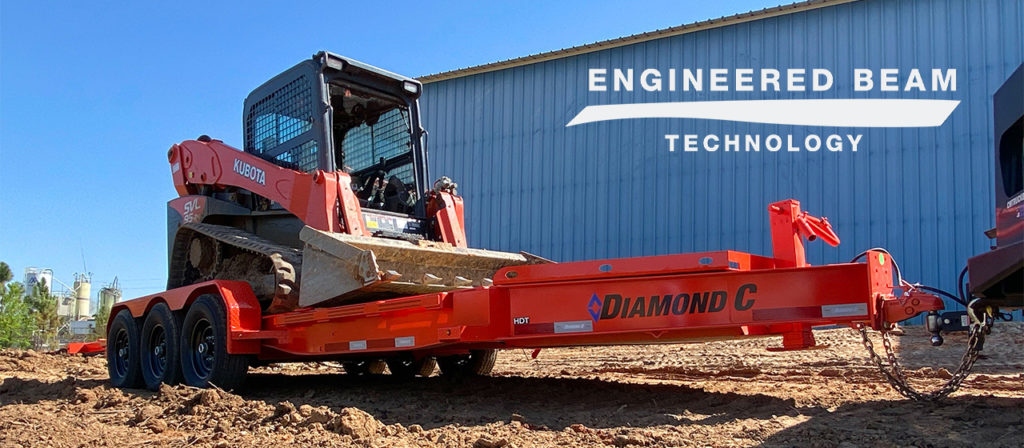 Lighter – Stronger – Engineered to Deliver
Diamond C is forging a new era in trailer design with our Engineered Beam Technology. We design, engineer, and optimize our own U.S. Patent Protected I-Beams to fit each model. Our Engineered Beam GOOSENECK trailers are stronger yet lighter, featuring the best strength-to-weight ratios of any steel frame gooseneck on the road. We have also recently brought this technology to select DUMP, EQUIPMENT, and CAR HAULER trailer models.
But first, a little history…
The year was 2015, and we had been building gooseneck trailers just like the rest of the industry for the past 30 years. We purchased standard I-Beams and sliced and diced them and added reinforcement to make strong trailers out of them. While we had always been proud of our gooseneck trailers, we came to a place of unrest. We knew that there had to be a better way.
We started studying the strength dynamics of I-Beams and quickly turned to flat-bed semi-trailers for inspiration. For decades the semi-trailer manufacturers have been building their own I-Beams, custom to each trailer configuration. They realized long ago that standard beams were not the best solution for the strongest, lightest trailer frames. They needed taller beams considering the span of the frames without the excess weight that comes with taller standard beams.
The same principles clearly applied to gooseneck trailer framing so we set out to design, engineer, and build our own I-beams.
After nearly three years of research and development, the Fleetneck Engineered Beam product line was the result. We proudly debuted the brand new Engineered Beam goosenecks at the 2017 NATDA Trade Show and took the flatbed gooseneck trailer world by surprise. In 2019 we were awarded a U.S. Patent for our efforts, and in 2022 we launched the new 2.0 version of this technology, which includes significant improvements to both the frame and the neck.
We now have almost infinite control over the shape of the beams. We're able to optimize the performance of the steel by putting it to work where we need it most. No dead weight. No added reinforcements are needed. We're able to build contours into the beams that optimize the total design and functionality, from dovetails to deck height. Our beams are the tallest and strongest in gooseneck trailers, with the best strength-to-weight ratios on the road.
Fast forward to today, and we are now bringing the technology behind the Engineered Beam design to the rest of our product lineup, including our top Dump, Equipment, and Car Hauler models. Diamond C has always been a pioneer in trailer innovation and a leader in pushing the industry forwards, and our beam design is certainly no exception to that. Watch this space for more news and upgrades, and in the meantime, keep scrolling to find out more about how our patented beam design helps your trailer be one of the best in the world.
Engineered Beam Story Video
What if one day you imagined that there had to be a better way? What if the better way you dreamed of was radically different than what everyone knew? What if you had to bet your career and the jobs of hundreds of people on your idea — that it would work and win the day? What if it worked? What if it made things possible that weren't possible before? What if it opened up new opportunities and supercharged the growth and success of your team members, customers, and community?
Tune in below as Jeffery & Jacob Crabb tell the story of how Fleetneck Engineered Beam Technology came to be.
Features
Engineered Beams
We engineer the I-Beams, optimize them, and build them for each trailer configuration, just like the semi-trailer manufacturers have been doing for decades.
Our Engineered I-Beam frames are taller, stronger, and lighter than the industry standard for deck-over and flatbed trailers. Depending on the model, the beams on our GOOSENECK trailers range from 14-18″ tall, and the beams on our compatible DUMP and EQUIPMENT trailer models range from 10-12″ tall.
Our Engineered Beam is fabricated from scratch in-house, allowing us complete control over beam size, configurations, and even weights. The beam's web is cut and shaped before the continuous one-piece flanges are welded onto the top and bottom of the web, creating the Engineered Beam.
With the launch of Fleetneck Engineered Beam 2.0 in the fall of 2022, we have significantly improved the design and construction of this technology on our FMAX gooseneck lineup of trailers:
Grade 100 material used for all 2.0 webs
The web now has cutouts for wiring and cables, preventing them from being run underneath the beam
Rib orientation near the neck adjusted to provide better support to the neck assembly
The spare is now mounted on the passenger's side underneath the deck with a winch to raise and lower the wheel
Larger flanges on gussets and full-height cross members provide additional strength to the frame
HYDRAULIC DOVETAIL toe board support upgraded to Grade 100 material
Watch the video below as Jacob Crabb talks all about the new features of the Fleetneck 2.0!!
Standard steel will buckle and break at 36 ksi, and we didn't compromise there either; our beams are built using steel rated at 50/100 ksi, so it springs back no matter what load you put on it.
Don't believe us? Download the attached flyer which shows a stress analysis comparing our Engineered Beam vs the Industry Standard on a dual tandem gooseneck trailer.
DOWNLOAD BEAM COMPARISON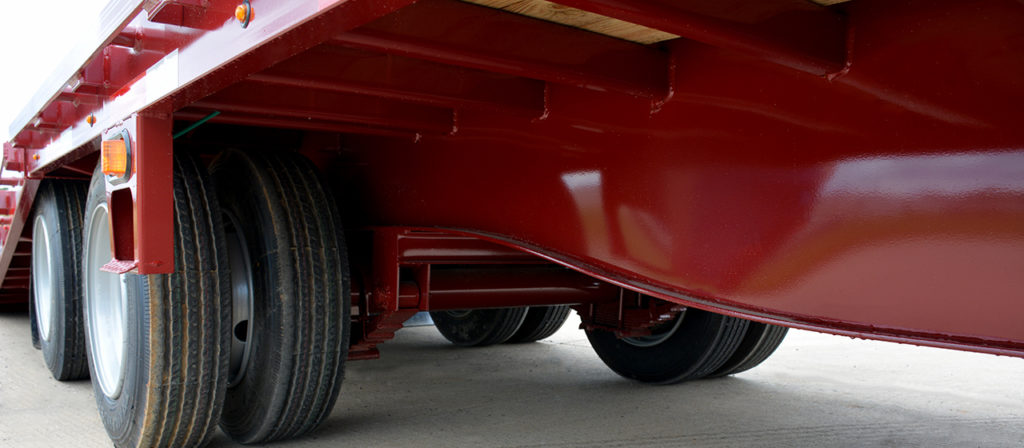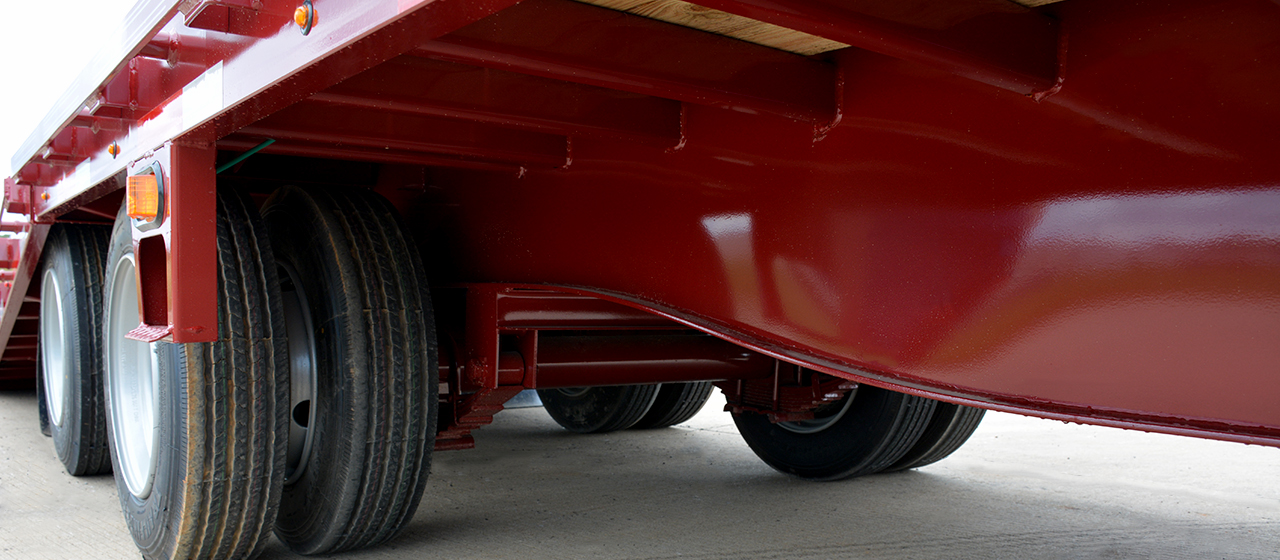 Model FMAX216 Gooseneck Trailer with 18″ Engineered Beam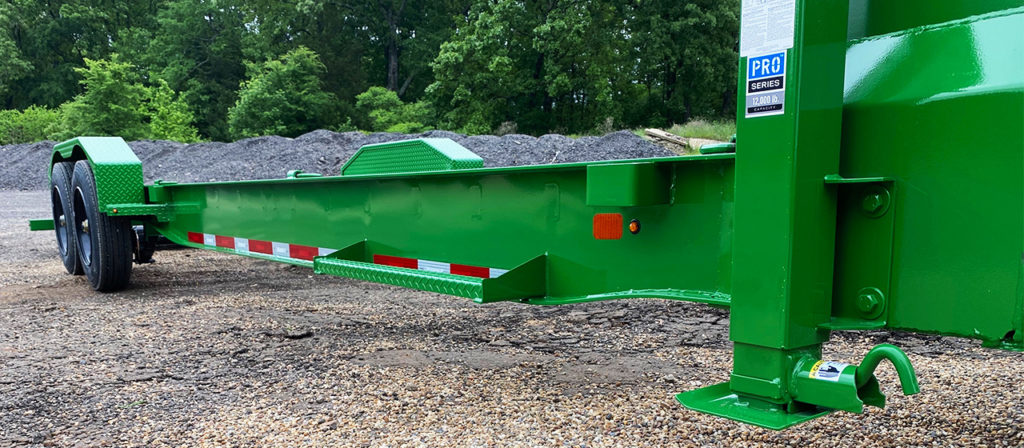 Model LPX Low Profile Extreme Duty Equipment Trailer
The Camber
The deck and frame have a slight camber when not loaded. When loaded, it flexes as necessary to level but never sags like in traditional goosenecks.
Models Offered On
Currently, we offer Engineered Beam Technology on the following models (with more coming soon):
Engineered Neck
You'll notice our goosenecks look very different than normal flatbed gooseneck trailer necks do. This is by design. Our curved one-piece fabricated 12″ Engineered Neck design distributes force throughout the neck so there is no concentration of stress in the corners like on traditional goosenecks. These Engineered Necks come standard on any gooseneck FLEETNECK series trailer, as well as on most of our bumper-pull trailers featuring our GOOSENECK PACKAGE upgrade.
Engineered Beam 2.0 for our Fleetneck gooseneck trailers takes this technology a step further and improves on the neck design:
10 gauge Grade 80 material used for neck webs – resulting in a 67-pound weight reduction in the neck.
Now comes standard with a winch tray. This will allow any FMAX 2.0 sold to accept a bolt-on winch box.
Our WINCH BOX PACKAGE has been designed to follow the neck profile, resulting in a cleaner look with better aerodynamics.
New brackets on the neck for cleaner wire harness management.
Redesigned/refined fish plate design is stronger and more aesthetically pleasing.
Check out the Engineered Neck stress test and sizing flyers below, which compare our Engineered Neck with a traditional I-Beam neck on the same gooseneck trailer: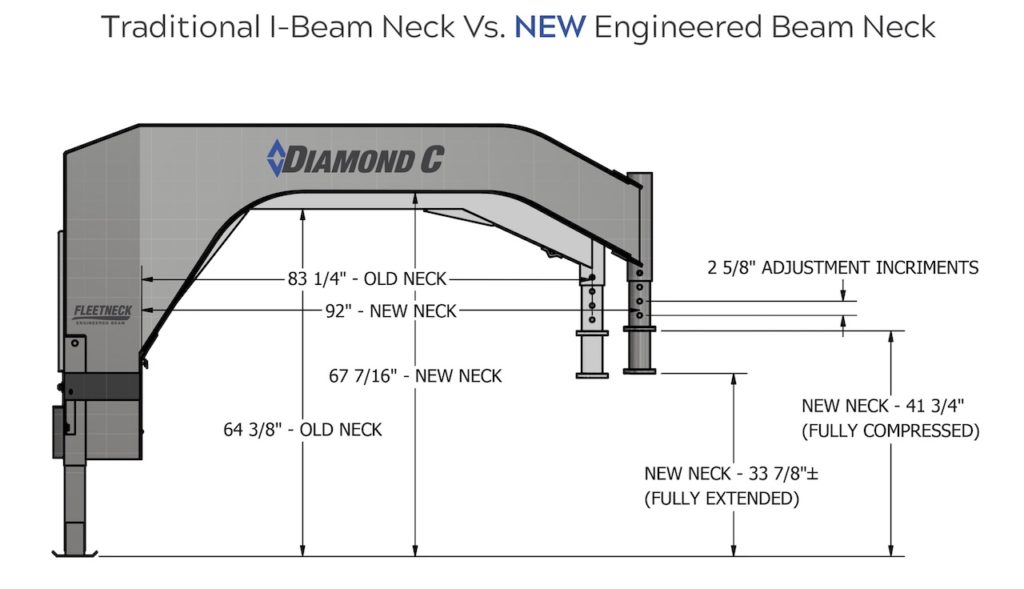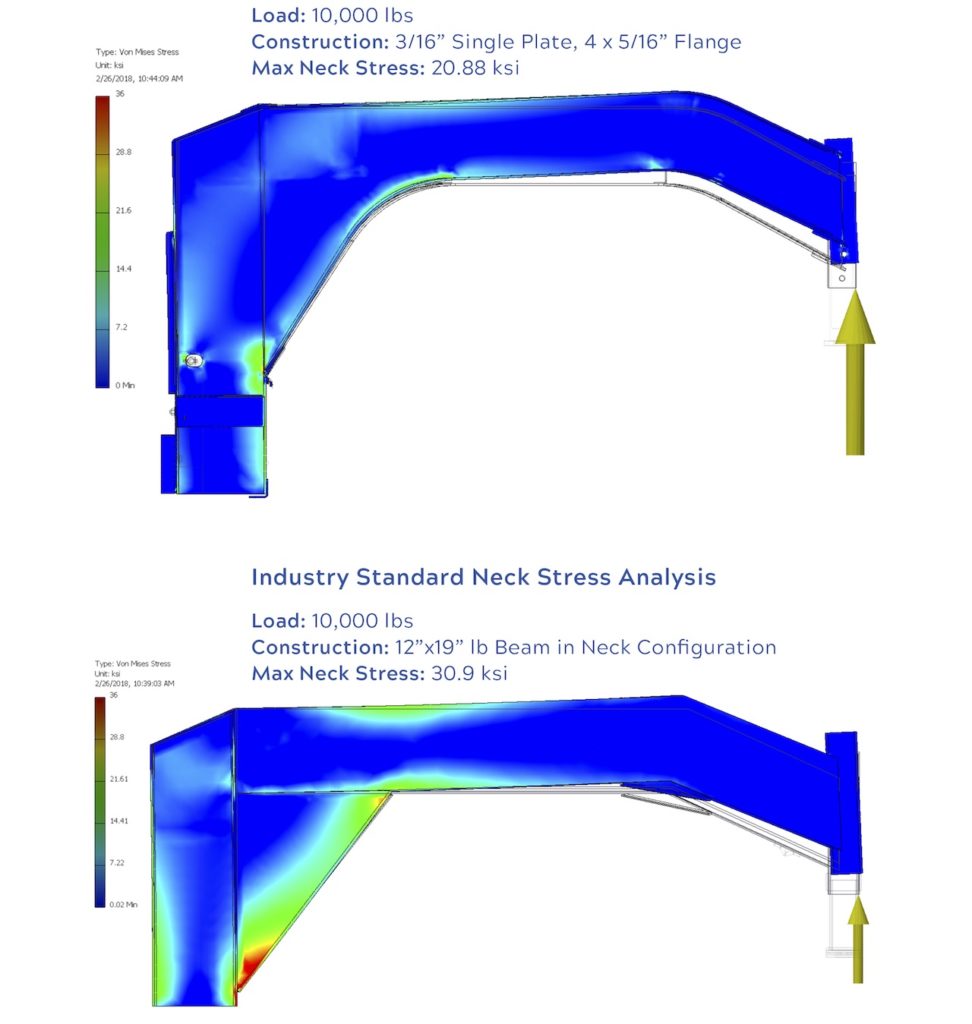 Models Offered On
Currently, we offer Engineered Neck Technology on the following models featuring the GOOSENECK PACKAGE:
Car Haulers: Model MVC-GN Multi-Vehicle Carrier
Engineered Beam Trailer Videos
LPD Dump Trailer Video
3D Animation Video
FMAX207 Video
PX310 Pintle Hitch Trailer Video
Engineered Beam Flyer
Considering the landmark advancements in the way we frame our trailers now with Engineered Beam Technology, we resolved to optimize the total gooseneck trailer design, not just the frame. So we set out to make every part of our Fleetneck GOOSENECK trailer lineup the best it could be. You'll find problem-solving, intelligent design incorporated from the dovetails to the deck steps and everywhere in between. View the flyer below for more information.
DOWNLOAD FLYER
Not sure which gooseneck model is right for you? Check out our in-depth GOOSENECK TRAILER BUYER'S GUIDE to see the highlights and comparisons of every gooseneck model.
RELATED