Jacks & Couplers
Hydraulic Jacks
Published February 15, 2023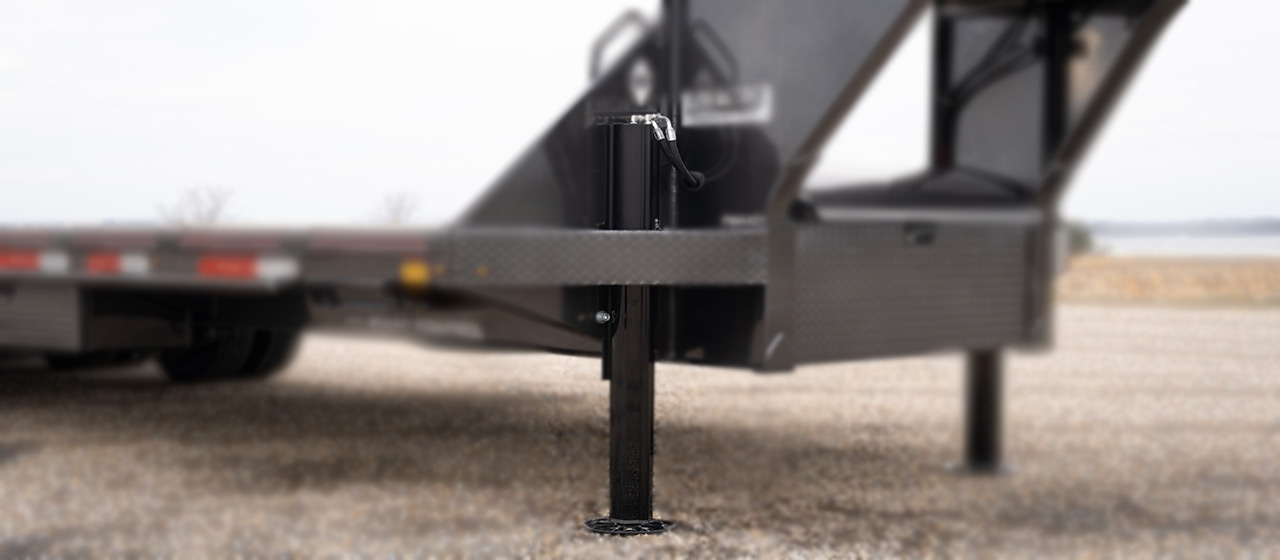 Diamond C proudly offers stronger yet lighter single and dual LIPPERT 20K Hydraulic Jack Systems throughout our legendary lineup of trailers. The Lippert hydraulic jacks are 1/3 of the weight of traditional steel casing hydraulic jacks and have a 20,000-pound lift in each jack versus the standard 12,000-pound lift. With a simple push of a button, you can raise and lower your trailer for a fast and easy hooking and unhooking experience.
Lippert 20K Hydraulic Jacks are Lighter, Stronger, Easier, and Faster.
Aluminum Cylinder Benefits
Light Weight: 1/3 the weight of steel.
Corrosion Resistant: Aircraft grade aluminum AI6061, coated in type II anodizing, will not rust or corrode, keeping the jacks looking new.
Durable: With an integrated protective sleeve, the jack is protected in the retracted position while also protecting the rod while extended.
Smarter Design: Aluminum extruded one-piece design allows for retract ports to be run internally to the jack, eliminating the hose's exposure to road damage and debris.
Features
1. KTI Hydraulic Pump: The hydraulic jacks are powered by a KTI HYDRAULIC PUMP unit and pair great with the 12′ Dovetail upgrade for the FMAX series.
2. Battery: The Group 27 Series BATTERY provides power-up and power-down for the hydraulic jacks.
3. Flow Divider Valve: Our flow divider valve splits the hydraulic power evenly to both jacks for the dual jack system.
4. Wireless Remote: Includes an easy-to-use remote to raise and lower your trailer.
5. Solar Charging Upgrade Option: The SOLAR PULSE CHARGER provides a hassle-free way to ensure your hydraulic pump battery is fully charged.
Hydraulic Jacks Are Available For The Following Models
Watch the video below to see how the hydraulic jack compares to a standard crank jack.
RELATED