Loading Options
XDR Extreme Duty Knee Ramps
Published October 12, 2020
The XDR Extreme Duty Knee Ramps were specifically designed to haul heavy concentrated equipment and machinery such as backhoes and excavators. The space in the middle is a necessity for knuckle height clearance, and is left open and void to be able to set a bucket or forks down for transport mode.
These ramps include the intelligently designed over-center latch hold down system featured on our MAX RAMPS, as well as the same two-point hinge technology and spring combination that makes loading and unloading a breeze.
These beefy ramps measure 24″ x 60″, and use the same strong Grade 50 material that is found in our ENGINEERED BEAM FRAMES.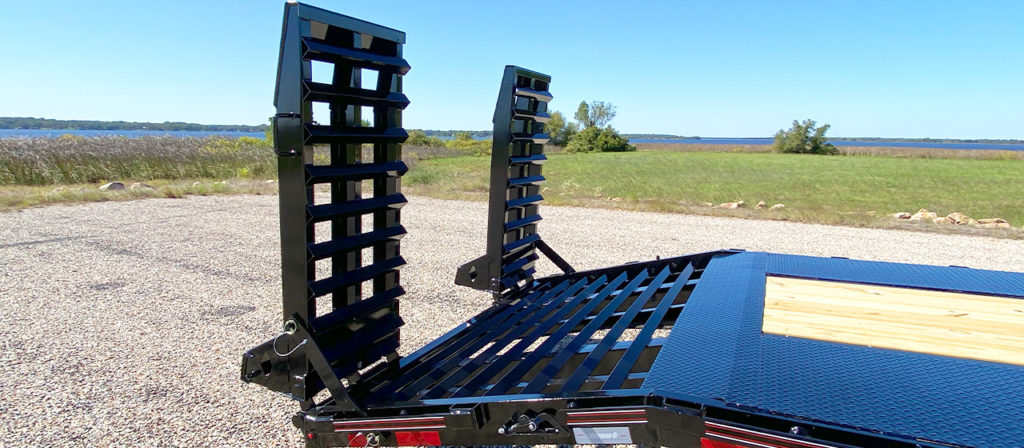 Features
24″ x 60″ extreme duty ramps
Heavy duty support knee for additional durability
50 ksi steel ramp frames with two-point hinge system
HD Spring loaded for easy lifting from deck and from ground
Aggressive angled cleats for traction in the slickest conditions
Open pit for extra clearance
Available on models:
These heavy duty ramps are available on most of our deck over trailers that utilize our patent protected ENGINEERED BEAM TECHNOLOGY, including:
All FMAX Fleetneck series gooseneck trailers
All PX series pintle hitch trailers
All SDX series step deck trailers
RELATED