Buyer's Guides
The Ultimate Equipment & Tilt Trailer Buyer's Guide
Published December 17, 2021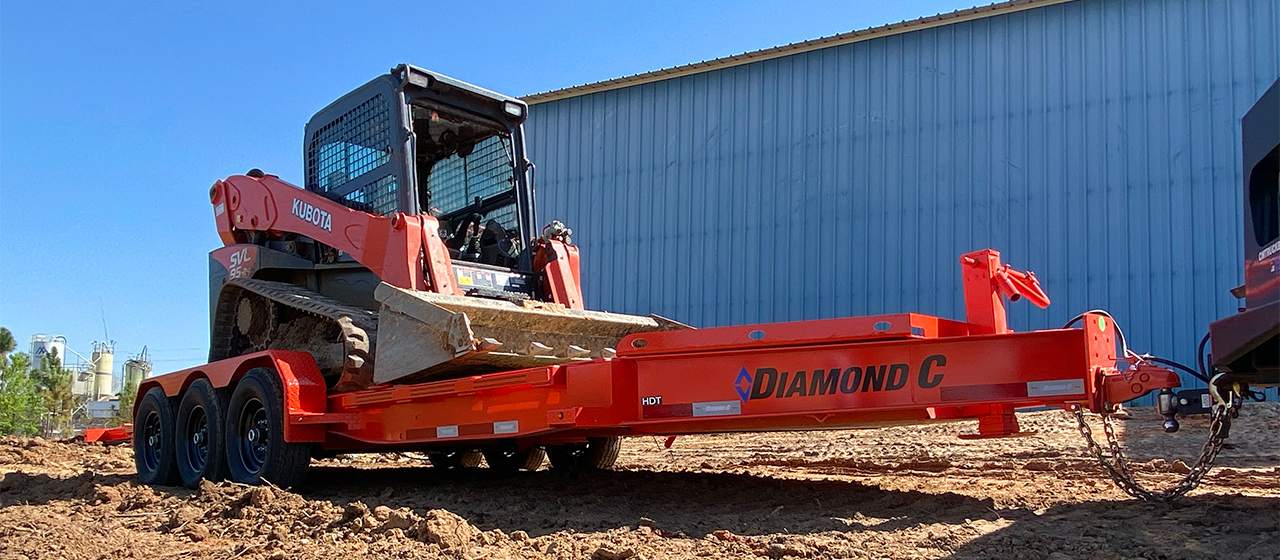 Diamond C vs…
If you're reading this, chances are you've already done some of your own reading about which manufacturer claims to have the best equipment trailer on the market. Chances are, you might have even done some research of your own comparing Big Tex, PJ, MaxxD, Load Trail, Lamar, and some of the other trailer brands out there to see how they stack up to Diamond C.
Maybe you've even watched a few of our YOUTUBE videos showcasing our trailers being used in the real world, or perhaps you've even spent some time on our SOCIAL MEDIA pages browsing through our posts about our trailers, team members, and what we do in our local community.
Maybe you still have questions about why you should consider a Diamond C instead of the alternatives available to you. Maybe you've already made up your mind and are leaning towards a different brand, or you've already spent some time pricing out a model on our TRAILER CONFIGURATOR but are still having reservations or are on the fence.
Whatever your situation may be, let's take a few minutes to walk through every important standout feature available to you on our equipment trailers, but perhaps more importantly, the WHY behind what makes us so confident in saying that a Diamond C trailer gives you the best long-term investment and feature-set to take your needs far into the future as an equipment trailer owner.
With that, let's get started.
__
(Prefer to watch instead of read? No problem – check out both of these informative video tours below from our very own Jacob Crabb, and watch and follow along as he shows our trailer lot right here at the factory and reveals the details, behind the scenes, and highlights the most important features and must-have options for our entire equipment, deck over, and tilt trailer lineup).
What equipment trailer models are available?
We offer a comprehensive lineup of 6 premium equipment trailers, split into 2 main styles:
Traditional 82″ wide models with a low profile frame and deck between the tires
Full width 102″ deck over models where the entire floor of the trailer is placed higher above the wheels to achieve maximum trailer deck width
Both 82″ and 102″ wide models feature your choice of either ramps or tilt depending on your preferred loading style.
See our entire lineup of equipment, tilt, and deck over trailers in action here:
Our equipment trailer models range from 7,000 lb GVWR all the way up to 24,000 lb GVWR. (If you need a refresher on what GVWR means and how it differs from Payload check out THIS POST).
__________
Traditional 82″ Wide Equipment Trailers
Model: LPX
Base MSRP: $9,375
GVWR: 14,900 – 24,000 lb
Model: HDT
Base MSRP: $11,475
GVWR: 14,900 – 24,000 lb
Model: DSA
Base MSRP: $5,390
GVWR: 7,000 lb
Our flagship equipment trailers are models LPX and HDT. The main difference between these two models is that LPX loads with a traditional dove and ramp setup, while the HDT is a tilt trailer. These two heavy duty brothers feature all our cutting edge trailer design advancements and technology, including Engineered Beam Technology (more on that later), Gooseneck Package upgrades, and a myriad of Brake, Suspension, Storage, and Tie-Down options.
The smaller hydraulic tilt model DSA is purpose-built for the job of hauling smaller compact equipment (like scissor lifts) to and from the job site.
Loading Options and Styles
Model LPX Loading: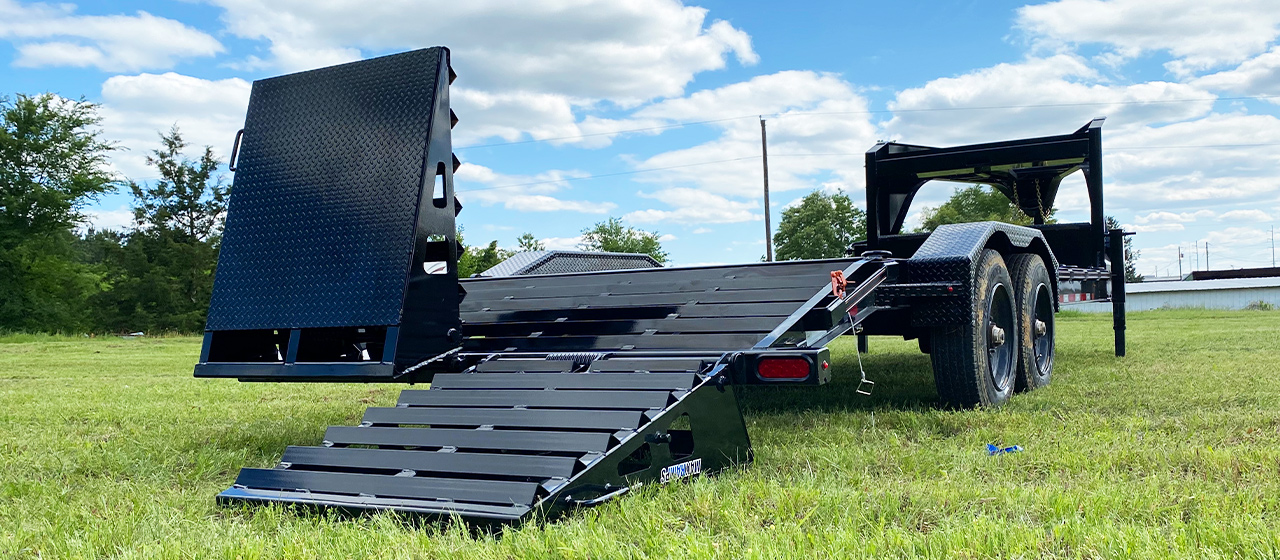 LPX comes standard with 24″ x 60″ Extra Wide HD Flip-Knee Ramps and a 24″ Dovetail with cleats for traction. These extra wide ramps are spring-assisted, so lifting and lowering is effortless. These beefy ramps are constructed with 4″ channel side supports and 2″ square tube cross supports for maximum support. The gradual expanded metal loading surface and angle makes loading and unloading a breeze.
For the best full-width loading experience possible, upgrade to our MAX RAMPS. These 37″ Ramps feature a two part hinge system (one inside the body and one outside the body), which distribute weight while loading and help to prevent the ramps from kicking up or the dovetail from sagging.
(60″ Rear Slide-In Ramps are also an available option)
Model HDT Loading:
Our flagship tilt trailer features a silky smooth hydraulic dampening tilt system. Simply unlock the bed, step on the back, and the tail moves down. When you drive your equipment up the bed, it starts coming down automatically. There is a also speed control valve that lets you adjust the speed of the tilt, along with a refillable reservoir.
Tilt Speed Control Valve, Gravity Fed, Hydraulic Tilt Bed. Simple to use – no ramps to lift. Just unlatch, tilt, load, lock, and go.
We also offer an Electric/Hydraulic Powered Tilt with a wireless remote for easy operation.
HDT offers multiple stationary deck lengths to accompany the tilt bed. Configure your trailer with a full bed tilt on shorter models, or add even more versatility with up to a 10′ stationary deck on longer models for additional equipment, pallet, and material storage.
Model DSA Loading:
Model DSA features the same hydraulic dampening tilt system that it's bigger brother HDT has, utilizing a gravity tilt with a manual jack.
For more in-depth specs feel free to check out each model's product page, but here are the highlights you need to know:
Standout Features & Upgrades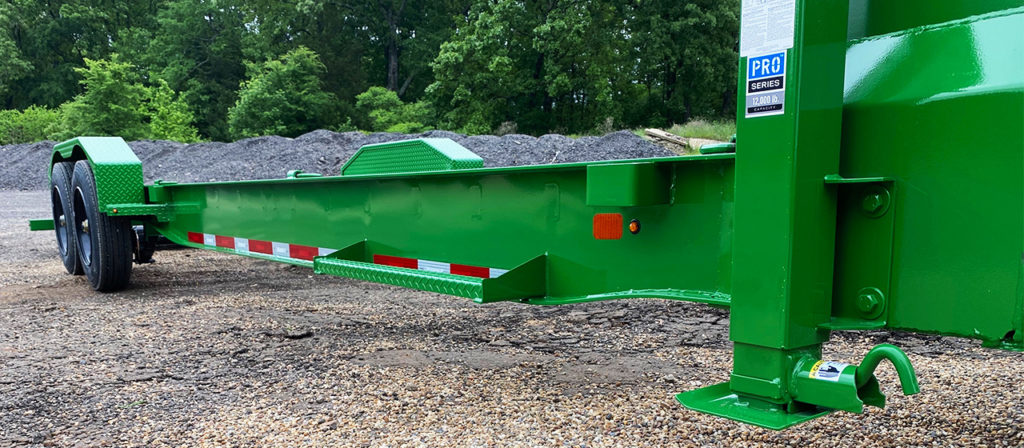 Engineered Beam Technology
We've brought our revolutionary ENGINEERED BEAM TECHNOLOGY over to our LPX and HDT Equipment trailer models. This technology allows us to have complete control over the shape and contour of the beams, which lets us put the steel to work where it's needed most. The result is a significantly stronger, taller, and lighter beam that gives you a much better strength-to-weight ratio than a traditional 8″ I-beam equipped trailer.
GVWR Upgrade Choices
Depending on your hauling capacity needs, models LPX and HDT feature several GVWR Upgrade options to handle heavier duty loads:
207 Package (14.9K GVWR): 2 – 7K Axles
208 Package (18K GVWR): 2 – 8K Axles
210 Package (20K GVWR): 2 – 10K Axles
307 Package (24K GVWR) 3 – 7K Axles
These upgrades all feature suspension, tire/wheel, frame, and coupler upgrades. We use premium LIPPERT AXLES on all our trailers. Most of these upgrade packages include superior SUSPENSION SYSTEMS as well (like Torsion Axles).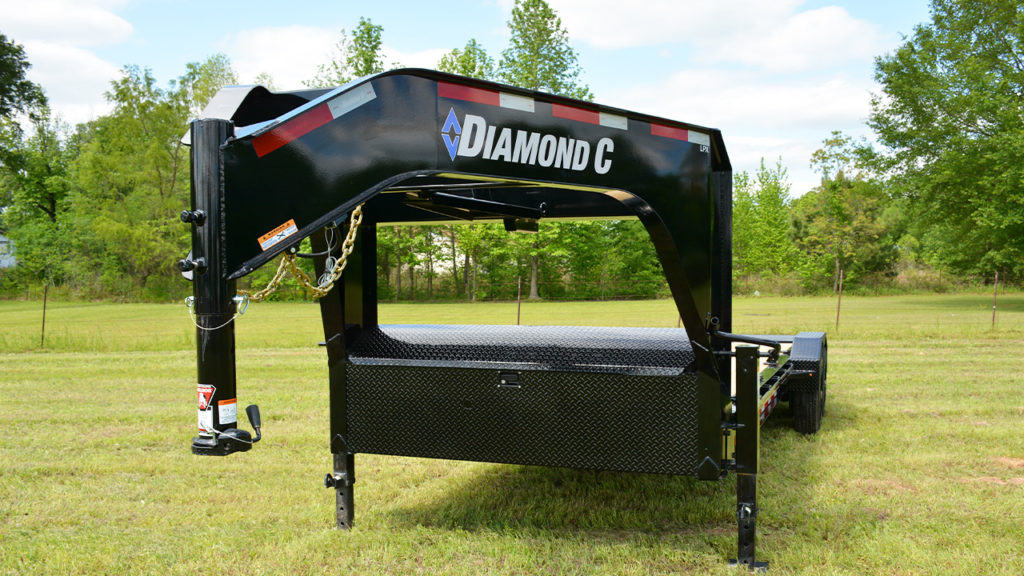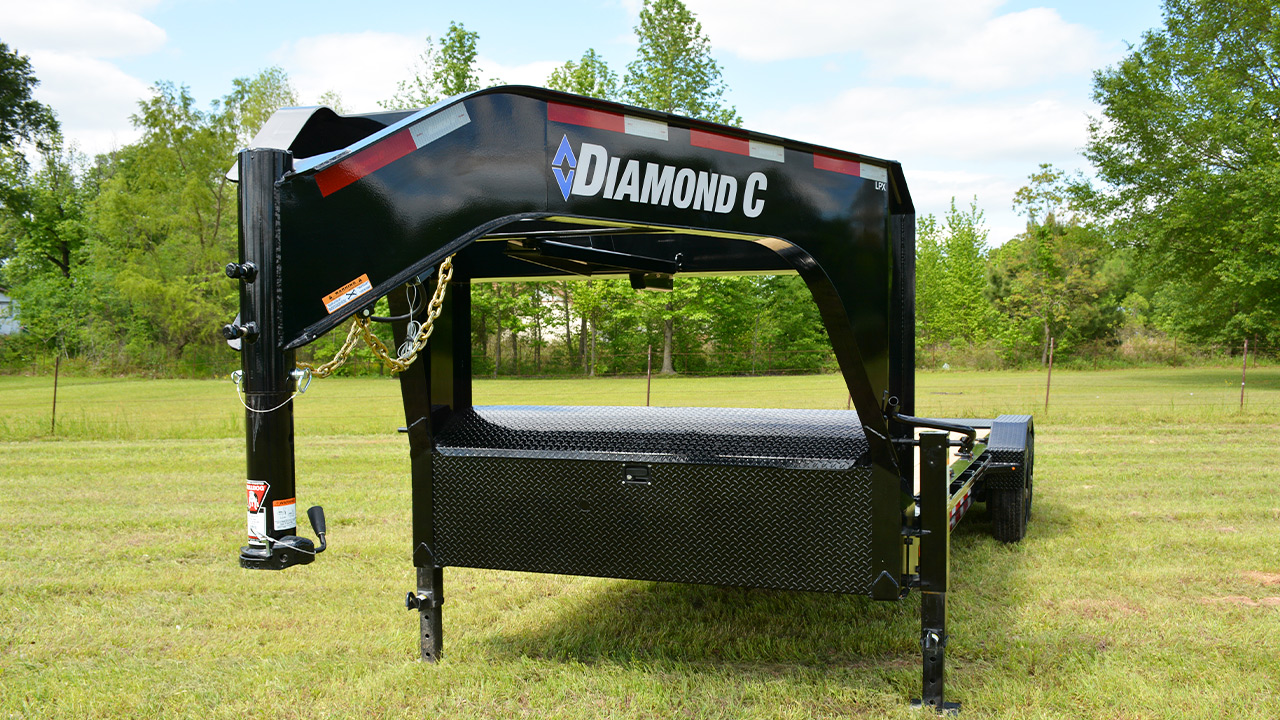 Gooseneck Package Upgrades
Our GOOSENECK PACKAGE upgrade utilizes the same technology found in our engineered beams. This 1-piece smooth engineered 12″ curved neck design distributes force throughout the neck so there is no concentration of stress in the corners. This option includes dual 12K jacks, a massive full-width diamond plate storage box, and a BX-1 coupler.
Include a SHOCKER HITCH COUPLER for that smooth air ride experience. This coupler includes an airbag to absorb extra energy, which saves on wear and tear on your trailer (and on your back – trust us. You'll thank yourself later after a long day of hauling).
Tire/Wheel Upgrades
The 17.5″ heavy duty tire upgrade is for the serious trailer owners who rely on their trailers day in and day out to perform at the highest possible level. Our 215/75R17.5 upgrade tires feature a bigger wheel/tire than standard, along with beefy 5/8″ studs. We also feature premium VALCRUM HUBCAPS as standard on all 215 tires on 8K and up axles.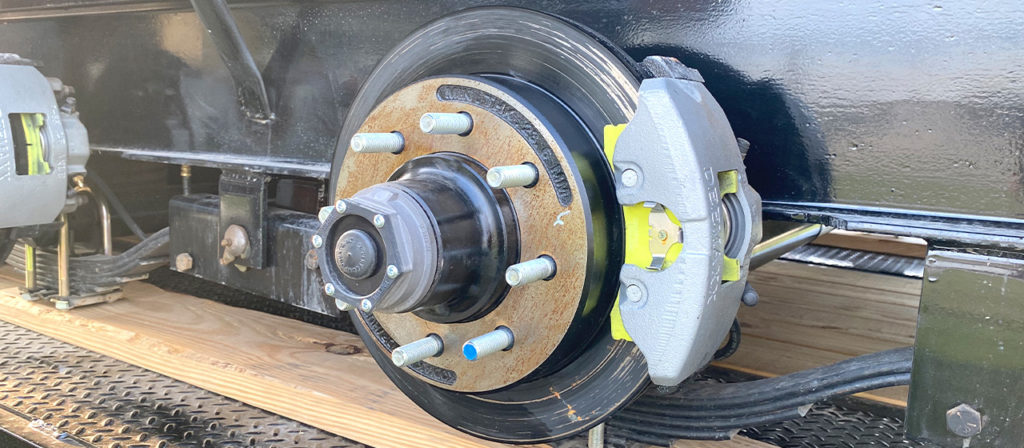 Disc Brakes
Outfit your equipment trailer with upgraded electric-over-hydraulic DISC BRAKES. These disc brakes utilize hydraulic pressure to provide superior stopping power when compared to regular drum brakes. They are also more cost effective when it comes to upkeep and preventative maintenance over time.
Heavy Duty Fenders
An often overlooked part of heavy duty hauling are the trailer FENDERS – a durable fender is a must-have to protect your tires from accidental bumps. Our equipment trailers come standard with durable 14 ga diamond plate fenders, and for those contractors and work crews whose environment requires equipment outfitted with the toughest features possible – we offer the super heavy duty 3/16″ diamond plate fenders.
Max-Width Frame Extensions
Model LPX offers a unique solution for those needing an extra wide low profile flatbed trailer. We offer Diamond Plate Frame Extensions, which expand the frame out to a max-width of 102″ behind and in front of the fenders. This option is especially handy for buggy-haulers, wide skid steers, or to run double duty and side load pallets of material. This option pairs great with our HD 3/16″ drive over fenders, which let you drive up over the fenders if you have an especially wide-set truck and need that extra bed-width.
HD V-Tongue Storage Lid/Box
A Diamond C original and a best seller since the day we launched it, this intelligently crafted storage option offers maximum storage space for jacks, tools, straps, etc. Constructed with 3/16″ Diamond Plate, this lid also doubles as bonus deck space. Now offered as the standard storage solution on models LPX and HDT.
Equipment Trailer Series Videos
__________
Full Width 102″ Deck Over Equipment Trailers
Model: GDD
Base MSRP: $7,000
GVWR: 7,000 – 9,890 lb
Model: DEC
Base MSRP: $9,260
GVWR: 14,900 – 24,000 lb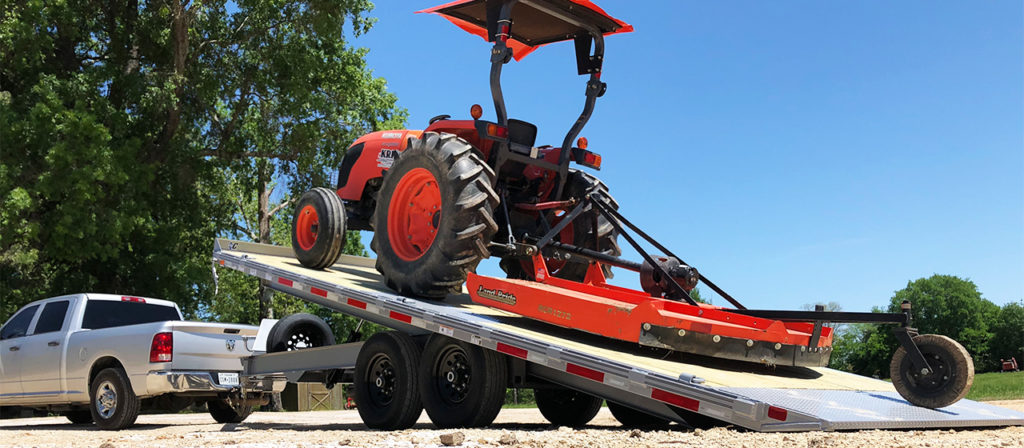 Model: DET
Base MSRP: $13,770
GVWR: 14,900 – 24,000 lb
Our trio of mid-weight deck over trailers covers a wide variety of uses and needs. The standard hitch configuration on these is bumper pull, but just like our other equipment trailers, we also offer Gooseneck upgrades for those who prefer. These flatbed trailers are constructed with the deck sitting above the tires, which eliminates the need for fenders and allows for a full 102″ width bed. Our deck over models are very popular in construction, especially if you have a wider skid steer or a mini-excavator. These models are also great for side loading palleted goods (pallets of rock, sod, building materials, etc).
Our lighter duty model GDD is a great choice for an under 10K GVWR deck over trailer for hauling lighter loads, but most of our users opt for the heavier duty DEC or DET, as they are configurable up to 24K GVWR along with a wider variety of upgrades and standard features.
*Note: If you need a super heavy duty deck over trailer, we offer the PX SERIES, a whole different class of pintle ring deck over bumper pull trailers. These extreme duty PX models are configurable up to 40′ in length and 40K GVWR.
Loading Options and Styles
Model GDD Loading:
Model GDD offers 3 ramp styles:
Standard 82″ Slide-In Ramps
36″ Dove with 60″ Rear Slide-In Ramps
36″ Dove with 60″ Flip-Knee Ramps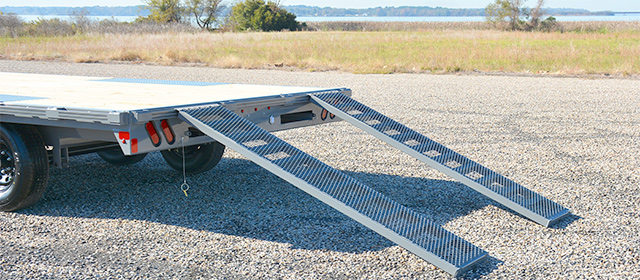 Model DEC Loading:
Model DEC offers multiple ramp options depending on your loading needs:
Standard 96″ Rear Slide-In Ramps (48″ Dove or Straight Deck)
48″ Dove with Heavy Duty FLIP KNEE RAMPS (standard width or extra wide 24″)
Our popular 44″ wide MAX RAMPS with a 60″ Dove (only available on 20′ lengths and above)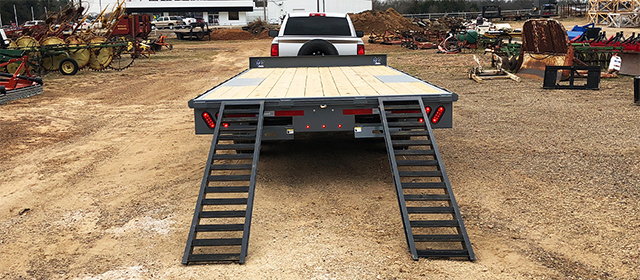 Model DET Loading:
Our DET (Deck Over Tilt) has exploded in popularity in recent years due to the increased demand for full bed deck over tilt trailers. The construction of this trailer is based off of our classic DEC model, but instead of ramps, the entire length of the bed tilts. The DET is powered by an Electric/Hydraulic Powered Tilt (with included Wireless Remote). This makes loading and unloading equipment significantly easier and quicker.
The unique feature of our DET is that it can run double duty as normal deck over flatbed trailer because you can still fork on pallets if needed, but easily tilt when you need to load equipment without needing to worry about stowing ramps.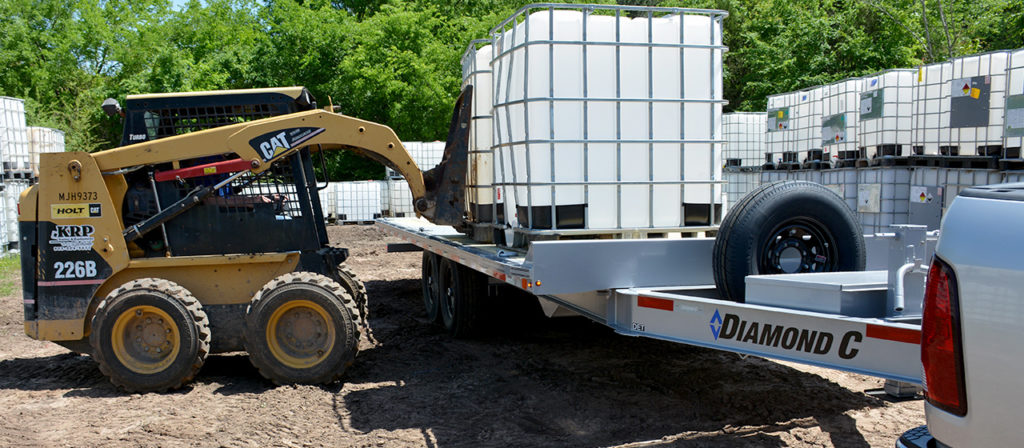 The other popular feature of the DET is that since the pump and battery are on board already, the tilt bed shares the same pump as the jack (if you want to add a HYDRAULIC JACK). An included selector valve lets you divert fluid to either the jack or the tilt operation. The hydraulic jack makes unhooking and hooking a lot easier, especially paired with the DEMCO EZ-LATCH COUPLER, because you can leave the coupler latched and it automatically drops on the ball and locks.
Standout Features & Upgrades
GVWR Upgrades
Just like our other heavier duty equipment trailers mentioned above, deck over models DEC and DET also feature several GVWR Upgrade options to handle heavier duty loads:
207 Package (14.9K GVWR): 2 – 7K Axles
208 Package (18K GVWR): 2 – 8K Axles
210 Package (20K GVWR): 2 – 10K Axles
307 Package (24K GVWR) 3 – 7K Axles
The smaller brother GDD comes standard with 2 – 3.5K Axles (rated at 7,000 lb GVWR) but can be upgraded to 2 – 5.2K Axles (rated at 9,890 lb GVWR).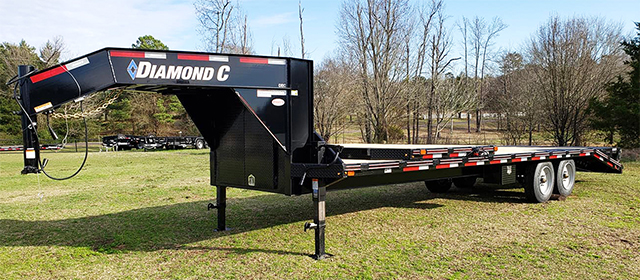 Gooseneck Packages
DEC and DET offer Gooseneck Package upgrades. Note that these necks are 12″ x 14 lb I-Beam Structural Necks, not our Curved Engineered Neck design found on our other models. (Engineered Beam and Necks coming soon to our equipment deck over models, stay tuned!)
Storage Upgrades
DEC and DET also offer our popular HD V-Tongue Lid mentioned above, along with optional 14″ x 14″ x 36″ Underslung Storage Boxes under the bed.
Winch Box Packages
If you're needing to load downed equipment, the WARRIOR WINCH BOX is a great add-on to consider. This lockable 12K winch box is self-contained and includes a battery and a 5 amp plug-in charger.
Slide Track & Ratchets
In addition to the standard full length rub rail with included stake pockets, we also offer a slide track & ratchet option for deck overs that gives you almost unlimited tie-down points along the entire length of the deck. Sliding ratchets move easily in both directions for positioning on the track, but lock firmly in place when tension is applied.
Most of our trailers come standard with 2″ pressure treated pine flooring, but we also offer numerous flooring upgrade options:
OAK FLOORING: An incredibly durable hardwood which is great for loading tracked equipment such as dozers, skid steers, excavators, etc.
3/16″ Diamond Plate Flooring
BLACKWOOD LUMBER: Rubber infused, pressure treated pine flooring that features enhanced traction, safety, & durability
Deck Over Trailer Series Videos
Superior Powder Coating System
At Diamond C we place a huge importance on the coating that ships with your trailer. We've spared no effort or expense to ensure that each trailer comes with an extraordinary finish that is exceptionally durable and beautiful. We've partnered with Sherwin Williams to develop our very own custom DIFFERENCE MAKER POWDER COATING SYSTEM to produce extraordinary trailer finishes.
We use a 6 step process to ensure our custom trailer powder coating is the best coating option possible for your trailer. Watch below as Jacob takes you on a tour of the entire process from start to finish:
We offer 8 standard colors alongside 5 special colors that can be applied to any trailer. Want something custom or a unique color tailored specifically to you? No problem – check with your DEALER when you order.
Check out our COLOR GUIDE to see all of our unique finishes up close on our trailers.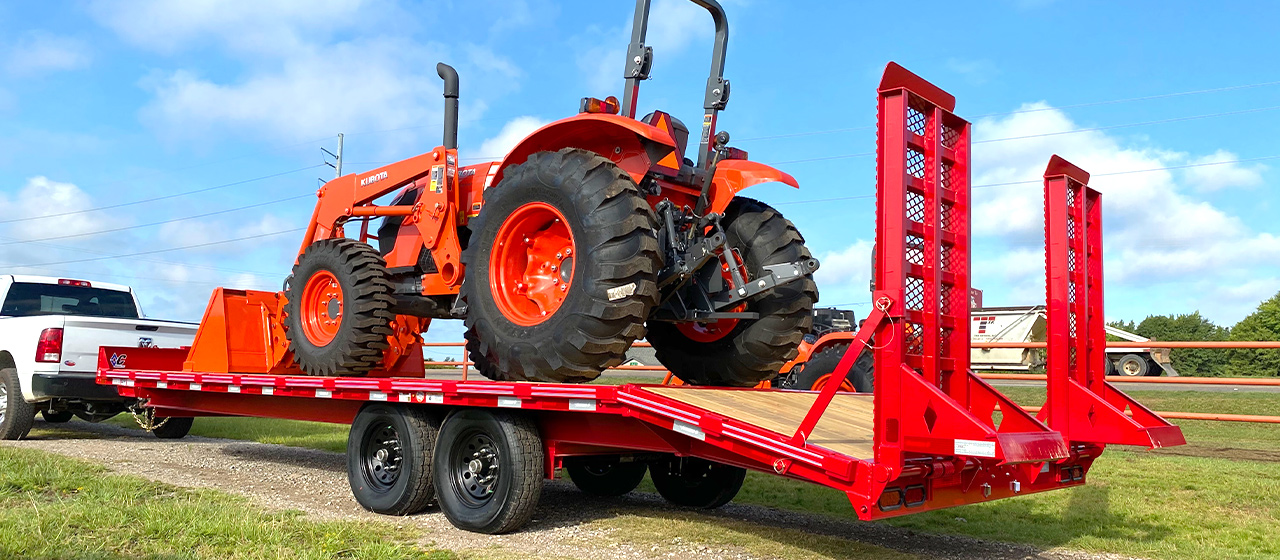 __________
Building Extraordinary Equipment Trailers
When the job calls for grit, reliability and just plain old 'get it done' attitude, our entire lineup of heavy duty equipment trailers shines. We have continued to optimize, innovate, and set the bar high as we design, engineer, and manufacture our trailers. We are proud to build the very best products that we possibly can that you can put straight to work – hauling heavy machinery and transporting your goods.
Building a great trailer goes far beyond just manufacturing for us – at Diamond C our CORE VALUES of #DoWork and #LoveStrong are evident and on display throughout every part of the plant.
Our PURPOSE is to fuel the growth and success of DC team members, our customers, and our community.
Our NICHE is EXTRAordinary trailers and service to match.
How do I Purchase an Equipment Trailer?
All our trailer sales are handled by our authorized Diamond C dealer network consisting of almost 200 dealers spread all across North America. This ensures you have a local trailer specialist near you to assist you with your trailer purchase and any warranty issues that may come up during the life of your trailer. With that in mind, here are 3 ways you can purchase a Diamond C equipment trailer:
2. Browse our FIND A DEALER map to locate your nearest authorized Diamond C dealer and inquire about their stock directly from them.
3. Browse local inventory near you using our inventory marketplace partner EQUIPMENT TRADER.
(Note – not all our dealers list their inventory on this marketplace site)
SEE ALL OUR EQUIPMENT TRAILERS
RELATED