Tires & Wheels
Fenders
Published October 6, 2022
__

*NOTE: This article references some of our now discontinued utility trailers. We discontinued our utility trailer lineup in 2021 to focus on what makes Diamond C Trailers truly unique – our heavier duty flatbed gooseneck, equipment, and dump models. You may still see some of our utility models from this article on dealer lots while we transition away from producing them.

__
Diamond C offers a variety of customizable fender choices for your trailer – from smooth to diamond plate to removable. Some options are for looks, and some are for added functionality and protection. Keep scrolling to learn all about our fender choices for your trailer.
16 ga Smooth Fender
Our most basic fender, found on our standard GSA general duty utility trailer.
16 ga Smooth Fender with Gravel Guard
Offered as the standard fender on most UTILITY and CAR HAULER models.
Includes a gravel guard for protection against rock chips.
On tandem axle trailers this fender has a teardrop in the middle for added coverage.
CAR HAULERS equipped with our "Pro Package" feature an aluminum gravel guard for a flashier look when hauling your show car.
14 ga Diamond Plate Fenders
An available option on most UTILITY and CAR HAULER models, and standard on most of our heavier class EQUIPMENT and DUMP trailers.
3/16″ Super Heavy Duty Diamond Plate Fenders
Our 3/16″ Super Heavy Duty Diamond Plate fender option is a must for contractors and work crews whose environment requires equipment outfitted with the toughest features known to man. Pairs great with our HD 215 TIRE UPGRADE. Popular on heavier duty models like the TUT and EDU utility trailers, MVC Multi-Vehicle Carrier, flatbed equipments including LPX and HDT, and our medium and heavy duty dump models (GDT, MDT, LPD, and LPT).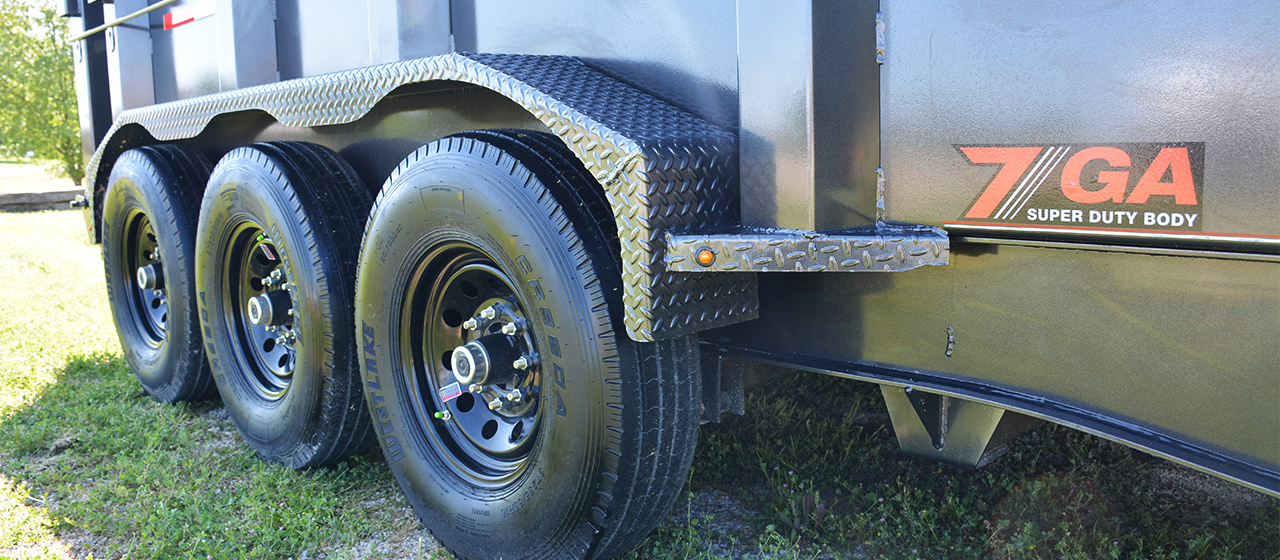 3/16″ Heavy Duty Fenders Video
Drive-Over Fenders
Drive-Over fenders are especially handy when loading wide equipment. Found as an upgrade on all CAR HAULERS and Equipment Trailer models LPX and HDT. These pair great with FRAME EXTENSIONS for those extra-wide loads.
Loading Video:
Removable Fenders
In certain cases, we've found that some trailer users prefer the option to have removable fenders depending on what cargo or equipment they are hauling. Dealers who ship large quantities of trailers greatly benefit from this as it means they can stack more trailers on each load.
Most of our flatbed models (UVT Utility, all CAR HAULERS, and LPX and HDT Equipment trailer models) feature bolt-on fenders as standard, so they can easily be removed in a few steps by undoing 4 bolts.
Black Painted Fenders
Have a non-standard COLOR trailer with bolt-on fenders and want to stand out? Add black painted fenders for a cool 2 tone look.
Build Your Own Trailer
Ready to customize and price your own trailer with your choice of fenders? Click below to view and price all our trailer models:
BUILD & PRICE
RELATED