Loading Options
Flip-Knee Ramps
Published July 27, 2021
Diamond C EQUIPMENT TRAILERS come with a choice of heavy duty or general duty flip-knee ramp options.
Extra Wide 24″ HD Flip-Knee Ramps
For extreme loading and unloading, outfit your equipment trailer with our 24″ wide x 60″ long HD ramps. These extra wide ramps are spring-assisted, so lifting and lowering is made easy even by a single person.
Our heavy duty ramps are constructed with 4″ channel side supports and 2″ square tube cross supports for maximum support. The gradual expanded metal loading surface and angle makes loading and unloading a breeze.
These HD ramps are available on on equipment trailer models LPX and DEC.
60″ Flip-Knee Ramps
These 4″ channel, spring-assisted ramps are offered on most equipment trailer models The support knee adds durability and extra support when loading heavier equipment.
XDR Extreme Duty Flip-Knee Ramps
We also offer XDR RAMPS – these extreme duty ramps were specifically designed to haul heavy concentrated equipment and machinery such as backhoes and excavators. Learn more about them HERE. (Available on all all GOOSENECK, PINTLE HITCH, and STEP DECK trailers).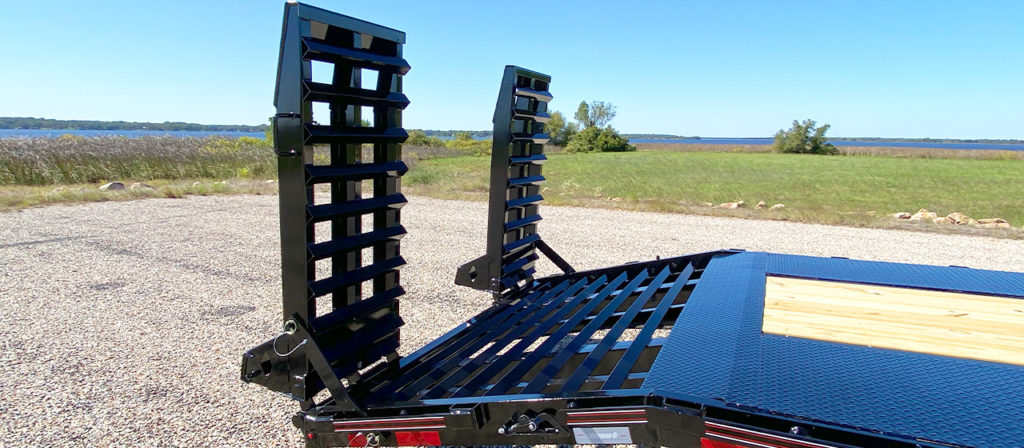 (For the most extreme of loads, consider our MAX RAMPS, offered on equipment models LPX and DEC, as well as all GOOSENECK, PINTLE HITCH, and STEP DECK trailers).
RELATED