Buyer's Guides
The Ultimate Dump Trailer Buyer's Guide
Published February 21, 2023
Diamond C vs…
If you're reading this, chances are you've already done some of your own reading about which manufacturer claims to have the best dump trailer on the market. Chances are, you might have even done some research of your own comparing Big Tex, PJ, MaxxD, Load Trail, Lamar, and some of the other trailer brands out there to see how they stack up to Diamond C.
Maybe you've even watched a few of our YOUTUBE videos showcasing our trailers being used in the real world, or perhaps you've even spent some time on our SOCIAL MEDIA pages browsing through our posts about our trailers, team members, and what we do in our local community.
Maybe you still have questions about why you should consider a Diamond C instead of the alternatives available to you. Maybe you've already made up your mind and are leaning towards a different brand, or you've already spent some time pricing out a model on our TRAILER CONFIGURATOR but are still having reservations or are on the fence.
Whatever your situation may be, let's take a few minutes to walk through every important standout feature available to you on our dump trailers, but perhaps more importantly, the WHY behind what makes us so confident in saying that a Diamond C dump gives you the best long-term investment and feature-set to take your needs far into the future as a dump trailer owner.
With that, let's get started.
__
(Prefer to watch instead of read? No problem – check out this informative video tour below from our very own Jacob Crabb, and watch and follow along as he shows our dump trailer lot right here at the factory and reveals the details, behind the scenes, and highlights the most important features and must-have options for our entire dump lineup).
What dump trailer models are available?
We offer a comprehensive lineup of premium dump and gooseneck dump trailers, ranging from light duty single-axle residential models all the way to heavy duty, dual tandem-wheeled commercial and construction models. Our dump trailer models range from 6,000 lb GVWR all the way up to 30,000 lb GVWR. (If you need a refresher on what GVWR means and how it differs from Payload check out THIS POST).
Let's start with our light duty dumps and work our way up to the heavier duty models.
__________
Light – Medium Duty Models (Under 10K GVWR)
Our trio of light-medium duty dumps are designed to perfectly complement most half-ton pickup trucks on the market. The GST is ideal for smaller projects around the house or farm, the GDT excels as a small landscaper's trailer for hauling mulch, dirt, and debris, while the medium duty MDT is a great solution for light commercial use.
For more in-depth specs feel free to check out each model's product page, but here are the highlights you need to know:
Standout Included Features
Most Popular Upgrades
Small Dump Series Videos
__________
Heavy Duty Models (14-30K GVWR)
Our four heavy duty dump trailer models are the muscle and power behind many contractors' and construction managers' fleets. These heavy duty commercial grade dumps are jam-packed with all our latest innovations, features, and intelligent designs to make your life easier while on the job.
Watch the video below to see the new standard features offered on our newly redesigned 2023 LPT and LPT-GN models:
For more in-depth specs feel free to check out each model's product page, but here are the highlights you need to know:
Standout Features & Upgrades
Watch below as Jacob tours our trailer lot and highlights various dump side heights, and gives tips on which height and thickness to choose depending on your needs:
Heavy Duty Dump Series Videos
Telescopic Cylinders
Out of the 7 models of dump trailers that we offer, 5 of them come standard with TELESCOPIC CYLINDERS instead of the traditional scissor lift hoist that you might have seen on most of our competitors dumps. We firmly believe that telescopic dump cylinders are the future of dump trailer design, and we are at the forefront of pushing that technology to the market. It's not a new approach to dumping heavy loads by any means – it's been used for decades by heavier-duty semi-end dump trailers and heavy-duty dump trucks.
Our heavy-duty Telescopic Cylinder is a 3 stage cylinder that uses a KTI brand power-up, gravity-down system to help conserve energy. We also offer an optional Wireless Remote for additional convenience.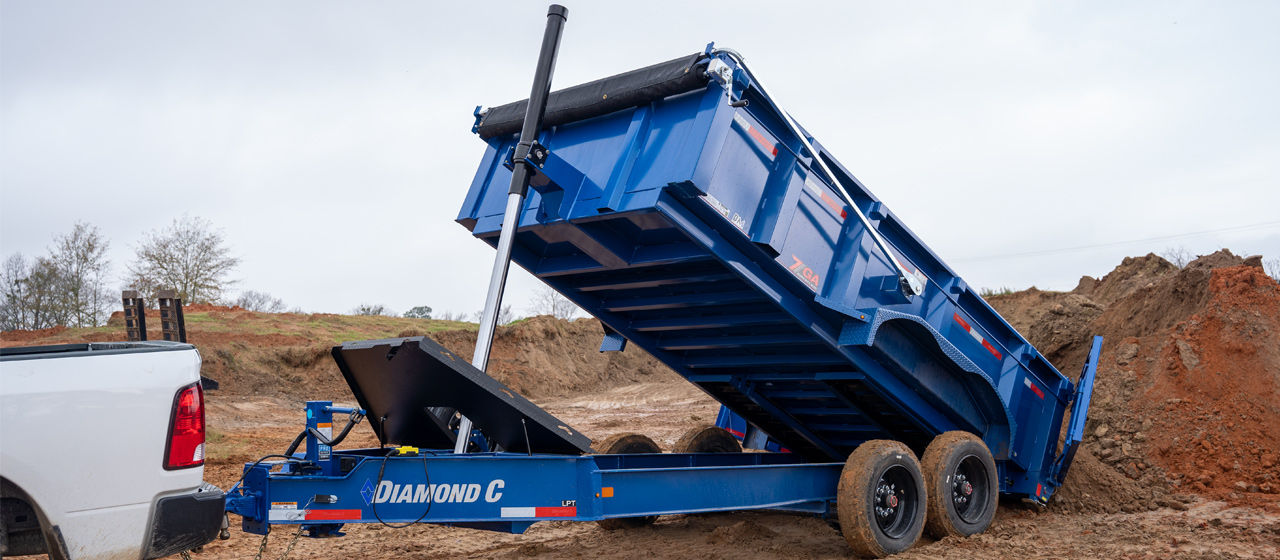 What are the benefits of telescopic cylinders?
Full 45-degree tilt angle
Provides greater lifting power than a traditional scissor lift hoist
More front-of-body dumping leverage
Handles imperfectly balanced loads more efficiently
Less stress on the overall frame of the trailer
Ease of system maintenance due to front mount location
Efficient tried and true technology
Superior Powder Coating System
At Diamond C we place huge importance on the coating that ships with your trailer. We've spared no effort or expense to ensure that each trailer comes with an extraordinary finish that is exceptionally durable and beautiful. We've partnered with Sherwin Williams to develop our very own custom DIFFERENCE MAKER POWDER COATING SYSTEM to produce extraordinary trailer finishes.
We use a 6 step process to ensure our custom trailer powder coating is the best coating option possible for your trailer. Watch below as Jacob takes you on a tour of the entire process from start to finish:
We offer 8 standard colors alongside 5 special colors that can be applied to any trailer. Want something custom or a unique color tailored specifically to you? No problem – check with your DEALER when you order.
Check out our COLOR GUIDE to see all of our unique finishes up close on our trailers.
__________
Building Extraordinary Dump Trailers
As we have seen rapid growth in dump trailer ownership and interest over the last 10-15 years, we have continued to optimize, innovate, and set the bar high as we engineer and manufacture our dump trailers. We are proud to build the very best products that we possibly can that you can put straight to work – whether you're purchasing a dump trailer for home use, for the farm, or for your construction business.
Building a great trailer goes far beyond just manufacturing for us – at Diamond C our CORE VALUES of #DoWork and #LoveStrong are evident and on display throughout every part of the plant.
Our PURPOSE is to fuel the growth and success of DC team members, our customers, and our community.
Our NICHE is EXTRAordinary trailers and service to match.
How do I Purchase a Dump Trailer?
All our trailer sales are handled by our authorized Diamond C dealer network consisting of almost 200 dealers spread all across North America. This ensures you have a local trailer specialist near you to assist you with your trailer purchase and any warranty issue that may come up during the life of your trailer. With that in mind, here are 3 ways you can purchase a Diamond C dump trailer: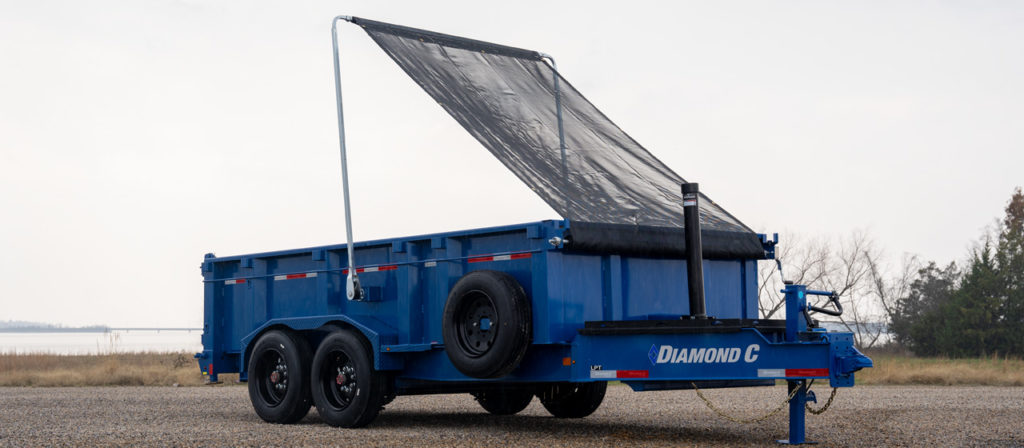 RELATED