Tires & Wheels
Premium Radial Tires
Published January 3, 2021
Diamond C uses high quality radial tires and wheels from LIONSHEAD. We offer a multitude of tire sizes and UPGRADES depending on your trailer and needs.
Lionshead Radial Tires
Some trailer manufacturers use cheaper, lower quality tires and wheels to save costs on their trailers. Not us. We are proud to partner with Lionshead to offer their premium radial tires standard on all Diamond C trailers.
Lionshead are known for their standout 1-2-5 Lifetime Warranty:
1 Year "No Excuses Guarantee" – Lionshead will replace any ST Radial Tire for any reason within the first 12 months
2 Year Complimentary Roadside Assistance
5 Year Warranty on Radial ST Tires
Lifetime Structural Warranty on ALL wheels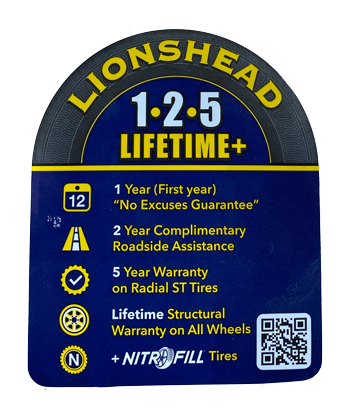 Advantages of Radial over Bias Tires
Reliability: The tread of a radial tire does a better job of gripping the road and provides improved durability and maneuverability.
Comfort: Because their plies run radially from bead to bead around the tire instead of diagonally, radial tires are more flexible – giving you a more comfortable ride.
Protection: Radials have a thick shoulder that protects the interior from shocks and damage.
Economy: There's less rolling resistance, so you use less fuel on radial tires.
Stability: Radial tires provide more stability and less vibration.
Durability: Radial tires last longer, in part because they generate less heat.
Maneuverability: Radial tires contain bead filler that allows the vehicle to handle better on the road.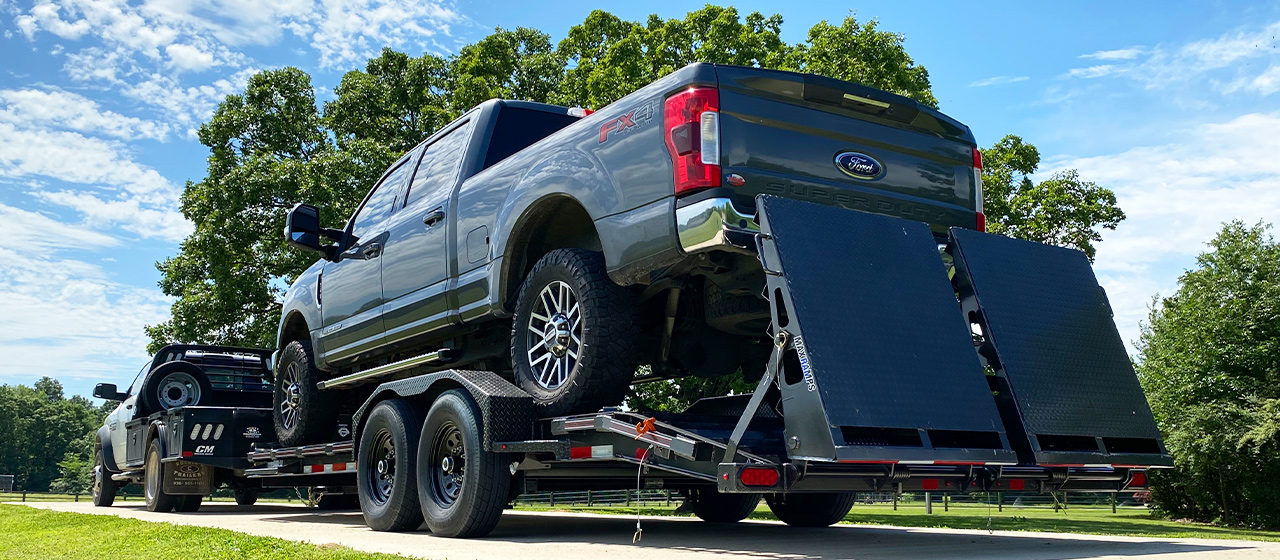 Tire Sizes Explained
Ever wondered what all the letters and numbers on your trailer tire mean? Let's break it down.
All our of our tires are labelled with a structure similar to this: ST205/75R15. Here's what the letters and numbers stand for:
– ST (ex: ST205/75R15): Stands for "Special Trailer". Tires with this prefix should only be used on trailers, boats, or cars.
– 205 (ex: ST205/75R15): The first 3 digit number after the prefix is the measurement of the width of the tire in millimeters. Most of our tires are either 205, 215, 225, or 235.
– 75 (ex: ST205/75R15): The number following the slash is a measurement of the aspect ratio of the tire profile. So, 75 means that in this tire the sidewall distance (measured from the top of the wheel trim to the outside of the tread) is 75% of the tire section width. A higher number will indicate a taller tire with a higher sidewall, while a lower number will be for a lower profile tire with a shorter sidewall. Our tires are either 75 or 80.
– R15 (ex: ST205/75R15): The last number represents the wheel diameter in inches that the tire should be matched to. Most of our trailer tires are 15, 16, or 17.5 inches.
| | | | |
| --- | --- | --- | --- |
| SIZE | PLY RATING | MAX LOAD (lbs) | PSI (lbs) |
| 205/75R15 | 8 | 2150 | 65 |
| 225/75R15 | 10 | 2830 | 80 |
| 235/80R16 | 10 | 3520 | 80 |
| 235/80R16 | 14 | 4080 | 110 |
| 215/75R17.5 | 16 | 4805 single/4546 dual | 123 |
Which Tire Will My Trailer Come With?
Since we specialize in customizable trailers and our website configurator lets you build and configure any model you choose, all of our trailers feature multiple options for upgrading to different compatible tires. For even extra customizability, consider a black or two tone aluminum WHEEL COLOR.
There's a few simple guidelines involved in understanding which trailers come standard with which size of tire:
In general, all trailers rated 14K and up will come standard with 10 ply (235/80R16 Radial) and up tires, and smaller trailers rated lower than 14K will come with 8/10 ply tires standard, usually either the 205/75R15 or the 225/75R15. Our heavy duty 17.5″ TIRE UPGRADE is included with most trailers that offer an 18K or 20K GVWR UPGRADE package. All 215/75R17.5 tires also include premium VALCRUM HUBCAPS for a stronger, more durable threaded hubcap.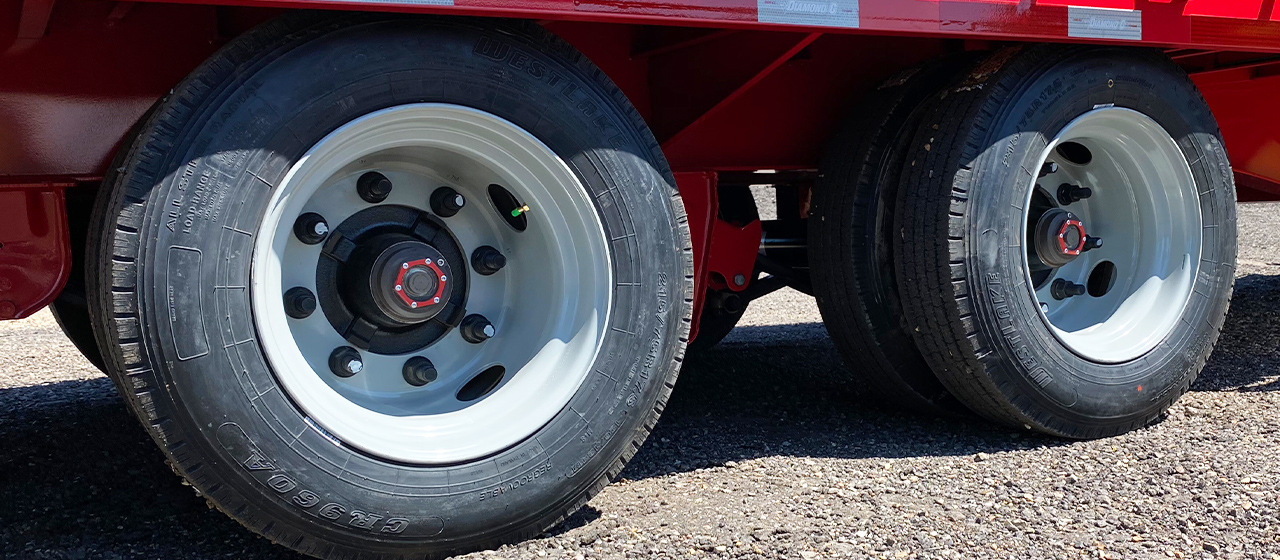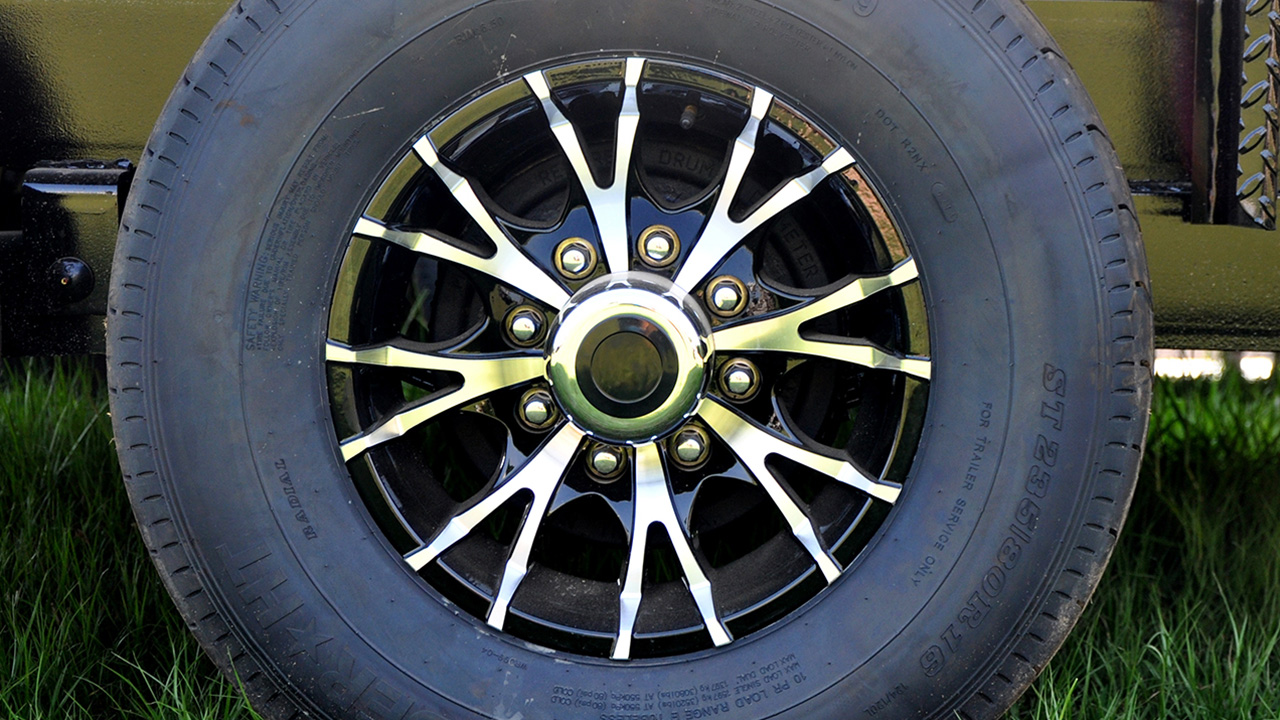 Trailer Tires & Wheels Video Guide
Watch below as Randall walks us through the different tires Diamond C offers, as well as key advantages of each choice.
RELATED