Storage
Equipment Trailer Storage
Published March 25, 2020
Our EQUIPMENT TRAILERS have plenty of added options for storage to keep your tools, tie-downs, and other accessories safe and secure while your are on the worksite.
HD V-Tongue Lid
A best seller since we launched it in 2015, this intelligently crafted storage option offers maximum storage space for jacks, tools, straps, etc.
Add to any model LPX, HDT, DEC, or DET.
Constructed with 3/16″ Diamond Plate, this lid also doubles as bonus deck space.
HD V-Tongue Lid Video
14″ x 14″ x 42″ Underslung Box
A popular add-on for our heavy duty deck-over models DEC and DET for handy below-deck storage that's convenient to access, but also out of the way of the equipment your are hauling. Add one on each side of your trailer if you want!
Lockable Steel Tongue Box
The 10″ version can be found on model GDD, and the bigger brother 16″ version of this handy lockable tongue storage box is offered on models EQT, LPX, DEC and HDT.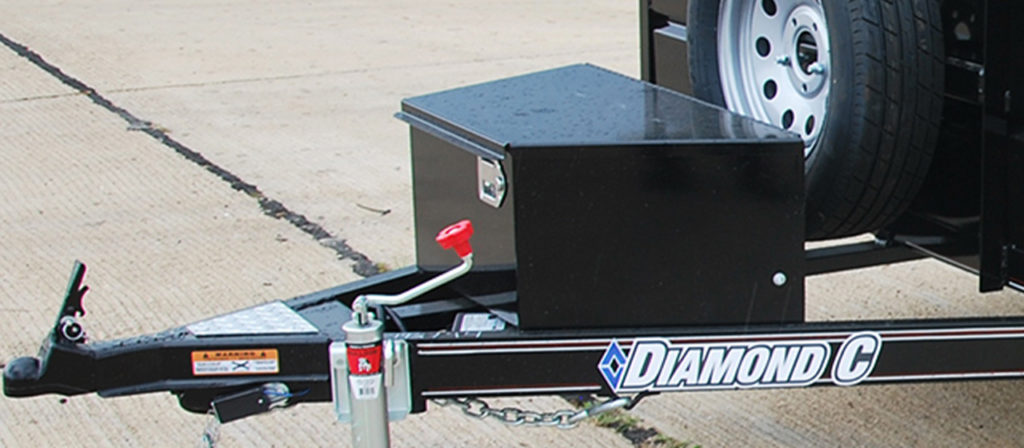 Lockable Aluminum Tongue Box
For added strength and durability. Plus, who doesn't love that shiny chromed look? Offered on model GDD.
Models EQT, LPX, DEC, and HDT all come standard with our Chain Tray in Tongue storage.
Add a Chain Tray Lid for extra convenience and security.
Full Width Diamond Plate Neck Box
If you've opted to upgrade your EQT, LPX, DEC, DET, or HDT with a GOOSENECK PACKAGE, then enjoy the added benefits of a massive neck box between the jacks.
RELATED