Loading Options
Bi-Fold Ramp Gate (Legacy)
Published November 10, 2020
__

*NOTE: We discontinued our utility trailer lineup in 2021 to focus on what makes Diamond C Trailers truly unique – our heavier duty flatbed gooseneck, equipment, and dump models. Click below for a full list of current models.
VIEW ALL MODELS
__
A true Diamond C original! In the early 2000's, we were one of the first to usher in the next generation of utility trailer ramp gate design and function with our Bi-Fold gate design that folds in the center seamlessly for simple and fast operation.
Features
Gas spring assisted for ease of lifting and lowering
Auto latch when unfolding
NEW lay-in functionality (see below)
48″ high when unfolded for optimum equipment loading angle
Folded design improves visibility, reduces wind drag, and increases fuel economy
Available in 1.5″ or 2″ square tube
This user-friendly gate is available on most UTILITY TRAILERS, including the PSA, UVT, and GTU.
Lay-In Functionality
NEW for Spring 2020, we've improved our trusty Bi-Fold ramp gate design with new "lay-in" functionality. We've accomplished the fold-in functionality while keeping an easy to use, stable latch mechanism AND a robust 2-point gate hinge system.
When not folded into the bed for storage, the gate functions with ease and exceptional ergonomics. The latch still stops the gate in the latched position and allows for quick and easy latching with no alignment necessary. In comparison, many other brands use J-hook or stab latches that leave you working to align the latch with every use.
We've also improved our hinges. We adopted some innovation from our gooseneck MAX RAMPS and recessed a second hinge point into the bumper to provide for the fold-in functionality without sacrificing any hinge integrity. Many other brands reduce their hinges to just the extreme outer edge of the gate in order to accomplish the fold-in.
When you need the gate folded-in simply flip up the latches and fold-over. Fold-in functionality decreases wind drag when hauling empty and increases versatility when needing to haul longer material such as boards or plywood.
Watch the video below for a full demonstration of the lay-in functionality:
Bi-Fold Gate Pictures
Bi-Fold Gate Videos
Extras
Utility trailer models PSA, GTU, and TUT also feature an optional ATV PACKAGE, which utilizes a 60″ side loading Bi-Fold gates for easy loading of your ATV.
For maximum reinforcement add in extra upright supports: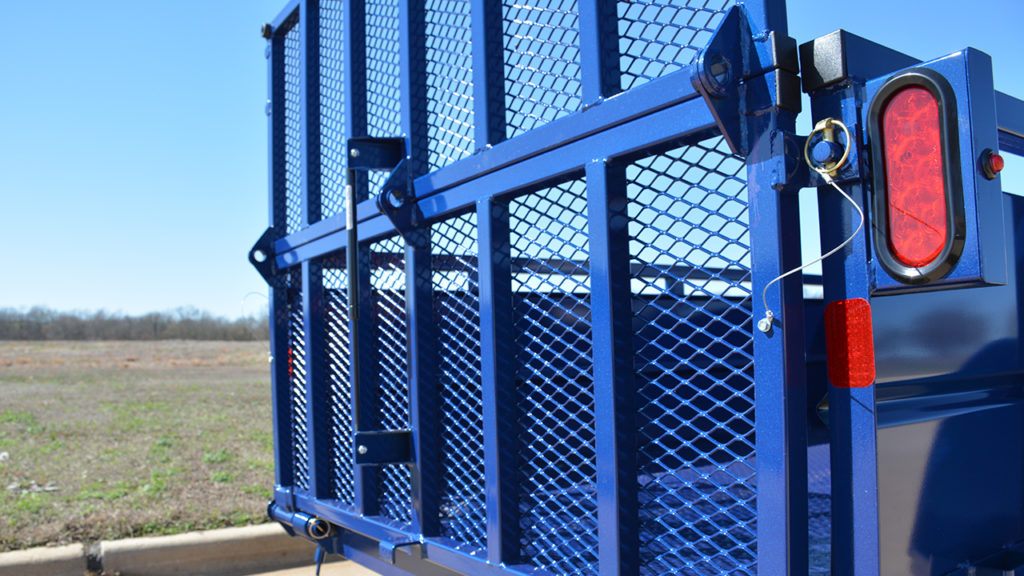 RELATED