Video Series: Customer Spotlight
This video series is where we talk to real trailer users about real experiences with their Diamond C trailers. Tune in and listen!
Have a Diamond C story you'd like to share with us? Shoot us an email at FEEDBACK@DIAMONDC.COM with your experience for a chance to be featured in this series!
(This page will be updated as new episodes are filmed)
Episode 4 – Tavit Kassardhian from "IM an OPERATOR"
Huge shoutout to Tavit from "IM AN OPERATOR" for sending us this clip of his walk-around review of his FMAX216 gooseneck trailer.
Check out his in-depth review below!
Episode 3 – Preston Steinhoff
Check out what Preston Steinhoff with BARE METAL FABRICATION has to say about Diamond C Trailers. 🙌
He relies on 3 different DC trailers daily to keep his business driving into the future. His mini-fleet includes an LPX equipment trailer, an LPD dump trailer, and an FMAX210 Fleetneck Engineered Beam gooseneck trailer.
Episode 2 – Conor Sensabaugh
Today's episode is an exciting call with Conor Sensabaugh of APEX TRUCKING, who is an experienced hotshot trucker who's logged over 150,000 miles with his Diamond C FLEETNECK trailer! 👏 Hit play below for the full story:
Episode 1 – Michael Bradley
#DCCustomerSpotlight on Michael Bradley with Superior Container & Shed today. He's the owner one of the very first SDX series trailers sold by the Trailer Guys in Trenton, TX (www.THETRAILERGUYSEAST.com).
Tune in to check out what Michael has to say about his custom Step Deck trailer. 💪
Pulling a trailer with the right suspension system for your application can make a considerable difference in ride quality and your overall user experience. Diamond C offers multiple premium suspension systems alongside our LIPPERT TRAILER AXLES to give you peace of mind while hauling and ensure your trailer lasts longer with less overall maintenance needed.
Picking which type of suspension system to include with your trailer is a very important decision, and varies based on which type of trailer you require for the job and what you are planning to haul. The correct trailer suspension gives you a smoother ride and protects your trailer and cargo by absorbing shock from bumps and dips on the road road.
We offer 4 quality types of trailer suspension:
Leaf Spring Suspension
Torsion Suspension
Heavy Duty Adjustable Suspension
Air Ride Suspension
Keep reading to learn more about Diamond C's trailer suspensions and which one is right for you.
Leaf Spring Suspension
Leaf spring suspension arguably the most common and cost effective type of trailer suspension.
This suspension design is made up of a series of curved springs (leaves) that are stacked and attached to the underside of the trailer's axle using hangers and U-bolts. The leaf springs in this suspension system function as shock absorbers – they flex and release when you hit bumps and rougher roads, which provides you with a smoother ride.
Tandem and triple axle trailers feature an equalizer, which sits in-between the axles and links the springs together. These equalizers float to help to transfer energy from one axle to another, especially while going over bumps to help soften the impact.
Leaf Spring Suspension Highlights:
More budget friendly to purchase than other suspension systems
Tried and true classic technology
6 Year LIPPERT Warranty
We offer a few different varieties depending on which axles the trailer has:
3.5K Axles: 4-Leaf
5.2K & 6K Axles: 5-Leaf Slipper
7K & 8K Axles 6-Leaf Slipper
Torsion Suspension
Torsion suspension provides many benefits in overall design and function than a traditional spring suspension. The unique design of the Torsion axles includes a rubber torsion arm system that is self-contained within the axle tube, which then directly attaches to the trailer frame. The result is a far smoother ride, with less overall wear and tear on your trailer over the years.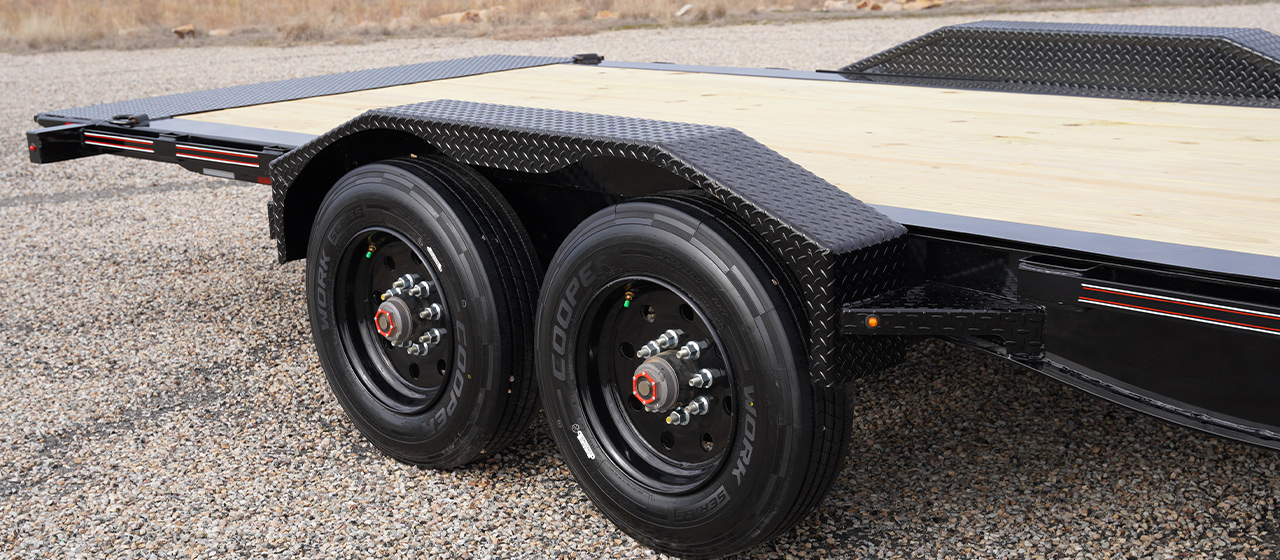 The Torsion system uses a heat-treated solid steel inner bar that is surrounded by 4 flexible rubber cords. The wheel hub spindle is attached directly the the Torsion arm, which in turn is connected to the rubber-encased Torsion bar. As your trailer encounters bumps in the road, the up and down movement of the wheels causes the inner Torsion bar to twist back and forth. This rotating movement is simultaneously dampened and cushioned by the surrounding rubber cords, which provides superior shock absorption and gives you an ultra-smooth ride.
Torsion Suspension Highlights:
The rubber cushioning from the 4 flexible cords eliminates all metal-to-metal contact and provides superior shock absorption
Durable heat-treated solid steel inner rotating Torsion bar
Independent wheel suspension allows each wheel to move separately from the others as needed
Quieter ride than spring suspension
Less overall maintenance and repairs required due to one-piece design
11 Year LIPPERT Warranty
Availability
We offer Torsion suspension axles as an available upgrade on most of our CAR HAULERS, EQUIPMENT trailers, single wheel GOOSENECK trailers, and heavy duty series of DUMP trailers.
Torsion axles come standard on tilt trailer model HDT and our redesigned car hauler models MVC and GTX (coming this summer).
Heavy Duty Adjustable Suspension
This suspension system is a popular upgrade among our heavier duty dual wheel GOOSENECK, PINTLE HITCH, and STEP DECK trailer models.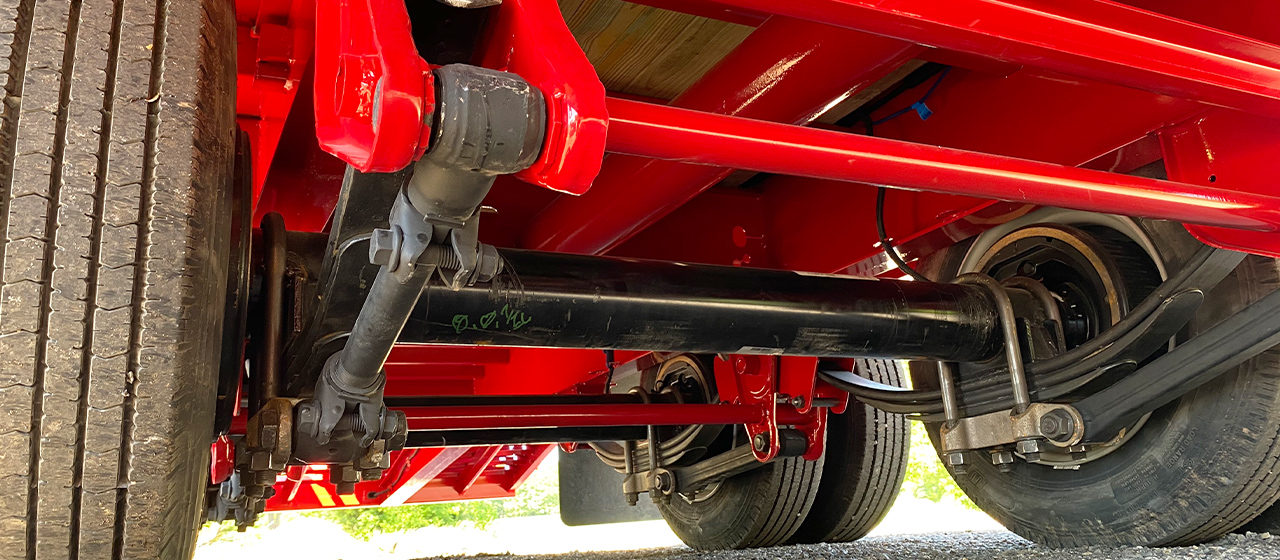 The Hutch Series 9700 heavy duty adjustable suspension system takes the traditional leaf spring suspension design a step further by adding several key features:
Easily adjustable torque arm screws
A maintenance free fastening system
"Million Mile Rocker Bushing" – eliminates bushing fatigue and failure
All our 16K axle equipped trailers come standard with this heavy duty adjustable suspension, including our flagship gooseneck model FMAX216, heavy duty pintle hitch model PX216, step deck model SDX216, and our dual tandem gooseneck dump model WDT (with 30K GVWR package selected).
Air Ride Suspension
For a smoother, quieter ride, extended trailer life, & higher rates per mile, BUILD YOUR TRAILER with our top-of-the-line Air Ride trailer suspension upgrade from Ridewell.
Air Ride Suspension utilizes airbags on each tire made from a durable polyurethane and rubber material. Dual compressors pump air into each flexible bag, enabling them to absorb bumps and vibrations much more efficiently than on a traditional spring suspension system. While spring suspensions tend to compress and release the energy from bumps into your trailer frame and cargo, Air Ride suspension absorbs the energy under the frame before it even reaches your trailer body.
We are proud to offer this premium suspension system on all our GOOSENECK, PINTLE, and STEP DECK trailers as an available add-on. Air Ride suspension is a very popular option for HOT SHOT trailer owners who regularly haul uneven loads across long distances.
Benefits of Air Ride Suspension:
Ride Quality & Cargo Protection: Smoother, quieter ride & reduced push-pull lessens fatigue of the driver & protects cargo being hauled.
Reduces Wear & Tear: Less trailer bouncing extends the life of your trailer.
Warranty: Ridewell offers warranty against any manufacturing defects, giving your customers confidence on the road.
Front Lift Axle: This unique included feature saves tire wear & fuel consumption on empty hauls.
More per mile: Air Ride allows your customer to net higher rates per mile hauling loads not allowed with standard suspension.
The Air Ride Package includes dual compressors, one 10V 5amp charger, and dual Group 27 continental BATTERIES.
Build Your Own Trailer
We offer a robust lineup of premium trailers – ranging from CAR HAULERS and DUMP trailers all the way to heavy duty EQUIPMENT, flatbed GOOSENECK, and STEP DECK models. All of our trailers come standard with one of these quality suspension systems, with many opportunities to upgrade on our trailer configurator.
Contact your NEAREST DIAMOND C TRAILER DEALER to view available inventory, or click below to view and price all of our trailer models.
BUILD & PRICE
We use LIPPERT COMPONENTS AXLES on all of our Diamond C trailers. Lippert provides an ultra-high-quality product, utilizing state-of-the-art robotic welders to ensure the highest precision and quality on every axle. Lippert offers a full line of reliable SPRING/TORSION and heavy duty axles to meet every trailer application and need.
Here are 6 big reasons why we are proud to partner with them and use their quality axles on our trailers:
Over the last fifteen years, Lippert has done an incredible job at building a feature rich, ultra high-quality product and production system that ensures accuracy.
They invest BIG in customer support with a 100+ person call center that is staffed 24/7 with highly trained technical representatives, plus extensive training resources available.
Lippert is a strong and stable company built with family business values, partnerships, and accessibility. When we call, they listen and respond in a way that proves it.
Continuous improvement is rooted deep into Lippert's culture. They're always yearning to advance and to make tomorrow better than today, just like Diamond C!
Their brand name and parts distribution network is extensive with genuine Lippert components available through Redneck, Amazon and many other distributors.
While Lippert axles offer many design advantages over other brands, they are intelligently designed in order to allow part interchangeability with other leading brands on common wear parts such as BRAKE COMPONENTS.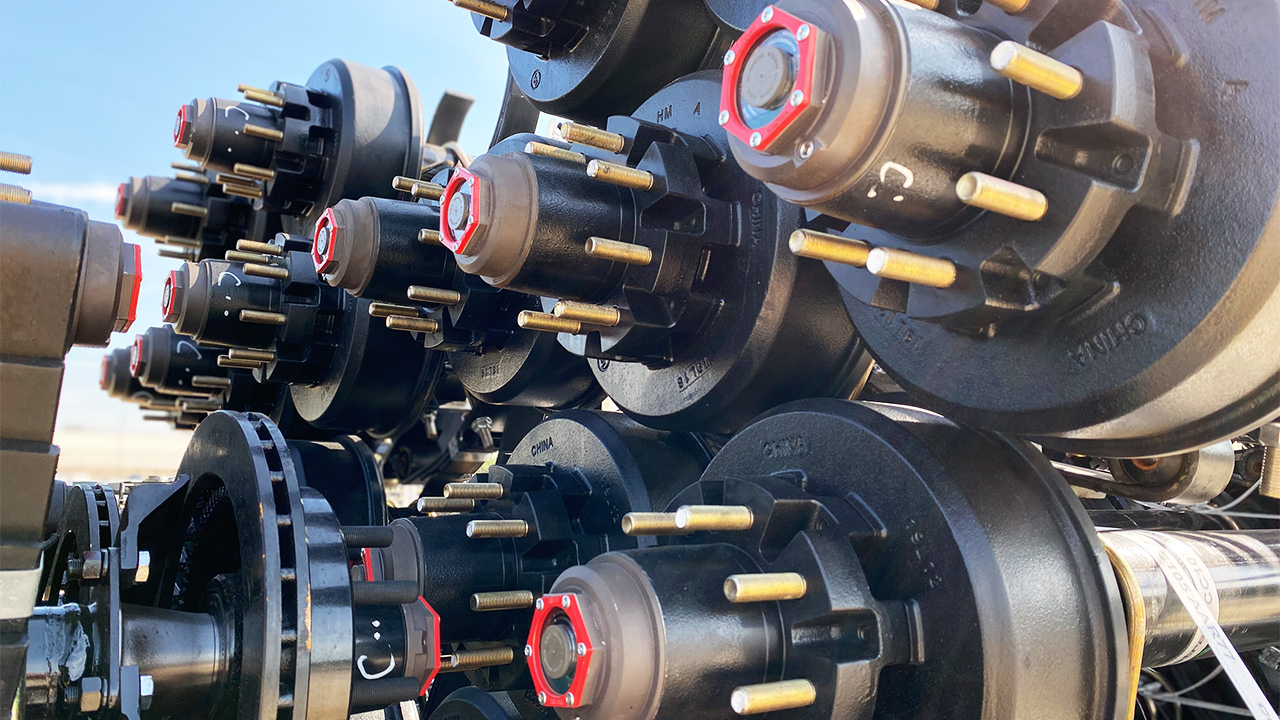 Premium black powder coat finish
Zinc-plated hardware for rust prevention
Waterproof electrical connections
Integrated one-piece spindle and flange for improved alignment and strength
Assembled in the USA
Warranty:
Limited 1 Year Warranty – Grease and Oil Seals for all Axles
Limited 6 Year Warranty – Spring Axles and Suspension Systems
Limited 11 Year Warranty – Torsion Axles
Lippert Axles Video
(Source: Lippert Components YouTube Channel)
Downloads
For more information download the Lippert + Diamond C feature sheet below:
LIPPERT FEATURE SHEET
Build Your Own Trailer
Every Diamond C trailer comes standard with premium Lippert Axles. Click below to view and price all of our trailer models:
BUILD & PRICE
__

*NOTE: This article references some of our now discontinued utility trailers. We discontinued our utility trailer lineup in 2021 to focus on what makes Diamond C Trailers truly unique – our heavier duty flatbed gooseneck, equipment, and dump models. You may still see some of our utility models from this article on dealer lots while we transition away from producing them.

__
Diamond C offers a variety of customizable fender choices for your trailer – from smooth to diamond plate to removable. Some options are for looks, and some are for added functionality and protection. Keep scrolling to learn all about our fender choices for your trailer.
16 ga Smooth Fender
Our most basic fender, found on our standard GSA general duty utility trailer.
16 ga Smooth Fender with Gravel Guard
Offered as the standard fender on most UTILITY and CAR HAULER models.
Includes a gravel guard for protection against rock chips.
On tandem axle trailers this fender has a teardrop in the middle for added coverage.
CAR HAULERS equipped with our "Pro Package" feature an aluminum gravel guard for a flashier look when hauling your show car.
14 ga Diamond Plate Fenders
An available option on most UTILITY and CAR HAULER models, and standard on most of our heavier class EQUIPMENT and DUMP trailers.
3/16″ Super Heavy Duty Diamond Plate Fenders
Our 3/16″ Super Heavy Duty Diamond Plate fender option is a must for contractors and work crews whose environment requires equipment outfitted with the toughest features known to man. Pairs great with our HD 215 TIRE UPGRADE. Popular on heavier duty models like the TUT and EDU utility trailers, MVC Multi-Vehicle Carrier, flatbed equipments including LPX and HDT, and our medium and heavy duty dump models (GDT, MDT, LPD, and LPT).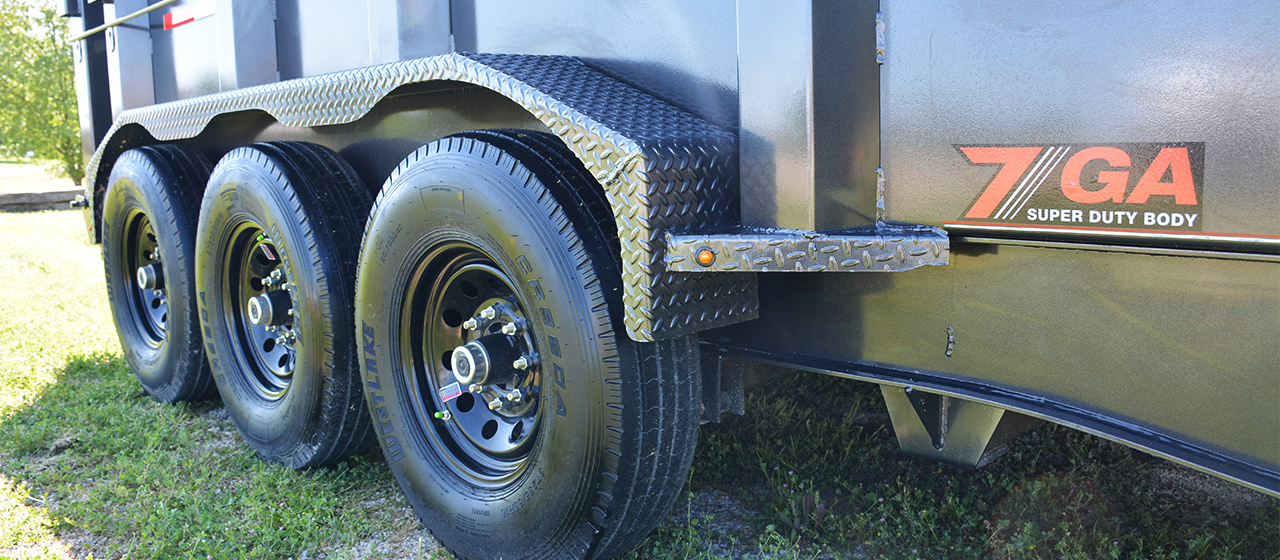 3/16″ Heavy Duty Fenders Video
Drive-Over Fenders
Drive-Over fenders are especially handy when loading wide equipment. Found as an upgrade on all CAR HAULERS and Equipment Trailer models LPX and HDT. These pair great with FRAME EXTENSIONS for those extra-wide loads.
Removable Fenders
In certain cases, we've found that some trailer users prefer the option to have removable fenders depending on what cargo or equipment they are hauling. Dealers who ship large quantities of trailers greatly benefit from this as it means they can stack more trailers on each load.
Most of our flatbed models (UVT Utility, all CAR HAULERS, and LPX and HDT Equipment trailer models) feature bolt-on fenders as standard, so they can easily be removed in a few steps by undoing 4 bolts.
Black Painted Fenders
Have a non-standard COLOR trailer with bolt-on fenders and want to stand out? Add black painted fenders for a cool 2 tone look.
Build Your Own Trailer
Ready to customize and price your own trailer with your choice of fenders? Click below to view and price all our trailer models:
BUILD & PRICE
Do you know trailer brakes? Diamond C offers 3 types: Electric Drum, Electric Over Hydraulic Drum, and Electric Over Hydraulic Disc brakes.
Below are some helpful tips for choosing the right brakes for your trailer.
Electric Drum Brakes
Electric drum brakes are the utility and flatbed trailer industry standard for trailer braking systems. Electric drum brakes are controlled by an in-cab controller that comes standard on many of today's trucks and SUVs. Electric drum brakes are well suited for most general use applications – trailers that are used moderately within their capacity and towed with some regularity. If you plan to use your trailer aggressively in relation to its PAYLOAD CAPACITY and plan to tow it on a more regular basis, then keep scrolling to see our electric over hydraulic brake options below.
BREAK-IN PERIOD MANUAL
How to Burnish Your Trailer Brakes
Electric Drum Brakes require a proper BREAK-IN PERIOD to achieve full performance. Watch below for a step by step guide from Lippert Axles on proper burnishing procedure.
Electric Over Hydraulic Drum Brakes
Electric over hydraulic drum brakes are similar in that they are controlled by the same in-cab controller as standard electric drum brakes. They also share the same actual drum braking components. Where they differ is that instead of electromagnetic force being utilized to help slow the trailer, the electric pulse from the to tow vehicle activates a small hydraulic pump that sends fluid into the drum to forcefully apply braking pressure.
Electric Over Hydraulic Disc Brakes
Electric over hydraulic disc brakes are similar to both previous brake types in that they are operated by an in-cab controller. However, disc brakes are what avid heavy duty trailers users would describe as "the ultimate" when it comes to trailer braking systems. They use the same hydraulic force we mentioned in electric over hydraulic drum Brakes for better braking pressure, but where they differ is the use of disc (rotor) / caliper braking components in lieu of the drums. Disc brakes provide increased stopping power over drums. In addition, disc brakes are more cost effective when it comes to upkeep and preventative maintenance over time. With disc brakes you are able to replace individual brake pads, versus replacing the more costly full drum braking assembly.
If you are a gooseneck HOT SHOT trailer user who puts in a lot of miles over the years, we highly recommend hydraulic disc brakes.
Benefits of Hydraulic Disc Brakes:
Last longer
Stop faster
Cheaper to maintain for high mileage trailers
16K Disk Brakes
In early 2021 we announced the 16K Electric over Hydraulic Disc Brake option. This industry-first option has been a long time coming, and is the result of a 2 year collaborative journey between Diamond C and LIPPERT. These 16K Disc Brakes are now available on all FMAX216, SDX216, & PX216 models.
Tune in below for the whole story:
How to bleed Hydraulic Brakes
Watch the video below for a step by step process and guide to correctly bleeding hydraulic brakes on your trailer.
Build Your Own Trailer
Ready to build your own trailer with your choice of brake selection? Click below to view and price all our trailer models:
BUILD & PRICE
Coming Soon
Our EQUIPMENT AND TILT TRAILERS have plenty of added options for storage to keep your tools, tie-downs, and other accessories safe and secure while you are on the worksite.
HD V-Tongue Lid
A best seller since we launched it in 2015, this intelligently crafted storage option offers maximum storage space for jacks, tools, straps, etc.
This innovative lid comes standard on models LPX and HDT, and is an available upgrade on deck over models DEC and DET.
Constructed with 3/16″ Diamond Plate, this lid also doubles as bonus deck space.
HD V-Tongue Lid Video
14″ x 14″ x 42″ Underslung Box
A popular add-on for our heavy duty deck-over models DEC and DET for handy below-deck storage that's convenient to access, but also out of the way of the equipment your are hauling. Add one on each side of your trailer if you want!
Lockable Steel Tongue Box
The 10″ version can be found on model GDD, and the bigger brother 16″ version of this handy lockable tongue storage box is offered on models LPX, DEC and HDT.
Model DEC comes standard with our Chain Tray in Tongue storage.
Add a Chain Tray Lid for extra convenience and security.
Full Width Diamond Plate Neck Box
If you've opted to upgrade your LPX, DEC, DET, or HDT with a GOOSENECK PACKAGE, then enjoy the added benefits of a massive neck box between the jacks.
Diamond C utilizes a custom Powder Coat paint process called the DM COATING SYSTEM. It allows us to offer trailer finishes that are exceptionally durable and beautiful.
We offer 8 standard colors across all models, as well as 4 special colors. Custom colors can be applied to your trailer upon request.
Keep scrolling to see a selection of our finishes on some of our more popular trailer models:
Model FMAX216 Gooseneck Trailer – Metallic Blue
Model LPD Dump Trailer – Red
Model GTF Car Hauler – Black
Model DOD Dump Trailer – Metallic Mocha
Model FMAX210SS Super Single Gooseneck Trailer – White
Model DET Deck Over Equipment Trailer – Metallic Silver
Model LPD Dump Trailer with optional GOOSENECK PACKAGE – Metallic Gray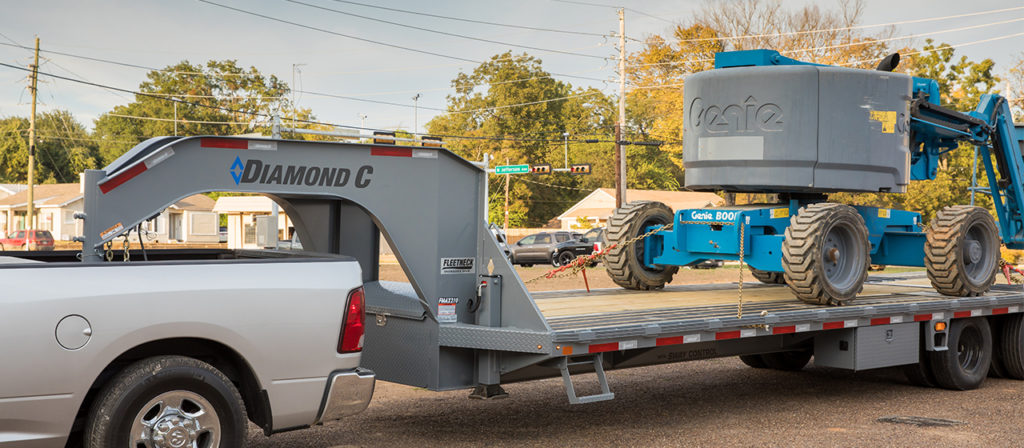 Model FMAX210 Gooseneck Trailer – Cement Gray
Model LPX Equipment Trailer – Special Color Commercial Yellow
Model PSA Utility Trailer – Special Color Tractor Green
Model WDT Dump Trailer – Special Color Industrial Orange
Model FMAX207 Gooseneck Trailer – Special Color Lime Green
Top Rails & Side Uprights
The Diamond C lineup of DUMP TRAILERS boasts 1.5x – 2x wider than industry standard top rails and unparalleled side upright supports. This dump side design allows your trailer to take more abuse and not become deformed over time from loading over the side of the trailer with a bucket, or from the added stress over years of hauling rocks and gravel inside the body.
With added thickness comes added power and strength for your toughest loads!
14K – 24K Models:
4″ vs 2″ = Double or 100% larger top rail and side uprights than the competition on our 14K and up dump trailers.
Standard on models LPD, LPT, DOD, and WDT.
6K – 10K Models:
3″ vs 2″ = 1.5X or 50% larger top rail and side uprights than the competition on our 6-10K dump trailers.
Standard on models GST, GDT, and MDT.
Overlapped Central Seam
All our dump trailers also feature a central seam overlapped floor design. This makes for a much tougher joint where the floor plate meets, but keeps the seam out of the corners. This design prevents a habitat forming for moisture to cling to which prevents premature corrosion. We overlap the seam by at least 2 inches on all our models, which produces a much more durable dump body which will last you for years to come.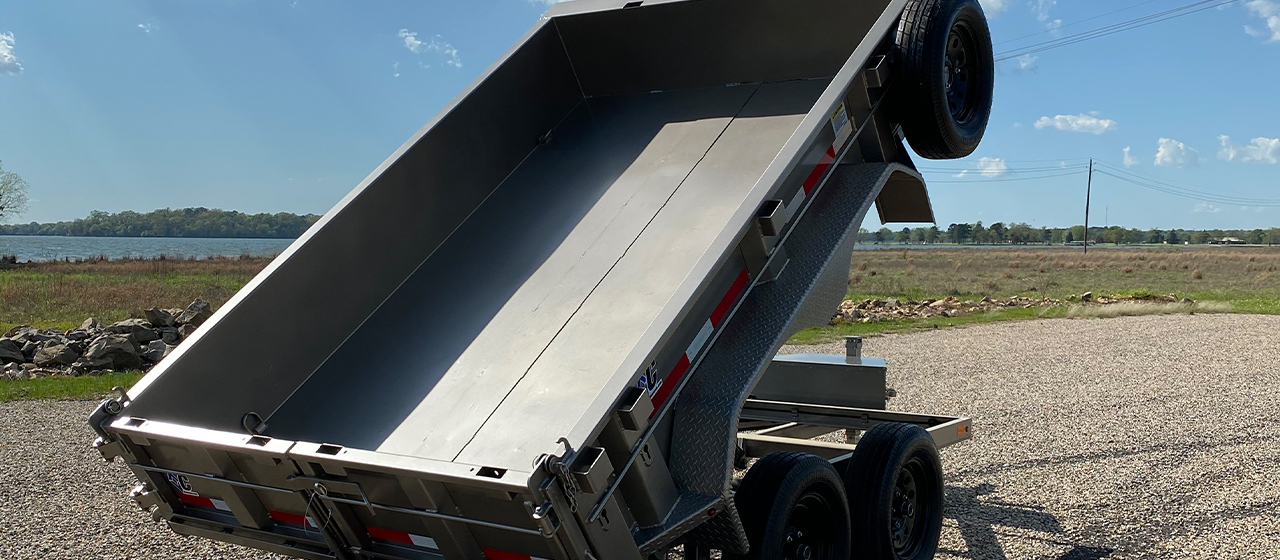 Dump Body Thickness
While our small-medium duty dumps (GST, GDT, MDT) include a 12 ga body, our heavier duty LPD and LPT models come standard with our more durable 10 ga thick dump body.
For those who demand maximum toughness and the most durable option possible for the job, check out our premium 7 GA DUMP BODY UPGRADE package.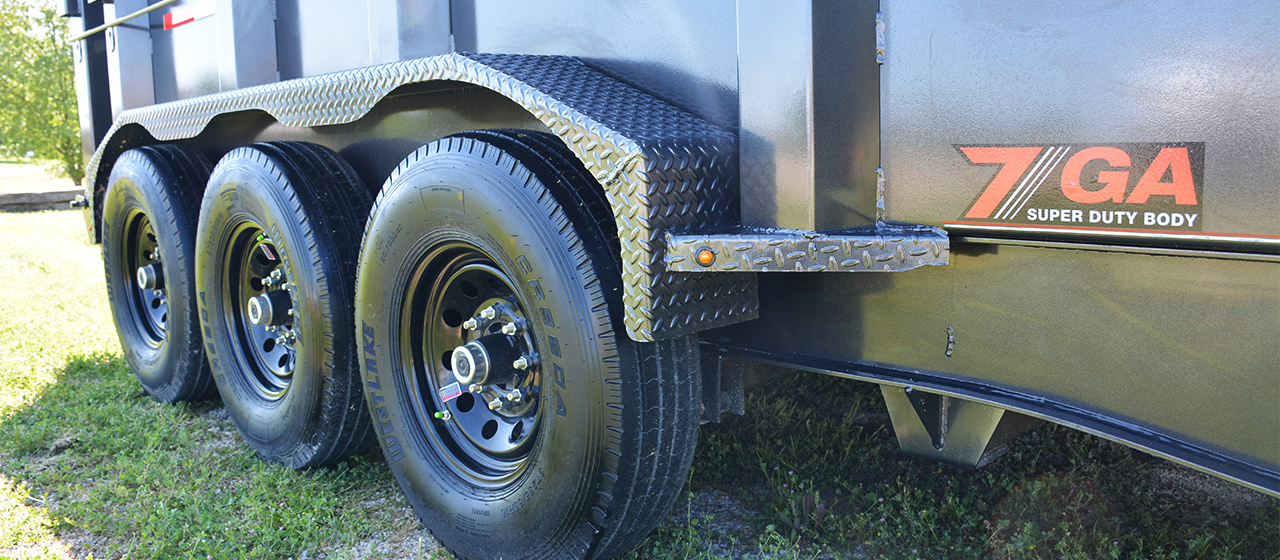 Why do we use Telescopic Cylinders in our Dump Trailers?
Telescoping Cylinder Technology is changing the way we approach building and designing our DUMP TRAILERS. The direct push design of the cylinder allows for maximum dumping leverage and puts far less stress on the main frame of the trailer than a traditional scissor lift hoist does. It's much like what's been used for decades on semi-end dump trailers and heavy duty dump trucks. The front-mounted telescoping cylinder position provides greater lifting power than a traditional scissor lift hoist, and also handles imbalanced loads significantly better.
Our heavy duty Telescopic Cylinder is a 3 stage cylinder that uses a KTI brand power-up, gravity-down system to help conserve energy. We also offer an optional Wireless Remote for additional convenience.
What are the benefits of Telescopic Cylinders?
Our Telescopic Cylinder boasts many benefits over the more traditional scissor-lift and dual cylinder setups:
More front of body dumping leverage
Handles imperfectly balanced loads more efficiently
Less stress on overall frame of the trailer
Ease of system maintenance due to front mount location
What models is this offered on?
This efficient, tried and true technology is found on most of our DUMP TRAILER lineup, including our 3 smaller models: GST, GDT, and MDT, and also on our flagship heavy duty low profile LPT dump trailer (as well as being an available option on model dual tandem gooseneck WDT).
Heavy Duty Model LPT:
Model WDT dual tandem dump trailer:
(optional upgrade)
Small Dump Trio (GST, GDT, and MDT):