Frame Extensions / Max Width Package
Frame extensions coupled with Heavy Duty Drive-Over 3/16″ FENDERS is an ideal setup for the avid off-road enthusiast whose vehicle has oversized wheel/tire combinations that prevent them from loading onto a normal width car hauler.
Our frame extensions are made from Diamond Plating for extra strength and dependability, and extend the useable deck space of your trailer to 102″ wide.
Frame Extensions Compatibility: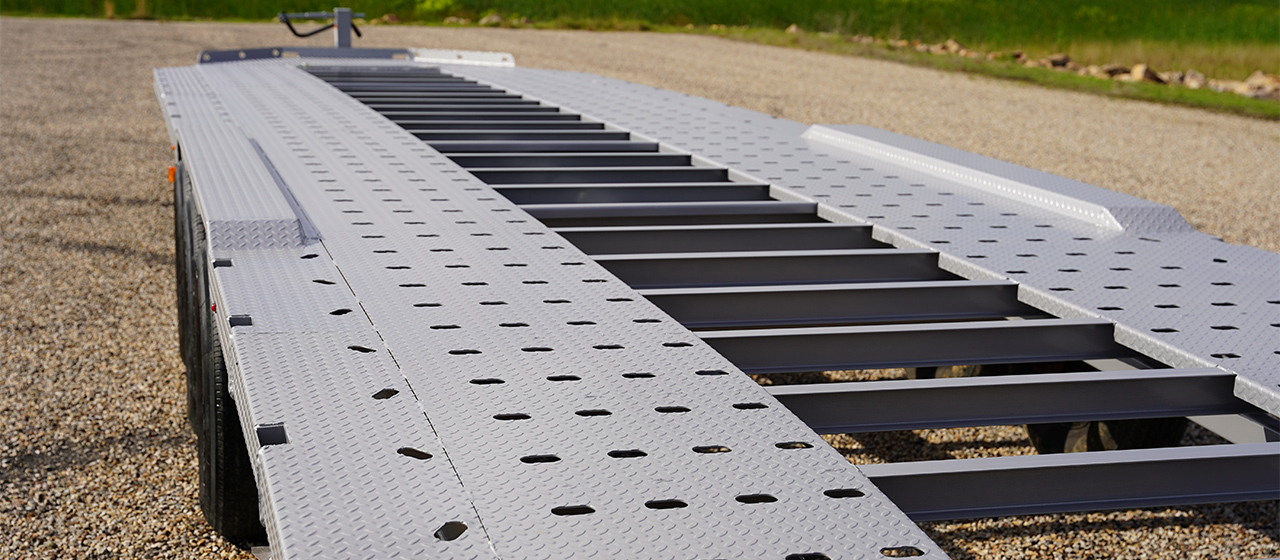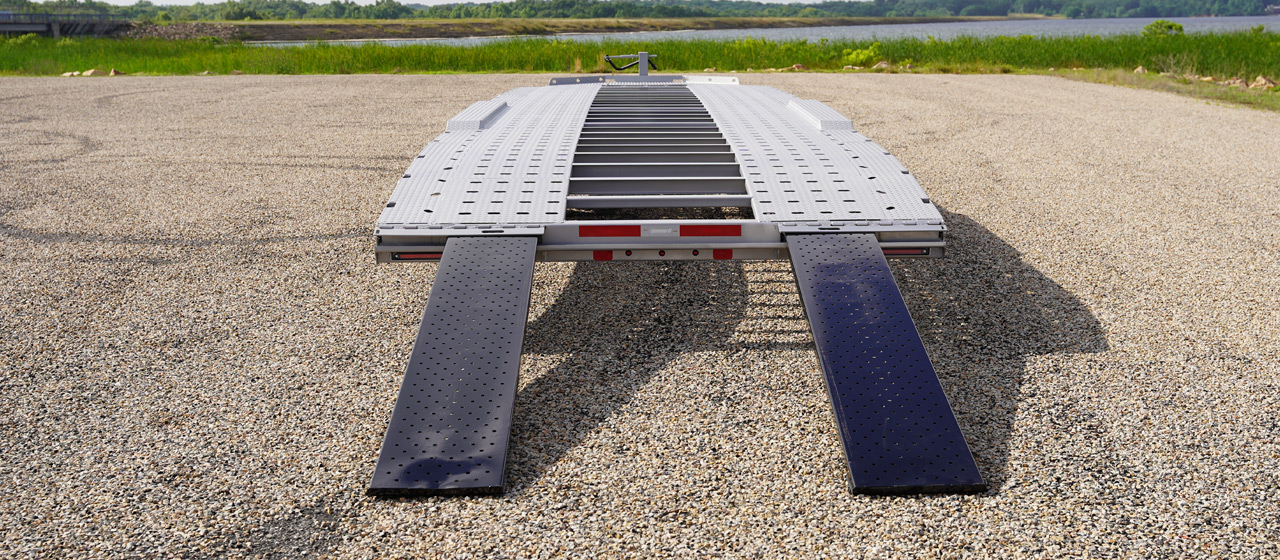 Our new duo of CAR HAULERS have cleverly designed storage options to keep all your tools, tie-downs, and other accessories safe and secure while your are transporting your vehicles.
V-Tongue Storage Lid
We've brought our popular HD V-TONGUE storage lid design from our Equipment trailers over to our 2021 series of Car Haulers. This intelligently crafted lid design offers maximum storage space for jacks, tools, and straps, while also doubling as bonus deck space. This area also boasts a winch mounting plate as standard equipment.
This 19″ lid comes standard on model GTF, and the bumper pull version of the larger MVC multi-car hauler includes the full size lid as standard.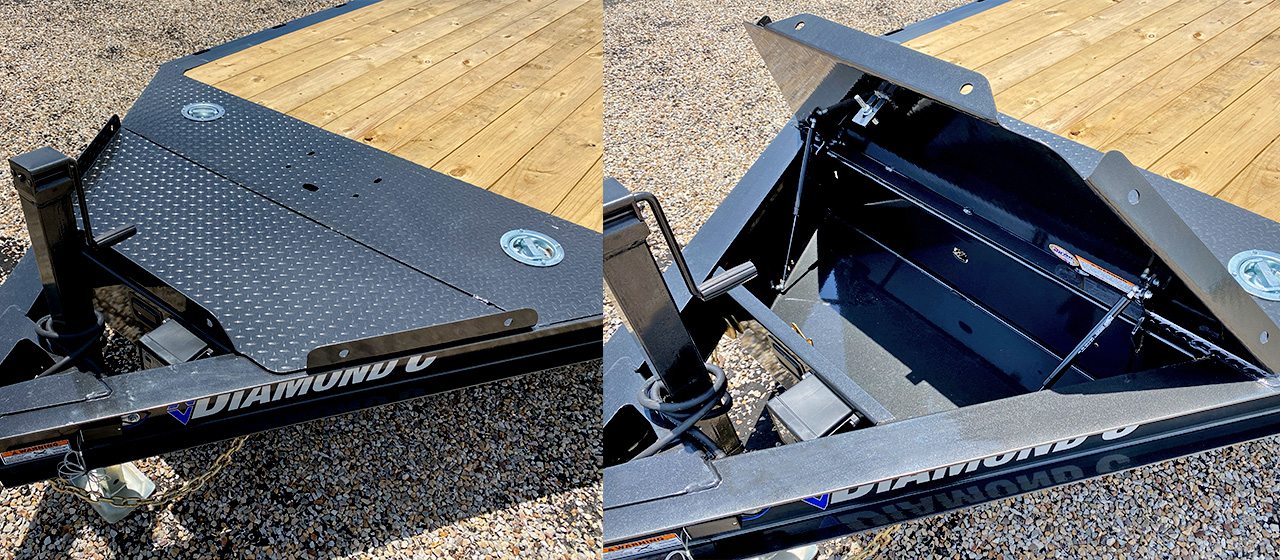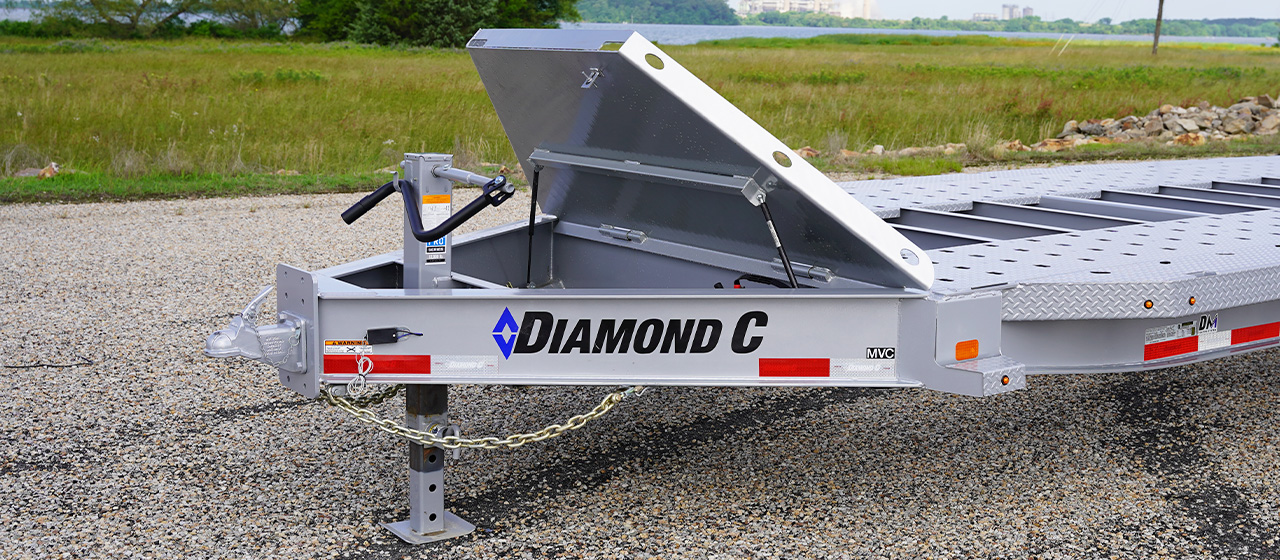 Full Width Diamond Plate Neck Box
If you've opted to upgrade your MVC with a GOOSENECK PACKAGE, then enjoy the added benefits of a massive neck box between the jacks. This lockable neck box is big, roomy, and is perfect for storing all your jacks, tools, straps, and more. Constructed with 3/16″ Diamond Plate, this box also features a curved lid for added rigidity and is gas spring assisted for easy operation.
Tie Downs
Models GTF and MVC also include multiple tie down and stake pocket options, including our newly designed Formed Rub-Rail Tie Down System. This full length system includes plenty of tie down options utilizing stake pockets for straps with flat hooks as well as ergonomic holes for your wire hook straps.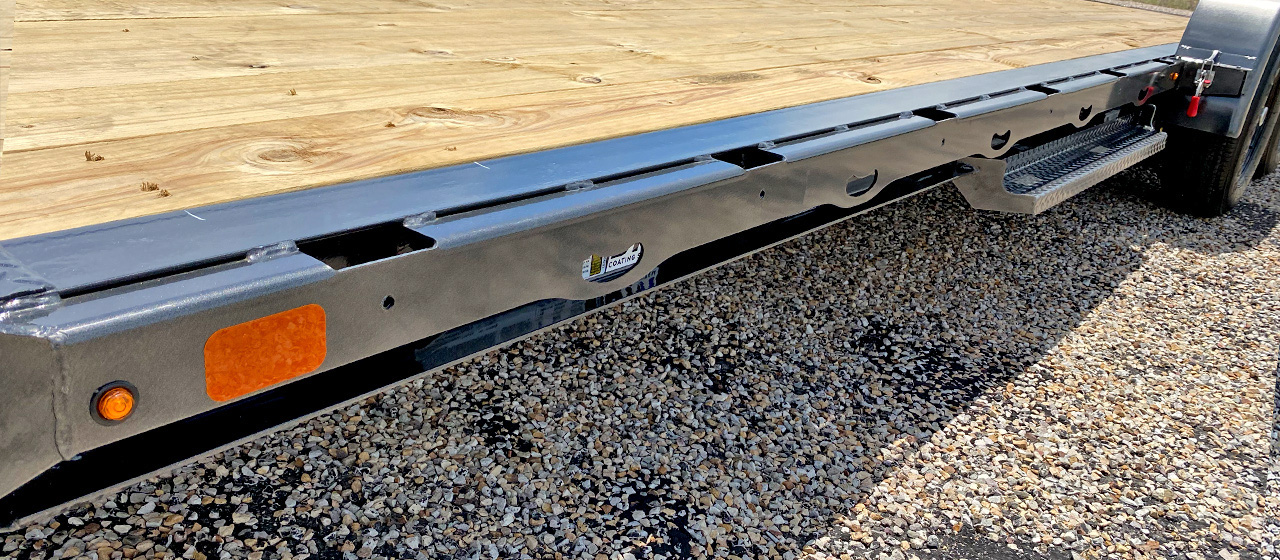 Extraordinary Trailer Finishes
While many trailer manufacturers choose powder coat and finish processes based solely on their material and operating costs, we designed this "Difference Maker" Powder Coating System to produce extraordinary trailer finishes.
The mantra is simple: Improve everything. Sacrifice nothing.
These are the priorities:
– Adhesion
– Corrosion resistance
– Chip & abrasion resistance
– Gloss & color retention
– Curb appeal
We've spared no effort or expense to ensure that each Diamond C trailer comes with an extraordinary finish that is exceptionally durable and beautiful.
We've partnered with Sherwin Williams to bring more enhanced color options, and are proud to offer multiple standard & special colors to choose from. View our comprehensive COLOR GUIDE to see all of our standard and custom colors up close.
COLOR GUIDE
How Does it Work?
Listen in as Jacob walks you through the entire powder coat process, start to finish:
For a detailed in-depth guide and to see the entire powder coating facility up close, be sure to watch the following videos for a deep dive into all things DM Coating System, as well as a comprehensive conversation on the differences between custom, small-batch coating vs. industrial coating.
The Powder Coat Process
We use a 6 step process to ensure our custom trailer powder coating is the best coating option for your trailer:
Step 1:
Each trailer frame is blasted with steel shot to remove mil-scale and add an anchor profile for primer to adhere to.
Step 2:
Then we wash them with a 5 stage wash process to clean the steel, add corrosion resistance, and balance pH.
Alkaline wash removes blast dust and oils
High pressure rinse
Phosphate salt rinse inhibits rust and helps with paint adhesion
High pressure rinse
Final sealing rinse is applied
All wash water is reverse osmosis (RO) purified to ensure consistency
Step 3:
Washed frames are promptly force dried as they travel through our dry-off oven at 300 degrees. This prevents flash rusting and ensures that frames are primer ready.
Step 4:
Ultra-corrosion resistant Onecure Zinc Epoxy Primer powder coating is electrostatically applied to the entire trailer frame.
Step 5:
Smooth, high gloss, Onecure Technology Top Coat is electrostatically applied to the entire trailer frame.
Step 6:
The top coat is cured as the frame travels through our 165′ final-cure oven at 450 degrees. All steel surpasses 425 degrees to ensure complete curing of primer and top coat.
Differentiators
Pretreatment. Some powder coaters only blast. Some only wash. Some do a little of each. Every trailer that we powder coat is thoroughly blasted, washed clean, and chemically pretreated before powder application to ensure optimal surfaces for powder adhesion and corrosion resistance.
Powder. All powders are not created equally. We use Sherwin William's most advanced ultra-durable primer and top coat.
Hardware. Our powder line is highly engineered and 2400' long with plenty of breathing room for thorough processing. Trailers flow through at a steady pace with no pushing or pulling required. It includes a number of pits and platforms throughout to enable operators to access trailers, over and under, comfortably and with ease which results in excellent coverage and consistency.
Purity. We use an extensive system of filters, separators, and refrigerated and dessicant air dryers to ensure that the compressed air we use for powder application is extremely pure, dry, and uncontaminated.
Control. All powder is applied in an environmentally controlled room for optimal application consistency. 60-80 degrees F.
Ovens. They're convection ovens with several thousand points of air flow, electronically monitored and balanced, and have 18 million BTU's of natural gas powered heat available to ensure consistent, complete powder curing.
Process. We audit the entire process, a multi-point inspection, every single day of operation to ensure that every machine, step, and process is performing consistently and optimally. Additionally, critical performance factors are monitored hourly at each booth to maintain tight controls and standards.
Downloads
View the attached flyer for a more in-depth look at our Powder Coat process.
DM COATING SYSTEM FLYER
Build Your Own Trailer
Every Diamond C trailer comes standard with our premium DM Powder Coating Systems finish. Click below to view and price all of our trailer models:
BUILD & PRICE
Watch below for tips on best practice maintenance guides for ensuring that you are using your trailer safely and effectively.
HOW TO BLEED HYDRAULIC BRAKES
Watch the following video for a step by step process and guide to correctly bleeding hydraulic brakes on your trailer.
Learn more about our various TRAILER BRAKE OPTIONS HERE.
HOW TO BURNISH YOUR TRAILER BRAKES
Electric Drum Brakes require a BREAK-IN PERIOD to achieve full performance. Watch here for a step by step guide.
HOW TO INSTALL A TELESCOPIC CYLINDER
When possible, Diamond C leaves the telescopic cylinders for our dump trailers installed during shipping. However, in the event that we do have to remove them from the trailer for shipping, watch this guide to learn how to quickly and effectively re-install the telescopic cylinder.
HOW TO INSTALL A DECK ON THE NECK
Watch as Jonathan demonstrates how to safely install the bolt-on Deck on the Neck and shows the contents of the kit along with the new bracket design.
Disc Brake & Hub Oil Maintenance
For longevity, trailer maintenance is crucial. Follow along as Jacob walks through two important items that must be regularly maintained – disc brakes and oil bath hubs.
Sleek-Powerful-Unique
Our 12′ Hydraulic Dovetail boasts features that aid in efficiency and easy operation. This revolutionary trailer dovetail is 3′ longer than the industry average of 9′, which results in an easier to climb approach angle, aided by Blackwood Lumber runners.
Dovetail Features
12′ long with easy to climb, 12.5-degree angle approach for easy loading and off-loading
Standard BLACKWOOD rubber-infused outer runners for traction
Automatic latch for easy, effortless operation
Rated to lift AND carry 10,000 lbs distributed across the length of the dovetail with regard to your specific trailer GVWR and common load distribution practices
Includes Wireless Remote
Our revolutionary 12′ Hydraulic Dovetail is available as a standard tail choice on all GOOSENECK, PINTLE, and STEP DECK trailers.
Hydraulic Dovetail Video
Watch below as Jacob talks all this hydraulic dovetail – from the history to the function to the options available.
Dovetail Trailer Pictures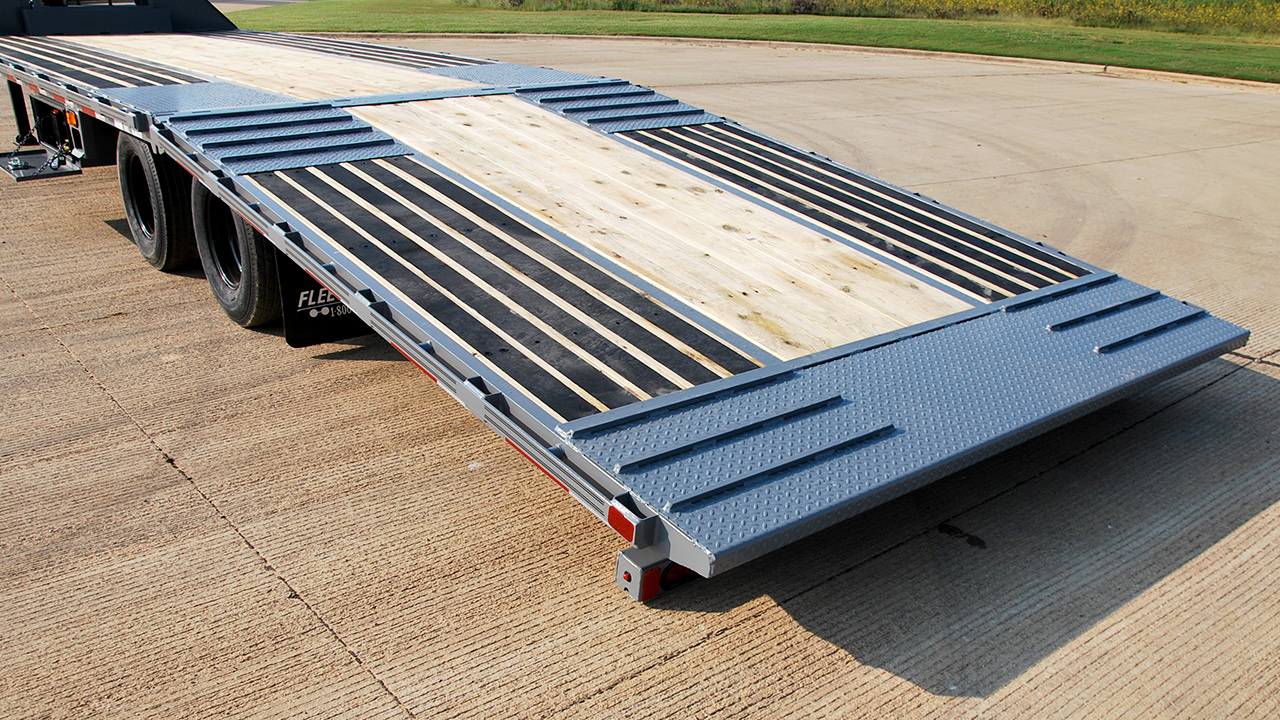 Extras
Need maximum traction? We also include an upgrade option to add full steel runners with cleats to the dovetail. This option adds 3/16″ diamond plate steel with 5/8″ square stock cleats along the length of the dove for maximum traction in the slickest of situations.
Add full BLACKWOOD LUMBER throughout the entire dovetail, including the center.
Our Hydraulic Dovetail also pairs great with Dual 12K HYDRAULIC JACKS.
More Videos
Watch the videos below for more information on our Hydraulic Dovetail's operation and usability.
Other Ramp/Dove Loading Styles
Having trouble deciding which loading style to select?
Watch below as Jacob Crabb walks through the 3 other primary loading options for our flagship FMAX gooseneck trailers, including MAX RAMPS, XDR RAMPS, and Straight Deck:
Safer. Stronger. Longer.
Blackwood Lumber provides your Diamond C trailer a great alternative to traditional lumber floors. It not only looks great, but also features enhanced traction, safety, & durability.
What is Blackwood Lumber?
Blackwood Lumber is rubber infused, pressure treated pine flooring that provides enhanced traction in the wettest conditions, outstanding impact resistance in the toughest environments, and increased flooring lifespan from its no fade, no crack technology.
Features:
Blackwood Lumber is made with the highest quality lumber, then infused with industrial-grade rubber. This provides increased protection allowing the Blackwood to withstand heavy impact that would crack and damage normal lumber.
Blackwood also provides superior traction, which helps prevent slipping and allows safer and easier loading of equipment during wet conditions.
Blackwood lasts longer than normal lumber because of the rubber infusion process. It won't fade, crack, or stain, and can easily be cleaned with water.
We offer Blackwood Lumber in either full width or outer options:
Blackwood Lumber Video
(Source: Blackwood Lumber YouTube Channel)
Contact your nearest DEALER for more information or visit www.BLACKWOODLUMBER.com
*Note: If you are hauling primarily steel tracked equipment such as bulldozers or excavators, consider our hard OAK FLOORING as a good alternative to Blackwood Lumber
Trailer Flooring Guide Video
Watch below as Jacob goes in-depth on all our flooring choices, shows them up-close on our trailers, and gives tips on which one you should choose for your specific hauling needs.
Pressure treated Pine flooring is the most commonly used wood flooring material in trailers. The abundant supply of Pine wood in the south coupled with its sturdy nature make for a solid basic flooring choice.
When looking at Pine flooring in the trailer industry there are two different elements that you should consider:
Is it treated? Treated means that the lumber has been run through a process where an anti-rotting solution is injected into the pores of the wood to lengthen the life of the wood out in nature's elements. Some manufacturers still choose to use an untreated product to reduce cost. This does reduce cost in the short term but it also reduces the life of the floor of the trailer 10X and does not make for a good user experience long term. Diamond C ONLY uses pressure-treated lumber.
Lumber quality is graded on a tiered system, the same system that the building construction industry uses; #1, #2 and #3 grades. #1 being the best and #3 being the "least good" of the three. Basically when you boil it down, the trailer industry primarily uses #2 & #3 grade. #2 vs #3 is going to have less knots, and the knots it does have will be smaller and tighter, have less edge wane (or uneven edges), and less tendency to crack. Similar to the the treated vs. untreated scenario, some manufacturers will opt for the lesser quality #3 grade lumber to save a few dollars in production, which ultimately costs you more in the long term in maintenance and replacement costs. Diamond C only uses #2 or better graded lumber for our trailer floors.
For an even more durable flooring option consider our OAK FLOORING upgrade, or for maximum loading traction check out BLACKWOOD LUMBER.
Trailer Flooring Guide Video
Watch below as Jacob goes in-depth on all our flooring choices, shows them up-close on our trailers, and gives tips on which one you should choose for your specific hauling needs.
When you know the job is grueling and the floor of your trailer is going to take a beating, the Oak Floor option is for you. Since Oak is a hardwood, it is a much denser wood than industry standard Pine, therefore it is not as susceptible to being gouged, scraped, or broken down like its softer pine counterpart.
Oak is ideal for use with tracked equipment such as dozers, skid steers, excavators, etc. Additionally, Oak is a great choice for users that engage in a high amount of side loading various palletized material.
Oak flooring is most popularly found on our heavier duty flatbed trailers:
– Gooseneck: FMAX212, FMAX216
– Pintle Hitch: PX212, PX310, PX312, PX216
– Step Deck: SDX212, SDX216
Model PX210 shown with oak filled dove and MAX RAMPS.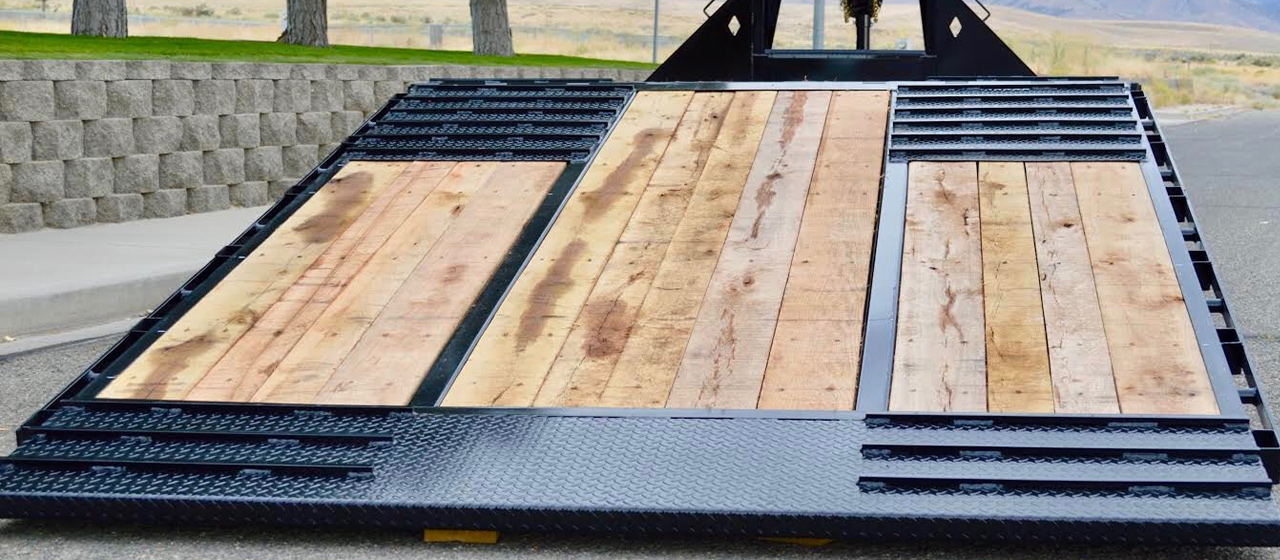 📸Credit: Dealer Partner THE TRAILER STORE featuring Oak flooring on our 12′ HYDRAULIC DOVETAIL FMAX Gooseneck Trailer series.
Trailer Flooring Guide Video
Watch below as Jacob goes in-depth on all our flooring choices, shows them up-close on our trailers, and gives tips on which one you should choose for your specific hauling needs.
Diamond C utilizes a custom Powder Coat paint process called the DM COATING SYSTEM. It allows us to offer trailer finishes that are exceptionally durable and beautiful.
We offer 8 standard colors across all models, as well as 5 special colors. Custom colors can be applied to your trailer upon request.
For a close-up view of every color we offer, watch the video below as Jacob tours our plant and highlights all our trailer colors. (And learn some tips on color selection as well!)
Keep scrolling to see pictures of a selection of our finishes on some of our more popular trailer models:
Model FMAX216 Gooseneck Trailer – Metallic Blue
Model LPD Dump Trailer – Red
Model GTF Car Hauler – Black
Model DOD Dump Trailer – Metallic Mocha
Model FMAX210SS Super Single Gooseneck Trailer – White
Model DET Deck Over Equipment Trailer – Metallic Silver
Model LPD Dump Trailer with optional GOOSENECK PACKAGE – Metallic Gray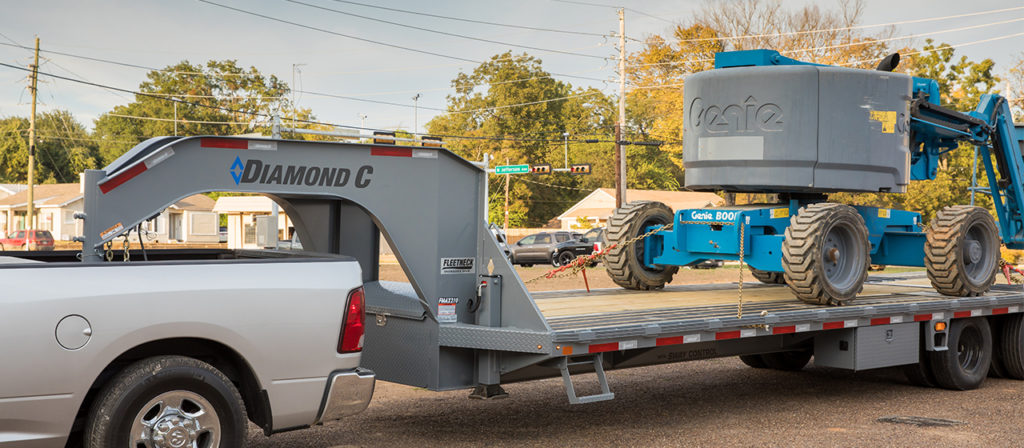 Model FMAX210 Gooseneck Trailer – Cement Gray
Model LPX Equipment Trailer – Special Color Commercial Yellow
Model PSA Utility Trailer – Special Color Tractor Green
Model WDT Dump Trailer – Special Color Industrial Orange
Model FMAX207 Gooseneck Trailer – Special Color Lime Green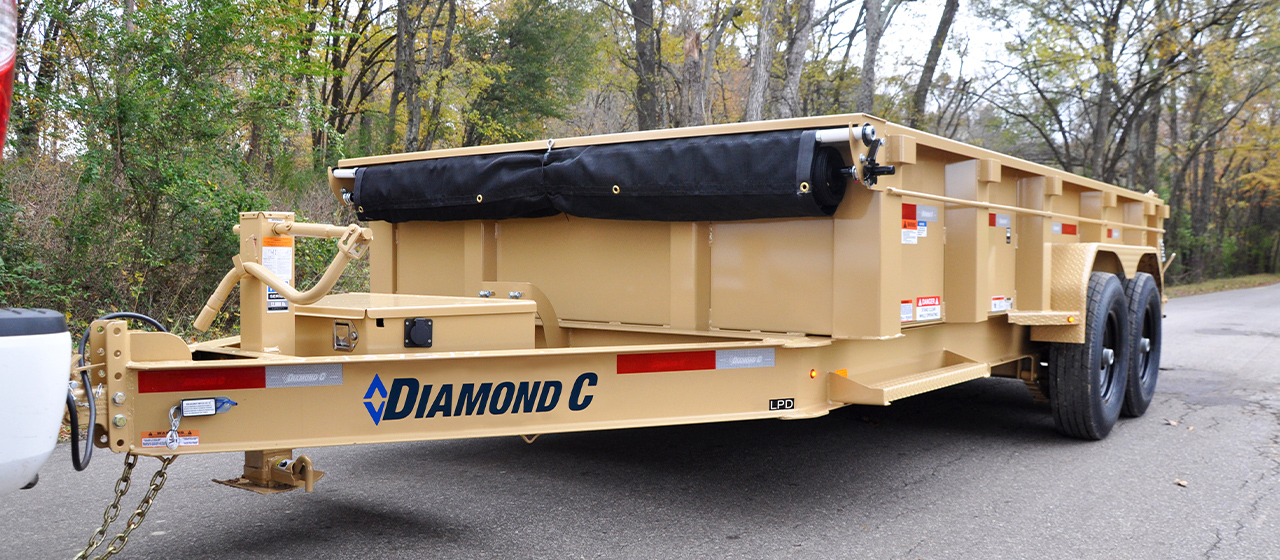 Model LPD Dump Trailer – Special Color Desert Tan
___
We've spared no effort or expense to ensure that each Diamond C trailer comes with an extraordinary finish. Be sure to check out our resource on our custom DM COATING SYSTEM to see the entire 6 step process in action and learn why we use the powder coating system that we do.
Browse this list to find downloadable brochure PDFs of all of our different trailer models:
Car Haulers
Equipment Trailers
Gooseneck Trailers
Pintle Hitch Trailers
Step Deck Trailers
Dump Trailers