Video Series: Dare to be Different
Differentiate your business. Stand out. Lead the way.
Listen in on this video series as Jacob Crabb, our VP of Sales & Marketing, shares practical tips and methods for making your business, product, or dealership stand out and rise above the competition. In today's competitive world, being unique and intentional with your customer strategy matters.
(This page will be updated as new episodes are filmed)
Episode 2 – Raving Fans
In this Dare to be Different video we break down the customer service strategy that Diamond C strives to live out called "Raving Fans" and challenge you – if you have a business, big or small, to apply and strive for it too!
Episode 1 – Differentiate Your Dealership
Dare to be Different Challenge:
Carve out 30 – 45 minutes of uninterrupted time to truly unplug – step outside – take a deep breath and begin to evaluate your business:
How are you any different from the guy down the street?
How is your product offering any different? What can you do to make it stand out?
Put yourself in the customers shoes. What is the customer experience like from the moment they enter your door to the moment they leave?
How can you create raving fans of your brand / dealership? A raving fan is more than just a return customer – they are your best salesman.
3″ Ball 40,000 lb Adjustable Coupler
This innovative coupler is included standard on our 40K GVWR UPGRADE PACKAGE on gooseneck models FMAX312 and FMAX216. This unique coupler is the first of its kind – a heavy duty, high strength 40K coupler with an easy to use dual vertical adjustment. We call it the "Telescoupler".
When Bulldog released the original BX1 40K coupler in 2013, we immediately adapted it to our product lineup. We used two 3/4″ plates with adjustable holes to give it more range of adjustment. It worked and was functional, but we knew there had to be a better way. So with our ENGINEERED BEAM inspired thought process in mind, we developed the 40K Telescoupler.
Our Telescoupler still uses the BX1 Bulldog Coupler head to provide a secure connection on the road, but the magic happens in the center section of the coupler. There is a massive 7″ of travel in the top adjustment section, and 3″ of travel in the bottom section. This allows you to hook up to anything ranging from a 1 ton up to a semi-tractor if needed.
Features:
Utilizes Bulldog BX1 Coupler
Up to 10″ of dual vertical adjustment
3″ Ball for a heavy duty, secure connection
Telescoupler Video
Our Purpose at Diamond C is to fuel the growth and success of DC Team members, our customers, and our community. As part of that mission, DC is proud to offer the annual Do Work Love Strong Scholarship. Its purpose is to provide opportunities for those who desire to obtain an education either at a local college, technical college, university, or certification in any area of interest.
In May, we awarded 6 local students with up to $3,000 worth of scholarships. We hosted a banquet to recognize each scholarship recipient and it was a success! We look forward to continuing this for years to come!
Watch this space for more information on next year's Scholarship program and application.
Highlight Video:
This video series, Principles of Sales, is more than just about "sales". Influence is an important part of any leader's job. If you're in leadership, sales, or just simply looking to grow your influence, this is a valuable series to keep your eye on. Our Sales Manager, Scott Smith, has over 20 years of sales experience across various auto, equipment, and trailer verticals. Listen in below as Scott shares his sales strategies and tips he's learnt over the years.
(This page will be updated as new episodes are filmed)
Episode 2 – Sales Tips
Check out these informative sales tips and practices that Diamond C's sales manager Scott Smith offers to help your dealership be ready to attack the day.
Episode 1 – Overcoming Objections
Tune into this first episode and learn as Scott gives some tips and tricks for navigating customers, ultimately resulting in converting more prospects into paying customers. Scott shares his breakdown of L.U.C.K and how it might apply to you.
What is L.U.C.K, you ask? Watch Scott here to find out 😉
Introducing our new series, Small Business Finance Management, with our CFO, Jeff Weaver. Watch below as Jeff shares the experiences he's gained by working with both small and large companies.
(This page will be updated as new episodes are filmed)
Episode 2 – Expenses & The Right Time to Grow
Listen in on this episode as Jeff covers managing expenses and knowing when it's the right time to GROW!
Knowing the state of your financial affairs back to front is one of the best ways to make sure the cash keeps flowing. Staying on top of your finances means you can avoid unforeseen business debt and have enough money to invest in and grow your business.
Stay on top of the day-to-day money management
Separate business, pleasure, and private accounts
Take care of the bigger business issues
Episode 1 – Money Management
Tune into the first episode of Small Business Finance Management for tips on properly managing your financials and what it entails.
This video series is where we talk to real trailer users about real experiences with their Diamond C trailers. Tune in and listen!
Have a Diamond C story you'd like to share with us? Shoot us an email at FEEDBACK@DIAMONDC.COM with your experience for a chance to be featured in this series!
(This page will be updated as new episodes are filmed)
Episode 3 – Preston Steinhoff
Check out what Preston Steinhoff with BARE METAL FABRICATION has to say about Diamond C Trailers. 🙌
He relies on 3 different DC trailers daily to keep his business driving into the future. His mini-fleet includes an LPX equipment trailer, an LPD dump trailer, and an FMAX210 Fleetneck Engineered Beam gooseneck trailer.
Episode 2 – Conor Sensabaugh
Today's episode is an exciting call with Conor Sensabaugh of Apex Trucking, who is an experienced hotshot trucker who's logged over 150,000 miles with his Diamond C FLEETNECK trailer! 👏 Hit play below for the full story:
Episode 1 – Michael Bradley
#DCCustomerSpotlight on Michael Bradley with Superior Container & Shed today. He's the owner one of the very first SDX series trailers sold by the Trailer Guys in Trenton, TX (www.THETRAILERGUYSEAST.com).
Tune in to check out what Michael has to say about his custom Step Deck trailer. 💪
Next Generation Trailer Hubcabs
We are excited to partner with VALCRUM to bring their aluminum alloy oil hubcaps to all our 8K-16K LIPPERT axles as standard. Valcrum's product line was designed to supply a stronger, durable threaded hubcab for heavier duty trailer axles to replace the standard factory plastic cap. Valcrum's new patent-pending Lock Collars and Magnetic Vent Plugs bring new technology to an outdated plastic cap market.
Features
Aluminum alloy body designed for grease and/or oil bath applications
Oil level indicating window
Magnetic vent plug that accumulates metallic particles
Easy access drain/fill port
Learn more at www.VALCRUM.com
Valcrum Demonstration Video
(Source: Valcrum YouTube Channel)
Want to Upgrade?
Have a Diamond C trailer with the standard plastic caps and want to upgrade to Valcrum's premium aluminum alloy oil hubcaps? Click below to order replacement Valcrum caps on our Gear Store online for an easy upgrade to your trailer
BUY VALCRUM CAPS
Need a refresher on what exactly "GVWR" stands for and how it differs from trailer Payload? Read THIS article first.
Most of our trailers are upgradable with higher GVWR (Gross Vehicle Weight Rating) Packages. It's the way we describe updating a standard configuration trailer to a heavier duty capacity model by upgrading the axles. These upgrade packages usually include other upgrades bundled – for example stronger frames, updated couplers rated for higher towing capacity, and heavier duty tires. These upgrade bundles vary based on the trailer.
Here's an example of our LPX equipment trailer's GVWR package upgrade options:
This trailer comes standard with our 207 Package (rated at 14.9K GVWR), which includes 2 – 7,000 lb LIPPERT AXLES. To see what the upgrade packages include when configuring your trailer, simply hover your mouse over each option to learn more. The popular 210 Package boosts your GVWR up to 20K and includes numerous upgrades to your trailer, including 2 – 10K Oil-Bath Axles and upgraded 215 TIRES.
___
Here's an example of our PSA utility trailer's GVWR package upgrade options:
The PSA comes standard with one 3,500 lb Super Lube LIPPERT axle. If you want to upgrade it to a heavier payload capacity, select the 5,000 lb GVWR package, which includes a heavier duty 5,200 lb axle as well as an upgraded 4″ channel tongue and stronger tires.
___
Our GVWR Upgrade Packages are labeled by their axle configurations, so a 152 package means the trailer is equipped with one 5,200 lb axle, a 307 package would indicate three 7,000 lb axles, and so on. Remember, a 5,000 GVWR Package does NOT mean you can haul 5,000 lbs of cargo, you still need to take your trailer's curb weight into consideration when calculating your true payload capacity. For a full breakdown on understanding this, check out our article on GVWR VS PAYLOAD.
For any questions about purchasing a Diamond C trailer with an upgraded GVWR Package please contact your nearest Diamond C DEALER, or build one yourself on our site to submit to your local dealer for quote.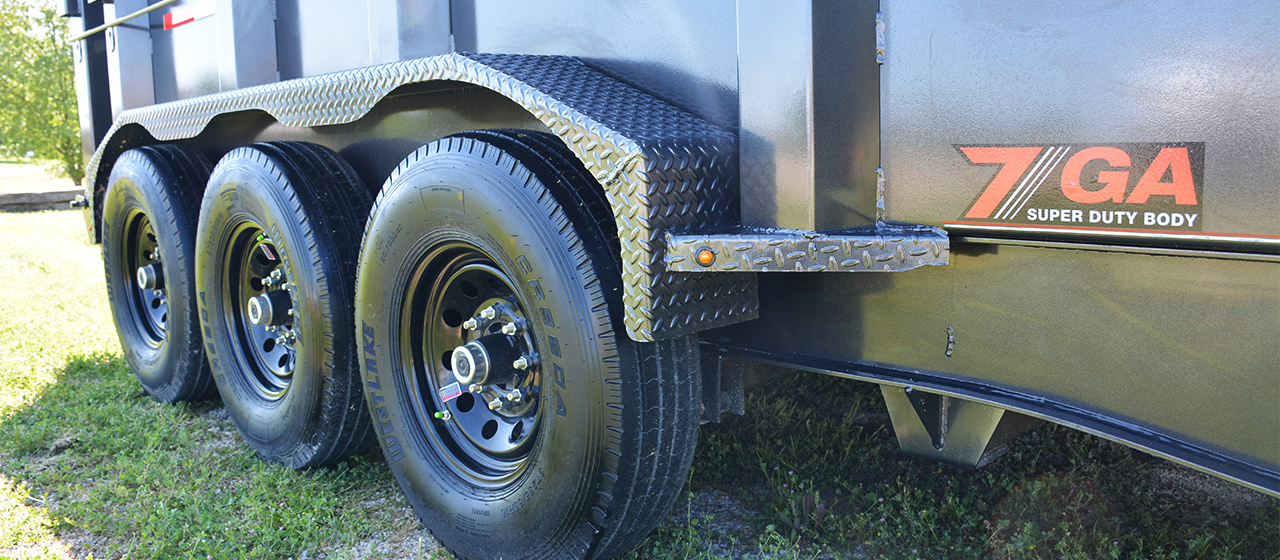 GVWR and Weight Distribution Videos
Listen in as Jacob explains GVWR further in this video, along with some practical tips for choosing the best rated trailer for your required haul.
Watch as Randall demonstrates some best practice loading tips, along with some examples of what to avoid.
In 1994, a routine inspection from the Texas Air Quality Board that contained frustrating news for a young Diamond C company turned into a springboard for success, as it pushed Mike and Kim Crabb to decide to expand their production facilities and build an entirely new 60,000 sq ft plant. This set the stage for the next two decades of growth and success for Diamond C.
Through 35 years in business we've found that often the greatest growth comes from times of challenge and struggle. These times of trial push us to think bigger, innovate, and make the best possible outcome to fuel the growth and success of our team members, customers, and community. This mindset is woven into Diamond C's VALUES, and is every bit as true today and as it was over 25 years ago.
Read the article below for the full story!
In 2019 the Diamond C Leadership Team started exploring the potential benefits of adding a CLIFTON STRENGTHS FINDER training and discovery program to benefit our core team at DC. We hired a certified Clifton Strengths coach and got to work immediately! Over the course of the next few months, most of our team members took the strengths finder assessment test and departments met together to share their results. With the guidance of a certified coach, we discussed and dissected each other's natural strengths and started laying the framework towards better collaboration and understanding of ourselves, our team members, and how to maximize our strengths.
Learning our Strengths and how to harness and hone them for maximum effectiveness has been transformational for the DC team — an absolute catalyst in fueling our growth and success. We invite you to join us on the journey!
Harness and Hone your Strengths for Power and Edge
Watch this video from our our DISCOVERY WITH DC Video Series where Jeffery Crabb and special guest, certified Clifton Strengths Coach Katie Stedman, talk through our journey of strengths discovery at DC.
#TeamDC Strengths
Watch the short videos below to hear from some of our team members about what their core strengths mean to them, and how their knowledge of their own strengths impacts them positively at work and in life.
Ivan – "Restorative"
Liz – "Responsibility"
Benji – "Relator"
Bryan – "Positivity"
Jeff – "Learner"
Joey – "Intellection"
Martha – "Input"
Russell – "Individualization"
Polo – "Includer"
Alex – "Ideation"
Brenda – "Harmony"
Luis – "Futuristic"
Gloria – "Developer"
Mike "Empathy"