Premium Radial Tires
Diamond C uses high quality radial tires and wheels from LIONSHEAD. We offer a multitude of tire sizes and UPGRADES depending on your trailer and needs.
Lionshead Radial Tires
Some trailer manufacturers use cheaper, lower quality tires and wheels to save costs on their trailers. Not us. We are proud to partner with Lionshead to offer their premium radial tires standard on all Diamond C trailers.
Lionshead are known for their standout 1-2-5 Lifetime Warranty:
1 Year "No Excuses Guarantee" – Lionshead will replace any ST Radial Tire for any reason within the first 12 months
2 Year Complimentary Roadside Assistance
5 Year Warranty on Radial ST Tires
Lifetime Structural Warranty on ALL wheels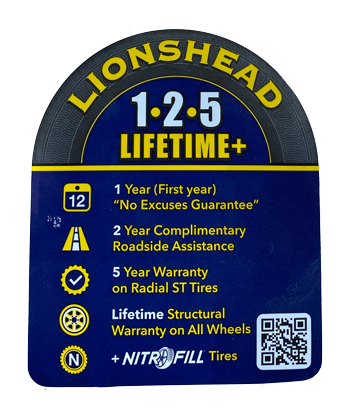 Advantages of Radial over Bias Tires
Reliability: The tread of a radial tire does a better job of gripping the road and provides improved durability and maneuverability.
Comfort: Because their plies run radially from bead to bead around the tire instead of diagonally, radial tires are more flexible – giving you a more comfortable ride.
Protection: Radials have a thick shoulder that protects the interior from shocks and damage.
Economy: There's less rolling resistance, so you use less fuel on radial tires.
Stability: Radial tires provide more stability and less vibration.
Durability: Radial tires last longer, in part because they generate less heat.
Maneuverability: Radial tires contain bead filler that allows the vehicle to handle better on the road.
(Source: www.TIREAMERICA.com)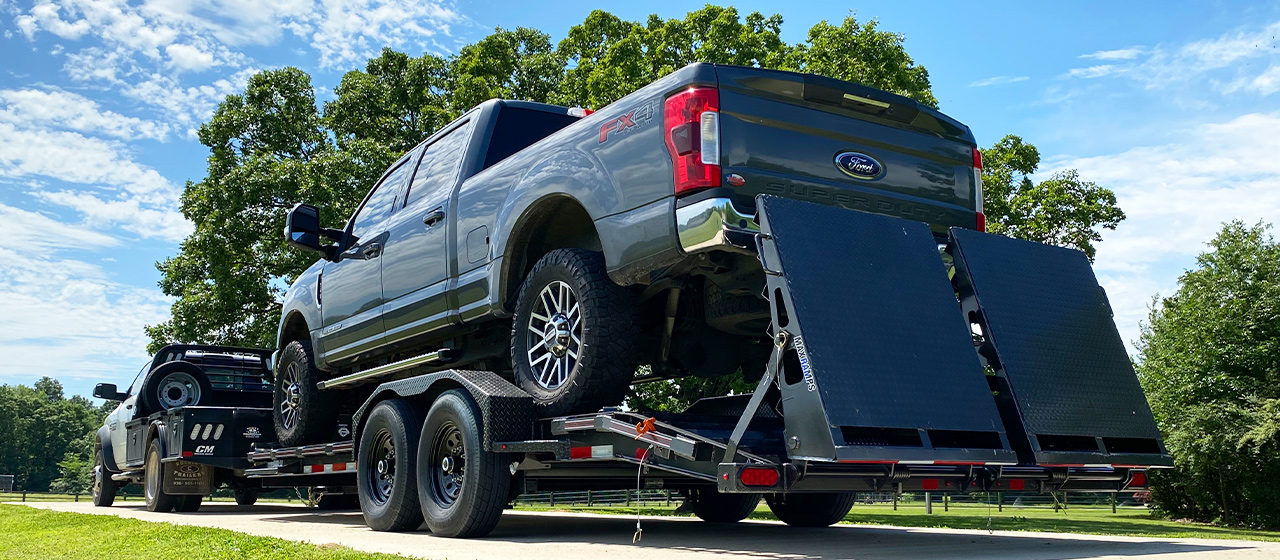 Tire Sizes Explained
Ever wondered what all the letters and numbers on your trailer tire mean? Let's break it down.
All our of our tires are labelled with a structure similar to this: ST205/75R15. Here's what the letters and numbers stand for:
– ST (ex: ST205/75R15): Stands for "Special Trailer". Tires with this prefix should only be used on trailers, boats, or cars.
– 205 (ex: ST205/75R15): The first 3 digit number after the prefix is the measurement of the width of the tire in millimeters. Most of our tires are either 205, 215, 225, or 235.
– 75 (ex: ST205/75R15): The number following the slash is a measurement of the aspect ratio of the tire profile. So, 75 means that in this tire the sidewall distance (measured from the top of the wheel trim to the outside of the tread) is 75% of the tire section width. A higher number will indicate a taller tire with a higher sidewall, while a lower number will be for a lower profile tire with a shorter sidewall. Our tires are either 75 or 80.
– R15 (ex: ST205/75R15): The last number represents the wheel diameter in inches that the tire should be matched to. Most of our trailer tires are 15, 16, or 17.5 inches.
Which Tire Will My Trailer Come With?
Since we specialize in customizable trailers and our website configurator lets you build and configure any model you choose, all of our trailers feature multiple options for upgrading to different compatible tires. For even extra customizability, consider a black or two tone aluminum WHEEL COLOR.
There's a few simple guidelines involved in understanding which trailers come standard with which size of tire:
In general, all trailers rated 14K and up will come standard with 10 ply (235/80R16 Radial) and up tires, and smaller trailers rated lower than 14K will come with 8/10 ply tires standard, usually either the 205/75R15 or the 225/75R15. Our heavy duty 17.5″ TIRE UPGRADE is included with most trailers that offer an 18K or 20K GVWR UPGRADE package. All 215/75R17.5 tires also include premium VALCRUM HUBCAPS for a stronger, more durable threaded hubcap.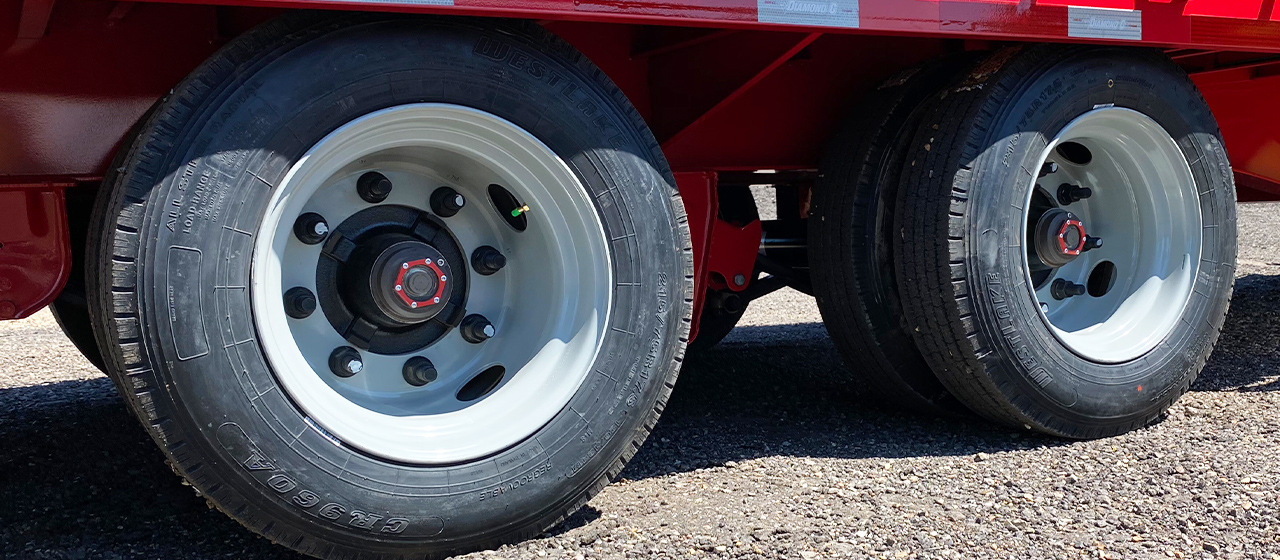 Trailer Tires & Wheels Video Guide
Watch below as Randall walks us through the different tires Diamond C offers, as well as key advantages of each choice.
3″ Ball 40,000 lb Adjustable Coupler
This innovative coupler is included standard on our 40K GVWR UPGRADE PACKAGE on gooseneck models FMAX312 and FMAX216. This unique U.S. Patent Pending coupler is the first of its kind and a Diamond C original – a heavy duty, high strength 40K coupler with an easy to use dual vertical adjustment. We call it the "Telescoupler".
When Bulldog released the original BX1 40K coupler in 2013, we immediately adapted it to our product lineup. We used two 3/4″ plates with adjustable holes to give it more range of adjustment. It worked and was functional, but we knew there had to be a better way. So with our ENGINEERED BEAM inspired thought process in mind, we developed the 40K Telescoupler.
Our Telescoupler still uses the BX1 Bulldog Coupler head to provide a secure connection on the road, but the magic happens in the center section of the coupler. There is a massive 7″ of travel in the top adjustment section, and 3″ of travel in the bottom section. This allows you to hook up to anything ranging from a 1 ton up to a semi-tractor if needed.
Features:
Utilizes Bulldog BX1 Coupler
Up to 10″ of dual vertical adjustment
3″ Ball for a heavy duty, secure connection
U.S. Patent Pending original design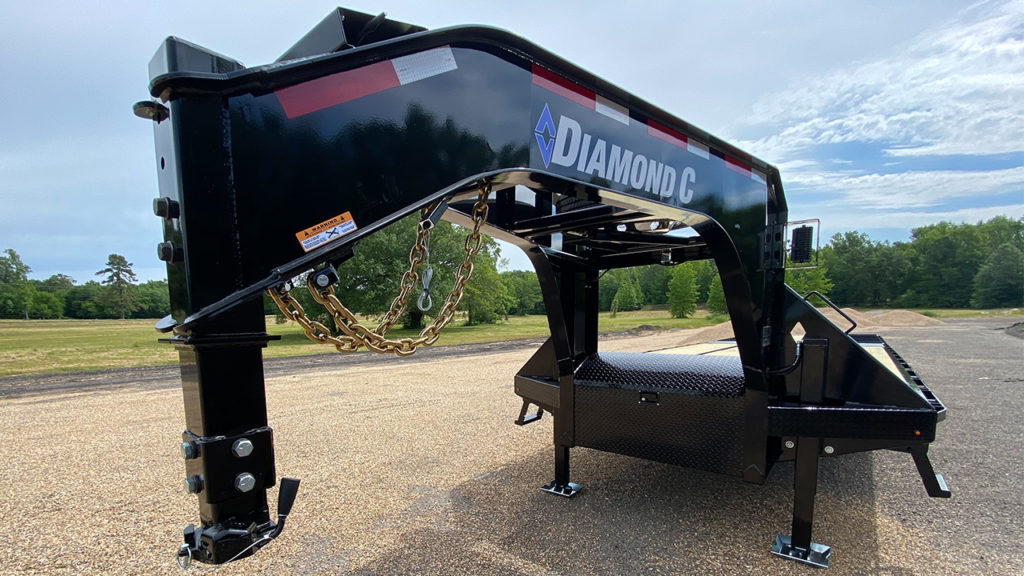 Telescoupler Video
A better way…
At Diamond C we are relentless about progress. We constantly push the limits of what we believe is capable in trailer design and manufacturing. In addition to our U.S. Patent Protected ENGINEERED BEAM TECHNOLOGY, one of our proudest innovations and contributions to the trailer industry is our low profile dump trailer design that we developed in 2008.
This design change allowed us to keep the dump body much closer to the ground than what was previously standard in the dump trailer industry. The average dump body height in the early 2000's was about 32″ off the ground, which ultimately created a very poor user experience. Dumping material and debris over the side of the trailer was inefficient and difficult due to the height, and loading equipment such as skid-steers on the rear ramps was difficult due to the steep approach angle. The low profile dump design that we developed (that is now an industry standard today) greatly improved on overall user ergonomics and safety.
The original dump trailer design was based on a stacked frame concept: first came tongue of the trailer, then the suspension frame rested above that, then finally the dump body was on top of that. We knew there had to be a better way. Rather than stacking the frames up, we decided to put them side by side using an integral tongue and frame I-beam, and we inset the dump body frame just inside of the I-beam instead of on top of it. We added drop axles, and this combination resulted in a much lower design that accomplished a 24″ high dump body, a significant decrease of 8″ from the standard height of the day.
Low Profile Dump Story
Watch below for a special 1 – 1 interview with Diamond C President, Jeffery Crabb, and listen in as he tells the story of how a dicey incident while loading a skid steer onto a dump trailer led to the original idea and eventual innovation behind the modern day low profile dump trailer design.
Dump Trailer Innovations
The result of this new low profile idea? In 2008 we revolutionized the dump trailer industry, and took the market by storm with our low profile dump design, seen today in our flagship LPD model. And we haven't slowed down with innovating since then – we've added numerous improvements and enhancements to our ENTIRE DUMP TRAILER LINEUP over the years, including:
What Does GVWR Mean?
So what's the deal with words like GVWR, payload capacity, and curb weight? You'll hear us refer to these a lot when talking shop about trailers, and it's crucial to understand the differences and meanings behind these terms and how they relate to you and your trailer.
Simply put, your Gross Vehicle Weight Rating (GVWR) is the maximum amount of weight that your trailer is rated to carry. This number INCLUDES the weight of the trailer itself and cargo/equipment you plan to haul. But this number in itself can be misleading, if you buy a 30K GVWR trailer it does not mean you can haul 30,000 lb of equipment on it – that's where knowledge of your trailer's payload capacity comes in. This is the true amount of weight your trailer is safely rated to haul.
How do I find out my trailer's payload capacity?
To calculate payload capacity use this simple formula:
GVWR – Weight of Trailer = Total Payload Capacity
The weight of the empty trailer is often referred to as "curb weight". Remember to include any accessories, like tool boxes, chain trays, or spare tires in this weight.
In real life numbers, if you purchase one of our Fleetneck FMAX312 gooseneck trailers with a GVWR of 30,000 lbs and a curb weight of 9,000 lbs (approximate), to determine your maximum allowed payload capacity you would calculate:
30,000 (rated GVWR) – 9,000 (curb weight) = 21,000 lb (payload capacity)
It is very important to know your trailer's GVWR and curb weight BEFORE hauling extreme loads to ensure you do not damage your trailer by overloading it. (If you are unsure about your trailer's approximate curb weight, please contact your nearest Diamond C DEALER or take your trailer to a weigh station for a more accurate weight).
GVWR Videos
Listen in as Jacob Crabb explains GVWR further in these short videos, along with some practical tips for choosing the best rated trailer for your required haul.
Trailer Weight Distribution
Even if you are loading less than the maximum payload, it's still important to use common sense when loading and observe some best practices for even load distribution:
Distribute your cargo as evenly as possible between the entire length of the trailer.
As a general rule of thumb, 60% of the weight of the cargo/equipment should be nearer the front of the trailer than the rear. Load heavier equipment nearer the tongue/neck of the trailer, and place lighter equipment closer to the rear.
Avoid uneven left/right loads as well – these can not only cause abnormal tire wear, wheel, or even axle damage, but also result in dangerous swaying while driving.
On DC trailers with our industry exclusive 12' HYDRAULIC DOVETAIL, make sure to distribute weight as evenly as possible across the length of the tail. Our hydraulic dovetail is rated to lift and carry up to 10,000 lb evenly distributed, but an undistributed load (too much weight rearward) can cause premature wear and unnecessary damage to the tail.
Loading Tips Video
Watch below as Randal demonstrates some best practice loading tips for even weight distribution, along with some examples of what to avoid.
Lighter Weight – Stronger Frame
At Diamond C, we want your investment to work as hard as you. That's why we are so passionate about the significant impacts our ENGINEERED BEAM TECHNOLOGY can have for trailer owners, as it allows our trailers (especially higher GVWR and longer GOOSENECKS) to have lighter, but stronger frames. A lighter frame results in a lower curb weight, which means a higher payload capacity for you to haul. For example, our FMAX216 gooseneck trailer in a base 40′ configuration has an average curb weight of 1,100 lbs LESS than the competition. When tackling the most grueling jobs around, that extra payload capacity available plays a big part, especially for HOT SHOT trailer users! #DoWork
Build Your Own Trailer
Click below to view the GVWR and price of every Diamond C trailer model and customize your own model.
BUILD & PRICE
We use LIPPERT COMPONENTS AXLES on all of our Diamond C trailers. Lippert provides an ultra-high-quality product, utilizing state-of-the-art robotic welders to ensure the highest precision and quality on every axle. Lippert offers a full line of reliable spring, torsion, and heavy duty axles to meet every trailer application and need.
Here are 6 big reasons why we are proud to partner with them and use their quality axles on our trailers:
Over the last fifteen years, Lippert has done an incredible job at building a feature rich, ultra high-quality product and production system that ensures accuracy.
They invest BIG in customer support with a 100+ person call center that is staffed 24/7 with highly trained technical representatives, plus extensive training resources available.
Lippert is a strong and stable company built with family business values, partnerships, and accessibility. When we call, they listen and respond in a way that proves it.
Continuous improvement is rooted deep into Lippert's culture. They're always yearning to advance and to make tomorrow better than today, just like Diamond C!
Their brand name and parts distribution network is extensive with genuine Lippert components available through Redneck, Amazon and many other distributors.
While Lippert axles offer many design advantages over other brands, they are intelligently designed in order to allow part interchangeability with other leading brands on common wear parts such as brake components.
Features:
Premium Black Powder Coat Finish
Zinc-Plated Hardware
Waterproof Electrical Connections
Integrated One-Piece Spindle and Flange for improved alignment and strength
Assembled in the USA
Warranty:
Limited 1 Year Warranty – Grease and Oil Seals for all Axles
Limited 6 Year Warranty – Spring Axles and Suspension Systems
Limited 11 Year Warranty – Torsion Axles
Lippert Axles Video
(Source: Lippert Components YouTube Channel)
Downloads
For more information download the Lippert + Diamond C feature sheet below:
LIPPERT FEATURE SHEET
Build Your Own Trailer
Every Diamond C trailer comes standard with premium Lippert Axles. Click below to view and price all of our trailer models:
BUILD & PRICE
If you thought a fender was just a fender, think again! Diamond C offers a variety of customizable fender choices for your trailer – from smooth to diamond plate to removable. Some options are for looks, and some are for added functionality and protection. Keep scrolling to learn more about our fender choices for your trailer.
16 ga Smooth Fender
Our most basic fender, found on our standard GSA general duty utility trailer.
16 ga Smooth Fender with Gravel Guard
Offered as the standard fender on most UTILITY and CAR HAULER models.
Includes a gravel guard for protection against rock chips.
On tandem axle trailers this fender has a teardrop in the middle for added coverage.
CAR HAULERS equipped with our "Pro Package" feature an aluminum gravel guard for a flashier look when hauling your show car.
14 ga Diamond Plate Fenders
An available option on most UTILITY and CAR HAULER models, and standard on most of our heavier class EQUIPMENT and DUMP trailers.
3/16″ Super Heavy Duty Diamond Plate Fenders
Our 3/16″ Super Heavy Duty Diamond Plate fender option is a must for contractors and work crews whose environment requires equipment outfitted with the toughest features known to man. Pairs great with our HD 215 TIRE UPGRADE. Popular on heavier duty trailers like the TUT and EDU utility trailers, MVC Multi-Vehicle Carrier, flatbed equipments including EQT, LPX, and HDT, and our medium and heavy duty dump models (EDG, EDM, LPD, and LPT).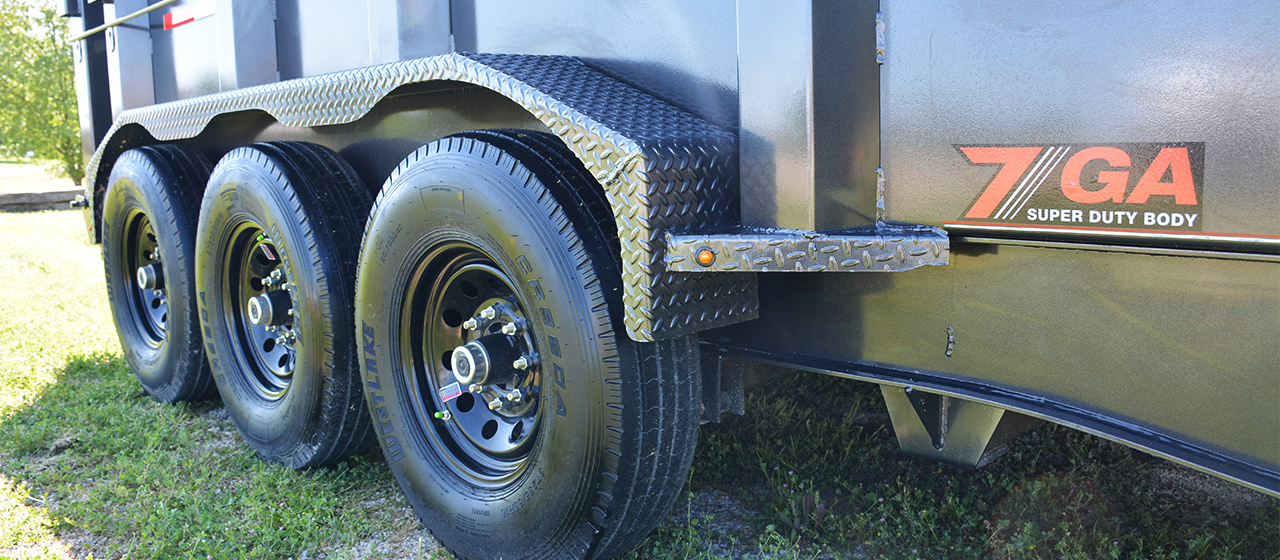 3/16″ Heavy Duty Fenders Video
Drive-Over Fenders
Drive-Over fenders are especially handy when loading wide equipment. Found as an upgrade on all CAR HAULERS and Equipment Trailer models EQT, LPX, and HDT. These pair great with FRAME EXTENSIONS for those extra-wide loads.
Removable Fenders
In certain cases, we've found that some trailer users prefer the option to have removable fenders depending on what cargo or equipment they are hauling. Dealers who ship large quantities of trailers greatly benefit from this as it means they can stack more trailers on each load.
Most of our flatbed models (UVT Utility, all CAR HAULERS, and EQT, LPX, and HDT Equipment trailer models) feature bolt-on fenders as standard, so they can easily be removed in a few steps by undoing 4 bolts.
Black Painted Fenders
Have a non-standard COLOR trailer with bolt-on fenders and want to stand out? Add black painted fenders for a cool 2 tone look.
Build Your Own Trailer
Ready to customize and price your own trailer with your choice of fenders? Click below to view and price all our trailer models:
BUILD & PRICE
Do you know trailer brakes? Diamond C offers 3 types: Electric Drum, Electric Over Hydraulic Drum, and Electric Over Hydraulic Disc brakes.
Below are some helpful tips for choosing the right brakes for your trailer.
Electric Drum Brakes
Electric drum brakes are the utility and flatbed trailer industry standard for trailer braking systems. Electric drum brakes are controlled by an in-cab controller that comes standard on many of today's trucks and SUVs. Electric drum brakes are well suited for most general use applications – trailers that are used moderately within their capacity and towed with some regularity. If you plan to use your trailer aggressively in relation to its PAYLOAD CAPACITY and plan to tow it on a more regular basis, then keep scrolling to see our electric over hydraulic brake options below.
BREAK-IN PERIOD MANUAL
Electric Over Hydraulic Drum Brakes
Electric over hydraulic drum brakes are similar in that they are controlled by the same in-cab controller as standard electric drum brakes. They also share the same actual drum braking components. Where they differ is that instead of electromagnetic force being utilized to help slow the trailer, the electric pulse from the to tow vehicle activates a small hydraulic pump that sends fluid into the drum to forcefully apply braking pressure.
Electric Over Hydraulic Disc Brakes
Electric over hydraulic disc brakes are similar to both previous brake types in that they are operated by an in-cab controller. However, disc brakes are what avid heavy duty trailers users would describe as "the ultimate" when it comes to trailer braking systems. They use the same hydraulic force we mentioned in electric over hydraulic drum Brakes for better braking pressure, but where they differ is the use of disc (rotor) / caliper braking components in lieu of the drums. Disc brakes provide increased stopping power over drums. In addition, disc brakes are more cost effective when it comes to upkeep and preventative maintenance over time. With disc brakes you are able to replace individual brake pads, versus replacing the more costly full drum braking assembly.
If you are a gooseneck HOT SHOT trailer user who puts in a lot of miles over the years, we highly recommend hydraulic disc brakes.
Benefits of Hydraulic Disc Brakes:
Last longer
Stop faster
Cheaper to maintain for high mileage trailers
How to bleed Hydraulic Brakes
Watch the video below for a step by step process and guide to correctly bleeding hydraulic brakes on your trailer.
Build Your Own Trailer
Ready to build your own trailer with your choice of brake selection? Click below to view and price all our trailer models:
BUILD & PRICE
Extraordinary Trailer Finishes
While many trailer manufacturers choose powder coat and finish processes based solely on their material and operating costs, we designed this "Difference Maker" Powder Coating System to produce extraordinary trailer finishes.
The mantra is simple: Improve everything. Sacrifice nothing.
These are the priorities:
– Adhesion
– Corrosion resistance
– Chip & abrasion resistance
– Gloss & color retention
– Curb appeal
We've spared no effort or expense to ensure that each Diamond C trailer comes with an extraordinary finish that is exceptionally durable and beautiful.
We've partnered with Sherwin Williams to bring more enhanced color options, and are proud to offer multiple standard & special colors to choose from. View our comprehensive COLOR GUIDE to see all of our standard and custom colors up close.
How Does it Work?
Listen in as Jacob walks you through the entire powder coat process, start to finish:
We use a 6 step process to ensure our custom trailer powder coating is the best coating option for your trailer:
Step 1:
Each trailer frame is blasted with steel shot to remove mil-scale and add an anchor profile for primer to adhere to.
Step 2:
Then we wash them with a 5 stage wash process to clean the steel, add corrosion resistance, and balance pH.
Alkaline wash removes blast dust and oils
High pressure rinse
Phosphate salt rinse inhibits rust and helps with paint adhesion
High pressure rinse
Final sealing rinse is applied
All wash water is reverse osmosis (RO) purified to ensure consistency
Step 3:
Washed frames are promptly force dried as they travel through our dry-off oven at 300 degrees. This prevents flash rusting and ensures that frames are primer ready.
Step 4:
Ultra-corrosion resistant Onecure Zinc Epoxy Primer powder coating is electrostatically applied to the entire trailer frame.
Step 5:
Smooth, high gloss, Onecure Technology Top Coat is electrostatically applied to the entire trailer frame.
Step 6:
The top coat is cured as the frame travels through our 165′ final-cure oven at 450 degrees. All steel surpasses 425 degrees to ensure complete curing of primer and top coat.
Differentiators
Pretreatment. Some powder coaters only blast. Some only wash. Some do a little of each. Every trailer that we powder coat is thoroughly blasted, washed clean, and chemically pretreated before powder application to ensure optimal surfaces for powder adhesion and corrosion resistance.
Powder. All powders are not created equally. We use Sherwin William's most advanced ultra-durable primer and top coat.
Hardware. Our powder line is highly engineered and 2400' long with plenty of breathing room for thorough processing. Trailers flow through at a steady pace with no pushing or pulling required. It includes a number of pits and platforms throughout to enable operators to access trailers, over and under, comfortably and with ease which results in excellent coverage and consistency.
Purity. We use an extensive system of filters, separators, and refrigerated and dessicant air dryers to ensure that the compressed air we use for powder application is extremely pure, dry, and uncontaminated.
Control. All powder is applied in an environmentally controlled room for optimal application consistency. 60-80 degrees F.
Ovens. They're convection ovens with several thousand points of air flow, electronically monitored and balanced, and have 18 million BTU's of natural gas powered heat available to ensure consistent, complete powder curing.
Process. We audit the entire process, a multi-point inspection, every single day of operation to ensure that every machine, step, and process is performing consistently and optimally. Additionally, critical performance factors are monitored hourly at each booth to maintain tight controls and standards.
Downloads
View the attached flyer for a more in-depth look at our Powder Coat process.
DM COATING SYSTEM FLYER
Build Your Own Trailer
Every Diamond C trailer comes standard with our premium DM Powder Coating Systems finish. Click below to view and price all of our trailer models:
BUILD & PRICE
What is hot shot trucking?
Hot shot trucking is becoming an increasingly popular way for flatbed trailer owners to make a living while on the road. Hot shot truckers often drive class 3, 4, 5, or 6 rated pickup trucks (instead of full on semi-tractors), so generally it's a more cost effective and accessible way to get into the industry. Hot shot truckers will often do "for hire" freight jobs, usually as an expedited delivery for an individual customer. Common hot shot loads may include construction materials, heavy machinery or equipment, farm materials, or other time-sensitive materials. Hauls can range anywhere from short local distances to even across country if necessary.
Why pick Diamond C for your hot shot trailer?
Diamond C is excited to partner with hot shot trailer users throughout North America to provide the very best possible trailer for this industry. Hot shot trailer users demand durability and versatility from their equipment, and we offer a variety of flatbed GOOSENECK and STEP DECK trailers to deliver on those demands.
Our trailers feature U.S. Patent Protected ENGINEERED BEAM TECHNOLOGY, which allows us to custom design, engineer, and optimize our own I-Beams to fit each model's specific weight classification and perform at its highest level. Our Engineered I-Beam trailers are stronger yet lighter, featuring the best strength-to-weight ratios of any steel frame gooseneck trailer on the road.
The result? Haul more, haul longer, and haul safer with a Diamond C.
Keep scrolling to view our most popular models, options, and upgrades for hot shot trailer owners.
How Do I Purchase?
Diamond C has an extensive network of almost 200 dealer partners strategically placed throughout North America. Find your closest dealer HERE to enquire about available gooseneck or step deck trailers, or simply navigate to any trailer product page to DESIGN YOUR OWN TRAILER to your unique specifications and submit it to your local Diamond C dealer for quote.
What is the best hot shot trailer?
The most popular hot shot trailer we sell is model FMAX212 in a 40′ length equipped with MAX RAMPS and AIR RIDE SUSPENSION. For those who need a 30K or even a 40K GVWR equipped trailer, we recommend our flagship model FMAX216.
New to the market are our Engineered Beam STEP DECK models, which bridge the gap between traditional goosenecks and semi-trailer step decks. Your choice of deck lengths from 38′, 40′, or even 43′, combined with the massive 10′ of useable deck space creates the perfect hauling machine for your hot shot business. Watch below as Jacob talks us through it:
The XDR Extreme Duty Knee Ramps were specifically designed to haul heavy concentrated equipment and machinery such as backhoes and excavators. The space in the middle is a necessity for knuckle height clearance, and is left open and void to be able to set a bucket or forks down for transport mode.
These ramps include the intelligently designed over-center latch hold down system featured on our MAX RAMPS, as well as the same two-point hinge technology and spring combination that makes loading and unloading a breeze.
These beefy ramps measure 24″ x 60″, and use the same strong Grade 50 material that is found in our ENGINEERED BEAM FRAMES.
Features
24″ x 60″ extreme duty ramps
Heavy duty support knee for additional durability
50 ksi steel ramp frames with two-point hinge system
HD Spring loaded for easy lifting from deck and from ground
Aggressive angled cleats for traction in the slickest conditions
Open pit for extra clearance
Includes an innovative over-center latch hold down system to hold the ramps securely in place during transport to eliminate vibrating and noise
Available on models:
These heavy duty ramps are available on most of our deck over trailers that utilize our patent protected ENGINEERED BEAM TECHNOLOGY, including:
All FMAX Fleetneck series gooseneck trailers
All PX series pintle hitch trailers
All SDX series step deck trailers
XDR Ramps Hold Down Latch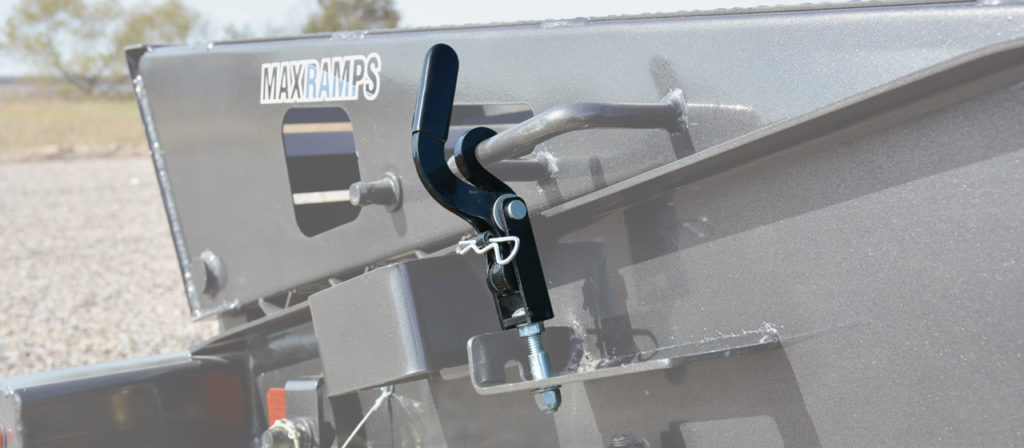 Have an older model and want the ramp hold-down latch? No problem – purchase the latch kit below and retrofit your existing ramps with our intelligently designed over-center latch hold down system.
BUY LATCH KIT
*Note: Fabrication and paint touch-up required for installation
Other Ramp/Dove Loading Styles
Having trouble deciding which loading style to select?
Watch below as Jacob Crabb walks through the 3 other primary loading options for our flagship FMAX gooseneck trailers, including MAX RAMPS, HYDRAULIC DOVETAIL, and Straight Deck: