Video Series: Principles of Sales
This video series, Principles of Sales, is more than just about "sales". Influence is an important part of any leader's job. If you're in leadership, sales, or just simply looking to grow your influence, this is a valuable series to keep your eye on. Our Sales Manager, Scott Smith, has over 20 years of sales experience across various auto, equipment, and trailer verticals. Listen in below as Scott shares his sales strategies and tips he's learnt over the years.
(This page will be updated as new episodes are filmed)
Episode 1 – Overcoming Objections
Tune into this first episode and learn as Scott gives some tips and tricks for navigating customers, ultimately resulting in converting more prospects into paying customers. Scott shares his breakdown of L.U.C.K and how it might apply to you.
What is L.U.C.K, you ask? Watch Scott here to find out 😉
Introducing our new series, Small Business Finance Management, with our CFO, Jeff Weaver. Watch below as Jeff shares the experiences he's gained by working with both small and large companies.
(This page will be updated as new episodes are filmed)
Episode 2 – Expenses & The Right Time to Grow
Listen in on this episode as Jeff covers managing expenses and knowing when it's the right time to GROW!
Knowing the state of your financial affairs back to front is one of the best ways to make sure the cash keeps flowing. Staying on top of your finances means you can avoid unforeseen business debt and have enough money to invest in and grow your business.
Stay on top of the day-to-day money management
Separate business, pleasure, and private accounts
Take care of the bigger business issues
Episode 1 – Money Management
Tune into the first episode of Small Business Finance Management for tips on properly managing your financials and what it entails.
This video series is where we talk to real trailer users about real experiences with their Diamond C trailers. Tune in and listen!
Have a Diamond C story you'd like to share with us? Shoot us an email at FEEDBACK@DIAMONDC.COM with your experience for a chance to be featured in this series!
(This page will be updated as new episodes are filmed)
Episode 2 – Conor Sensabaugh
Today's episode is an exciting call with Conor Sensabaugh of Apex Trucking, who is an experienced hotshot trucker who's logged over 150,000 miles with his Diamond C FLEETNECK trailer! 👏 Hit play below for the full story:
Episode 1 – Michael Bradley
#DCCustomerSpotlight on Michael Bradley with Superior Container & Shed today. He's the owner one of the very first SDX series trailers sold by the Trailer Guys in Trenton, TX (www.THETRAILERGUYSEAST.com).
Tune in to check out what Michael has to say about his custom Step Deck trailer. 💪
Next Generation Trailer Hubcabs
We are excited to partner with VALCRUM to bring their aluminum alloy oil hubcaps to all our 8K-16K LIPPERT axles as standard. Valcrum's product line was designed to supply a stronger, durable threaded hubcab for heavier duty trailer axles to replace the standard factory plastic cap. Valcrum's new patent-pending Lock Collars and Magnetic Vent Plugs bring new technology to an outdated plastic cap market.
Features
Aluminum alloy body designed for grease and/or oil bath applications
Oil level indicating window
Magnetic vent plug that accumulates metallic particles
Easy access drain/fill port
Learn more at www.VALCRUM.com
VALCRUM DEMONSTRATION VIDEO
(Source: Valcrum YouTube Channel)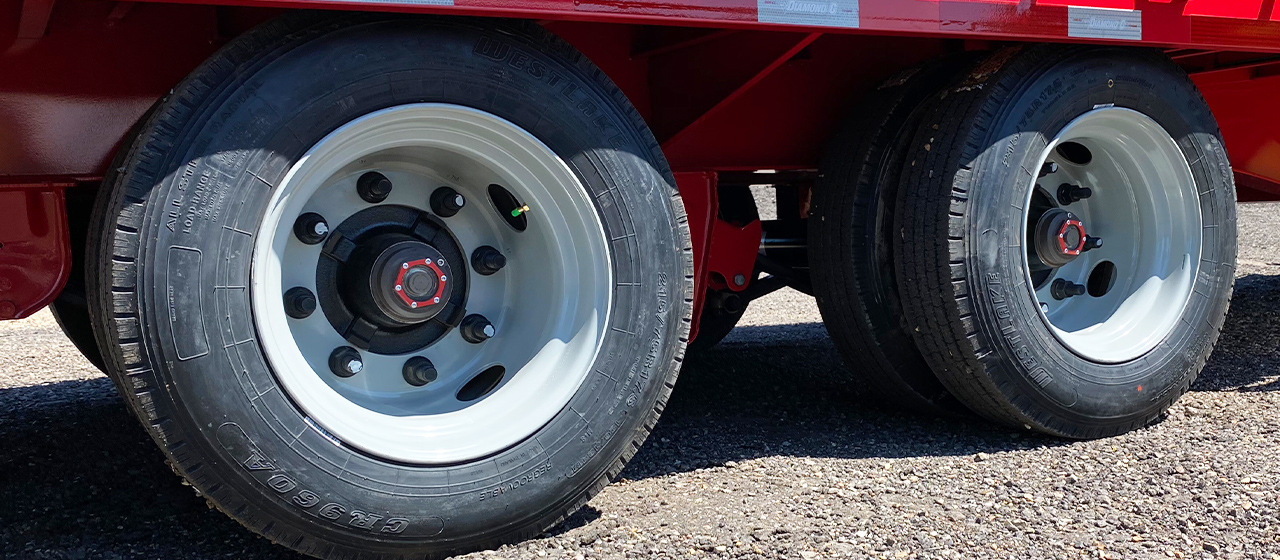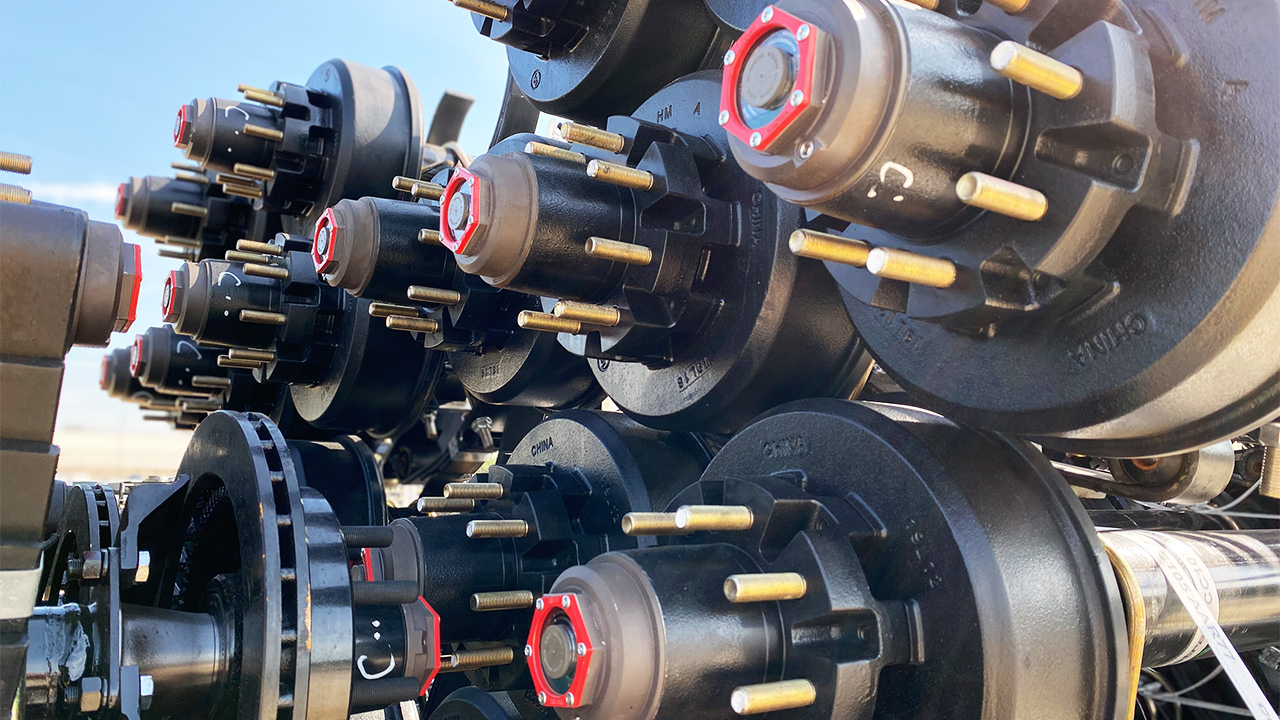 Need a refresher on what exactly "GVWR" stands for? Read THIS article first.
Most of our trailers are upgradable with higher GVWR Packages. It's the way we describe updating a standard configuration trailer to a heavier duty capacity model by upgrading the axles. These upgrade packages usually include other upgrades bundled – for example stronger frames, updated couplers rated for higher towing capacity, and heavier duty tires.
Here's an example of our LPX equipment trailer's GVWR package upgrade options:
This trailer comes standard with our 207 Package (rated at 14.9K GVWR), which includes 2 – 7,000 lb LIPPERT AXLES. To see what the upgrade packages include when configuring your trailer, simply hover your mouse over each option to learn more. The popular 210 Package boosts your GVWR up to 20K and includes numerous upgrades to your trailer, including 2 – 10K Oil-Bath Axles and upgraded 215 TIRES.
___
Here's an example of our PSA utility trailer's GVWR package upgrade options:
The PSA comes standard with one 3,500 lb Super Lube LIPPERT axle. If you want to upgrade it to a heavier payload capacity, select the 5,000 lb GVWR package, which includes a heavier duty 5,200 lb axle as well as an upgraded 4″ channel tongue and stronger tires.
___
Our GVWR Upgrade Packages are labeled by their axle configurations, so a 152 package means the trailer is equipped with one 5,200 lb axle, a 307 package would indicate three 7,000 lb axles, and so on. Remember, a 5,000 GVWR Package does NOT mean you can haul 5,000 lbs of cargo, you still need to take your trailer's curb weight into consideration when calculating your true payload capacity. For a full breakdown on understanding this, check out our article on GVWR VS PAYLOAD.
For any questions about purchasing a Diamond C trailer with an upgraded GVWR Package please contact your nearest Diamond C DEALER, or build one yourself on our site to submit to your local dealer for quote.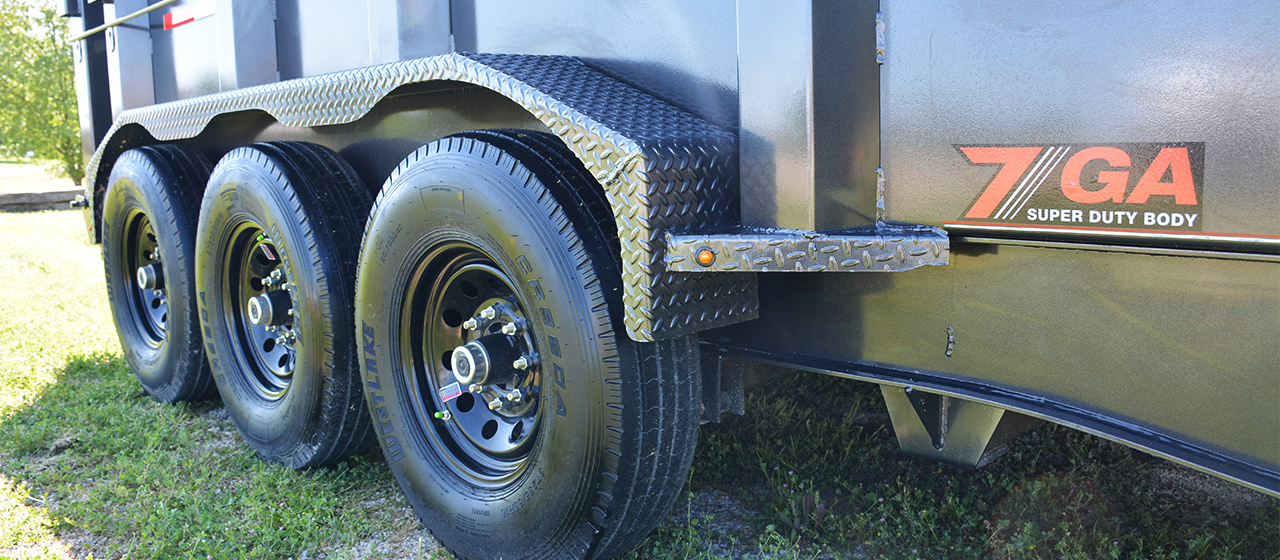 In 1994, a routine inspection from the Texas Air Quality Board that contained frustrating news for a young Diamond C company turned into a springboard for success, as it pushed Mike and Kim Crabb to decide to expand their production facilities and build an entirely new 60,000 sq ft plant. This set the stage for the next two decades of growth and success for Diamond C.
Through 35 years in business we've found that often the greatest growth comes from times of challenge and struggle. These times of trial push us to think bigger, innovate, and make the best possible outcome to fuel the growth and success of our team members, customers, and community. This mindset is woven into Diamond C's VALUES, and is every bit as true today and as it was over 25 years ago.
Read the article below for the full story!
In 2019 the Diamond C Leadership Team started exploring the potential benefits of adding a CLIFTON STRENGTHS FINDER training and discovery program to benefit our core team at DC. We hired a certified Clifton Strengths coach and got to work immediately! Over the course of the next few months, most of our team members took the strengths finder assessment test and departments met together to share their results. With the guidance of a certified coach, we discussed and dissected each other's natural strengths and started laying the framework towards better collaboration and understanding of ourselves, our team members, and how to maximize our strengths.
Learning our Strengths and how to harness and hone them for maximum effectiveness has been transformational for the DC team — an absolute catalyst in fueling our growth and success. We invite you to join us on the journey!
Harness and Hone your Strengths for Power and Edge
Watch this video from our our DISCOVERY WITH DC Video Series where Jeffery Crabb and special guest, certified Clifton Strengths Coach Katie Stedman, talk through our journey of strengths discovery at DC.
#TeamDC Strengths
Watch the short videos below to hear from some of our team members about what their core strengths mean to them, and how their knowledge of their own strengths impacts them positively at work and in life.
Ivan – "Restorative"
Liz – "Responsibility"
Benji – "Relator"
Bryan – "Positivity"
Jeff – "Learner"
Joey – "Intellection"
Martha – "Input"
Russell – "Individualization"
Polo – "Includer"
Alex – "Ideation"
Brenda – "Harmony"
Luis – "Futuristic"
Gloria – "Developer"
Mike "Empathy"
Introducing our new video series, Discovery with DC, where we'll be telling the stories of our journey, perspectives, and lessons learned along the way. We hope that you'll tune in and join us on the journey!
(This page will be updated as new episodes are filmed)
Episode 4 – Harness and Hone your Strengths for Power and Edge!
In this episode of Discovery with DC, Jeffery and special guest, Katie Stedman, talk through our journey of strengths discovery at DC.
Learning our Strengths and how to harness and hone them for maximum effectiveness has been transformational for the DC team— an absolute catalyst in fueling our growth and success. We invite you to join us on the journey!
Episode 3 – A Key to Your Growth
Do you want to grow your business, leadership skills, or to achieve personal growth in some part of life? Join us for Episode 3 of Discovery with DC as Jeffery talks us through 'development' as a key to growth!
Episode 2 – Fastest Growing Market Share
Join us for Episode 2 as Jeffery and Bryan talk through the story behind DC's recent AWARD of 2019 Fastest Growing Market Share by Statistical Surveys. #WorkHardPlayHard
*Bonus Episode (Covid-19)
We've heard from many of you from all over North America, some still doing work, and some hunkering down as your region of the world deals with increased challenges from COVID-19. Our hearts and prayers are with you all! Please listen if you'd like as our President, Jeffery Crabb, shares perspective on 'keeping the faith' and 'the days ahead'. #LoveStrong 💪💙
Episode 1 – A Call to Action
In this first episode of Discovery with DC, Jeffery and Bryan talk through our experience in dealing with COVID-19 and what we're doing to prepare for the sunshine that's coming!
Rear stabilizer support jacks assist in keeping your trailer level and steady when loading especially heavy equipment from the rear. We offer 2 types of rear stabilizers depending on the trailer:
Rear Drop Leg Stabilizer Jacks
Found as an option on our DUMP and heavier duty tandem axle UTILITY trailers, these drop legs are quick to operate by simply pulling on the hitch pin to lower or raise into place. Once the telescoping drop leg is in the correct place, reinsert the pins to keep the leg in place to stabilize your loading experience.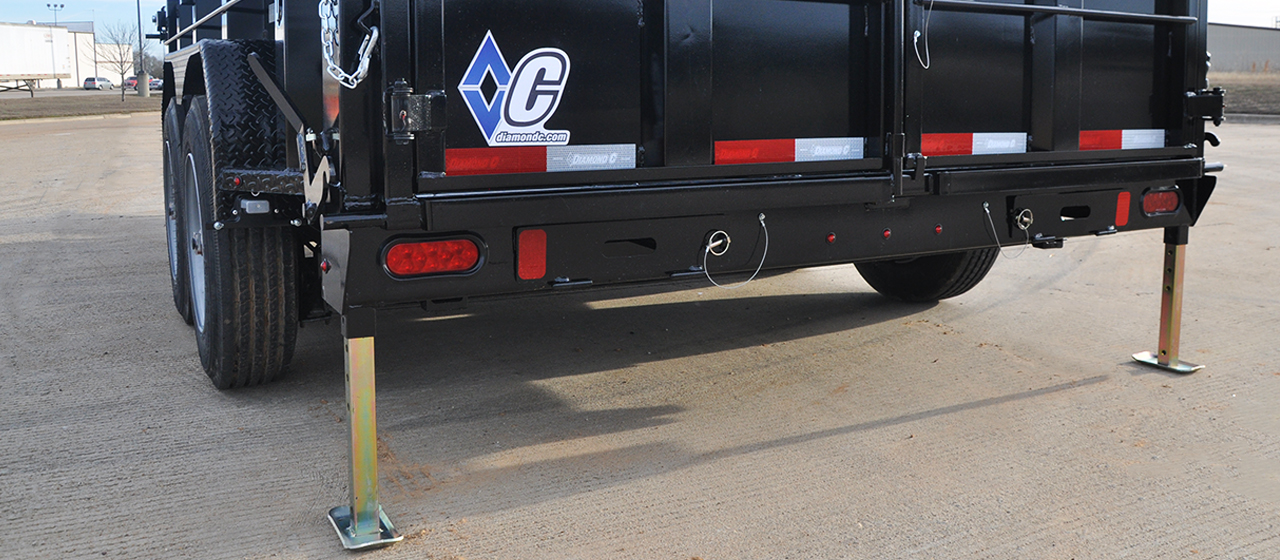 Rear Stabilizer Jacks
These handy rear stabilizer jacks are found on our CAR HAULER series as an available upgrade. This pair of 5K pipe mount adjustable jacks swivels down when needed for loading, and then back up and secured with the hitch pin and out of the way when not in use.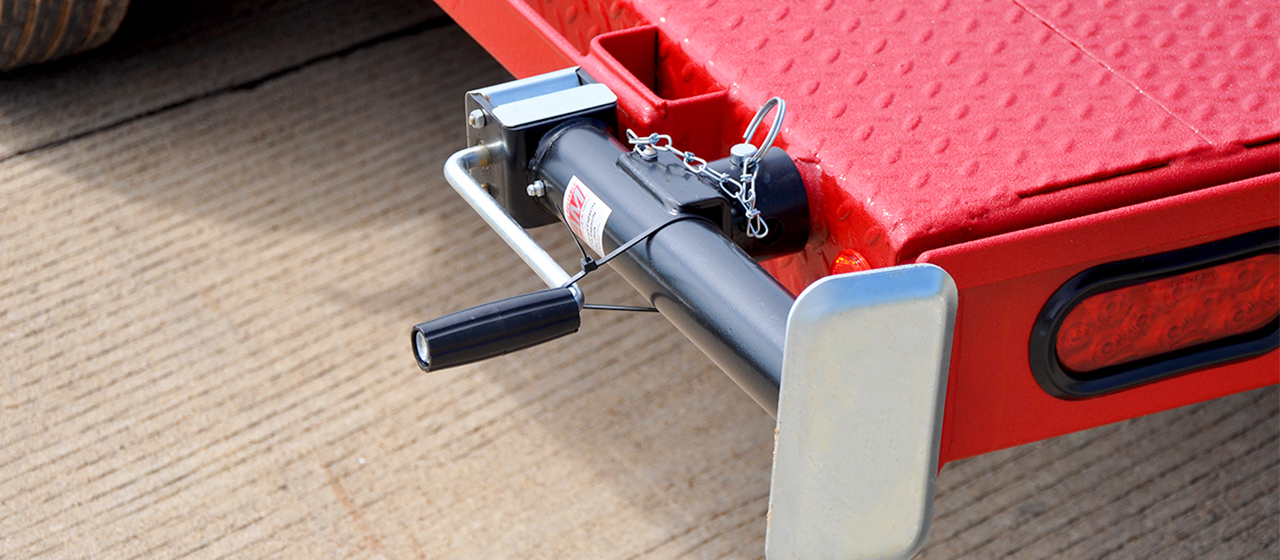 Dump Trailer Features Video
Watch this short dump trailer feature video to see the Rear Drop Leg Stabilizer Jacks in action!
Diamond C offers DEMCO coupler upgrades on almost all of our models. Demco's unique EZ latch design automatically latches when placed over a hitch ball, and are entirely maintenance-free as their couplers don't require any greasing or adjustments. Demco cast couplers are made from sturdy steel and feature a durable primed finish.
We offer 3 Demco coupler upgrades (depending on the trailer and the selected GVWR package).

2″ – 10,000 lb Demco EZ-Latch Coupler
Offered on our UTILITY trailers and smaller CAR HAULER and DUMP models rated from 2,990 to 7,000 lb GVWR.
2-5/16″ – 21,000 lb Demco EZ-Latch Adjustable Coupler
Offered primarily on our mid-range EQUIPMENT and DUMP models ranging from 9,890 lb to 14.9K GVWR.
2-5/16″ – 21,000 lb Demco EZ-Latch Flat-Mount Coupler
Flat-Mount option offered on our our heavy duty upgraded 18K and 20K GVWR Package equipped Equipment and Dump trailers such as our popular models LPX, HDT, DEC, and LPD.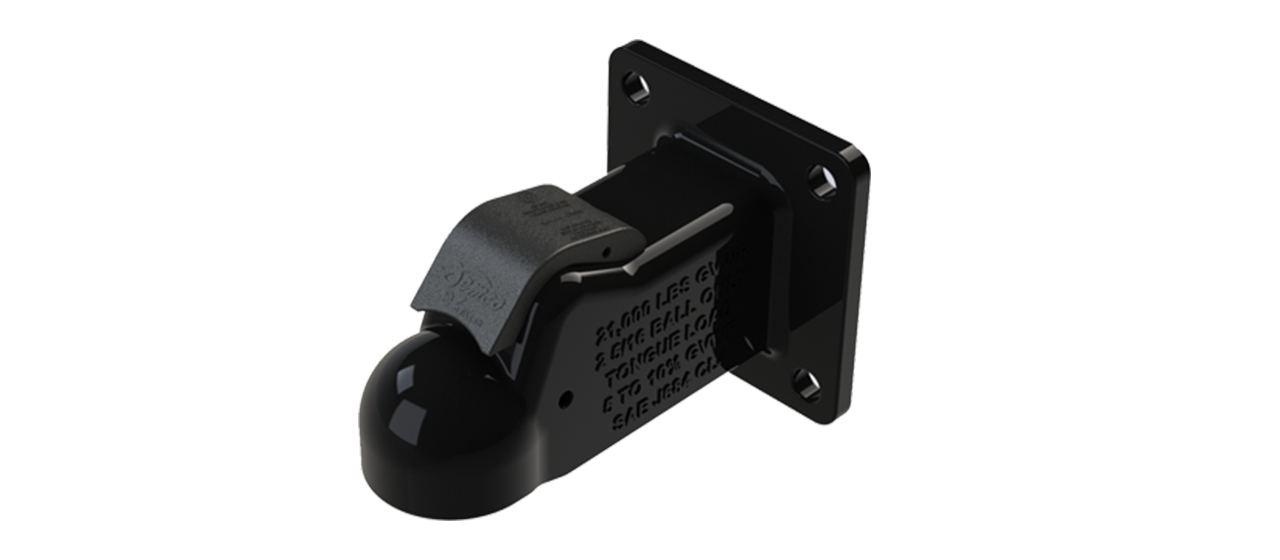 Dump Trailer Features Video
Watch this video to see the Demco EZ-Latch in action!